A cyber-attack caused a worldwide outage to a major payroll system. A VUMC response team made sure employees could still be paid.
The Kronos Payroll Outage Response Team was recognized with an Elevate team award for its work.
August 4, 2022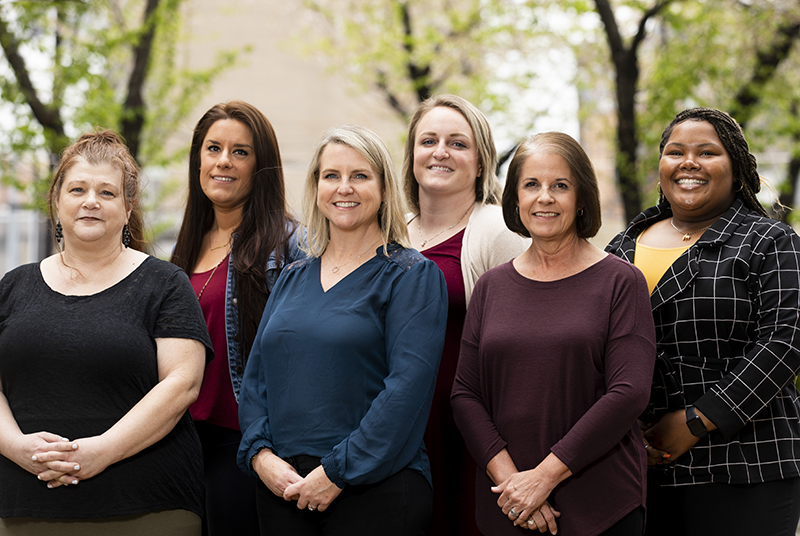 The award-winning Kronos payroll outage response team: Candy Ward, Megan Poharski, Abby Palmer, Brandilyn Smith, Stephanie Moss, and Brieana Windrow. Photo by Susan Urmy. 
On Dec. 11, 2022, during one of the busiest shopping seasons of the year and just weeks before the holiday season, a cyber-attack shut down the Kronos payroll system, which helps ensure employees are paid accurately and on time.
The Kronos worldwide outage had the potential to impact every employee at Vanderbilt University Medical Center.
VUMC leaders quickly assembled an interdisciplinary team, comprised of a diverse group of individuals from departments across the enterprise, to brainstorm and execute solutions to the problem, said Cecelia Moore, MHA, CPA, chief financial officer for VUMC.
The team – the Kronos Payroll Outage Response Team – was recognized during the May 2022 virtual Leadership Assembly. The team included: VUMC Finance (Payroll, Financial Systems Application Development, Finance Business Intelligence), VUMC IT, and VUMC Human Resources.
When the outage hit, the team's thought was, "How are we going to address this and ensure our employees get paid? It was two weeks before Christmas, and it was devastating," Trisha Zoller, executive director, VUMC IT, said in a video featured during Leadership Assembly.
The team immediately got to work. Members designed, developed and programmed a tool to help managers collect employees' time information.
Over 72 hours, the team members worked around the clock to ensure people were paid before and just after the holiday.
"The team dropped whatever they were doing. They stayed up all night long. They did whatever they needed to do get this done, to try to lessen the impact and burden on the rest of the organization in order to keep things moving forward," said Karen Rolling, CPA, SHRM-SCP, senior director, HR administration.
They offered training sessions for managers on how to use the created tools and provide needed data within the time collection application so that employee pay was accurate and on time. Additionally, the team had to extract and review the data and run checks to avoid errors. And if any errors were found, they expedited supplemental payroll so that employees were paid in a timely manner.
Another priority was transparency with workforce communications, alerting employees of the problem and giving step-by-step instructions to make the solutions easy to use, along with frequent updates.
When the team realized Kronos might not be able to get the system issues resolved for several more weeks, the group continued with process and applications improvements.
"We came together as a team to solve the problem, and it was very successful. Out of all the Credo behaviors, it was taking care of each other that was No. 1 on the list," Moore said.
Additionally, there was an outpouring of "thank yous" and accolades from across the institution. Among the numerous comments included in the nomination form were:
"Who gets credit for creating this so quickly, and does Santa know they did so well?"
"You all have done an amazing job putting this together in just a few days' time. Thank you for all you do and are doing to ensure that our teams get paid appropriately. It is much appreciated, and I wanted to raise you up for saving the day!!"
"I found this time tracking tool very intuitive and easy to use. Instructions have been very clear. Kudos to the team who worked so hard to bring this to life so quickly!"
"…THANK YOU ALL for your hard work to help us this week! We really appreciate you all!"
In the end, the team members said they were just doing what VUMC does best.
"What's amazing about VUMC is our ability to pull together and collaborate across teams and really to respond to an incident or an emergency situation," said Donna T. Kilpatrick, Vice President, VUMC Finance.
If you are a VUMC employee, you can nominate a colleague for an Elevate Credo Award, Five Pillar Leader Award, or Team Award. Visit the Elevate website to fill out a nomination form. Employees demonstrate credo behaviors when: they make those they serve the highest priority; respect privacy and confidentiality; communicate effectively; conduct themselves professionally; have a sense of ownership; and are committed to their colleagues. Elevate award nominations are accepted year-round. If a nomination is received after the cut off for an award selection period, the nomination will be considered for the next period. VUMC VOICE will post stories on each of the award winners in the weeks following their announcement.