A death or serious injury of a parent can mean a scared and bewildered child. Arielle Silverman helps children understand and cope.
She has worked with children varying in age from under 2 years old to teenagers as old as 18.
November 19, 2021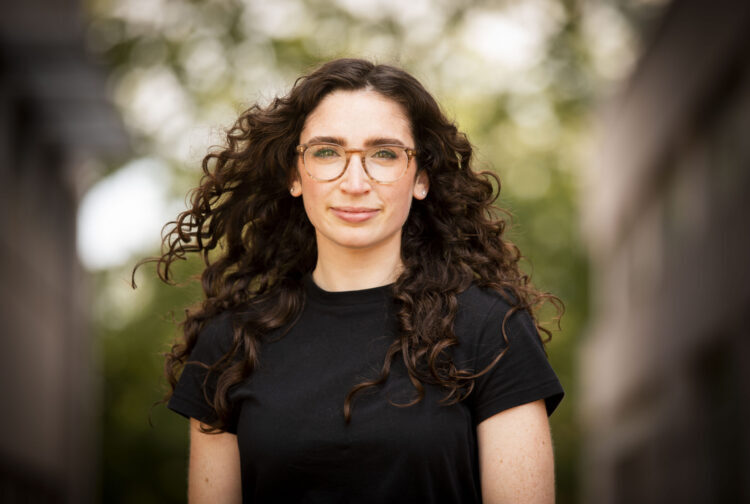 Arielle Silverman's job on the health care team is to focus on the children of critically ill adults. She is the only certified child life specialist assigned to the adult hospital. Photo by Susan Urmy
The serious illness or death of a loved one is a tragedy for a family. It can be especially devastating to children, who may have lost a parent or grandparent. Some children may be experiencing such intense and disorienting grief for the first time.
At Vanderbilt, Arielle Silverman is there to help children understand and cope with the death or serious injury of a loved one.
Silverman is a certified child life specialist who works in the adult hospital to support the needs of families in the midst of difficult times. Her role on the health care team is to help children understand, at an age-appropriate level, the sickness and death of a parent or grandparent.
"When people are sick in the hospital, people naturally focus on the person who is sick," she said. "Something I hear a lot from parents is, 'I don't want to scare/traumatize the children.'
"When I hear this, I explain that part of my role is to prevent any traumatization. There are ways to share information and involve children that are safe and will ultimately help them cope better."
Dropping off toys, picking up a career goal
Silverman's interests pointed toward a career in child life, even as a teenager.
When she was growing up in New Jersey she attended Hebrew school to prepare for her bat mitzvah, and part of that preparation was a charity project. She decided to collect toys for the local children's hospital.
"When we got there to drop the toys off, the person meeting us there that day gave us a tour, showing us treatment rooms and the playroom.
"I just started crying. I was bawling my eyes out. I just knew in that moment that I wanted to do something to help kids in that environment."
After an undergraduate degree in family studies from Towson University in Maryland, Silverman earned a Masters' in Social Work from the University of Pittsburgh.
She serves patient families on all critical care units, the Burn Unit, Palliative Care, and the Trauma Intensive Care Unit.
She checks in with staff and patients she is following on the critical care units regularly during a hospital stay. She said that nurses and other team members on the units often contact her.
"I rely on them to let me know when children are involved," she said. "All the staff is so amazing."
Connecting
Patients being treated for trauma, cancer and heart disease are common, of course, but Silverman often finds herself working with the children and grandchildren of COVID patients. This is a particularly challenging group of patients because of the need for the patient to be isolated.
"Most of the ICU patients I have seen with COVID are either intubated or trached and on a vent, or may be on ECMO," she said. "All of this can look very intimidating and scary to an adult who is unfamiliar, let alone children or teens."
She has worked with children varying in age from under 2 years old to teenagers as old as 18.
Silverman has several ways to help young children deal with the separation from a loved one who is in the hospital and isolated for infection control.
"I remember two kids who came to visit a COVID patient," she said. "Two girls, 11 and 8. Obviously, they were not able to go into the room, and the patient didn't feel well enough to do a video call."
Silverman thought of other ways to help the children connect.
She helped them make letter bracelets for the patient, and brought dry erase markers for them to create a decoration for the door.
All this meant that the children were able to send their love to the patient, even though they couldn't go in the room.
As Silverman put it, "They could interact without being together."
End-of-life memories
She recalls the case of a young mother who was dying of complications of COVID. Her family was by her side, including her two children, ages 10 and 16. Silverman had spoken with the adults in the family, spent time with the children, and prepared them for being by their mother's side as she died.
"I so appreciated Arielle's presence with these young folks," said Sherry Perry, a VUMC chaplain who was there that day and who has worked with COVID patients throughout the pandemic. "I have had the opportunity to work very closely with her on some really tough COVID cases where children have been present at their parent's or grandparent's end-of-life care."
One of the ways Silverman works with children in an end-of-life situation is through memory making.
"I try to offer keepsakes or an opportunity to participate in building positive memories with their loved one," she said.
Sometimes that takes the form of clay fingerprints of the loved one that the child can take home. Other times photographs are a keepsake that children want.
"One family I worked with had two children in the room. I asked them if they wanted to do close-up photos of them with the patient, maybe of them holding hands. Instead, one of the children instructed the chaplain and me on what pictures they wanted us to take, pictures that included meaningful items that they had brought to the bedside — these were gifts the patient had gotten them at different times in their lives.
"Some kids really benefit from the opportunity to use their creativity for memory making because not only does it give them something special to take home with them, but it helps them process their emotions and the difficult situation at hand."
Gratitude
Silverman often gets messages of gratitude from family members.
One teenager she worked with reached out to her after the death of their loved one to thank her. "You truly helped us in absolutely every way possible. You don't know what it means that you went so above and beyond to help us."
The spouse of another patient wrote, "Thank you again for all your help during our stay at the hospital. We are better people for having met you and learned about your role. You are a blessing, and we will never forget you."
Silverman sees such messages as confirmation that her goal, and VUMC's goal, of supporting families is being met.
"Care should be family-centered care first, making sure the family is able to be there and support each other, with the support of the team as well," she said.