Annette Goad follows the 'golden rule' of patient care – care for patients the way she would want to be cared for.
"I have to set that bar high because that's the way I want other providers to treat my family, friends and co-workers who I love dearly. It's just the right thing to do."
December 3, 2021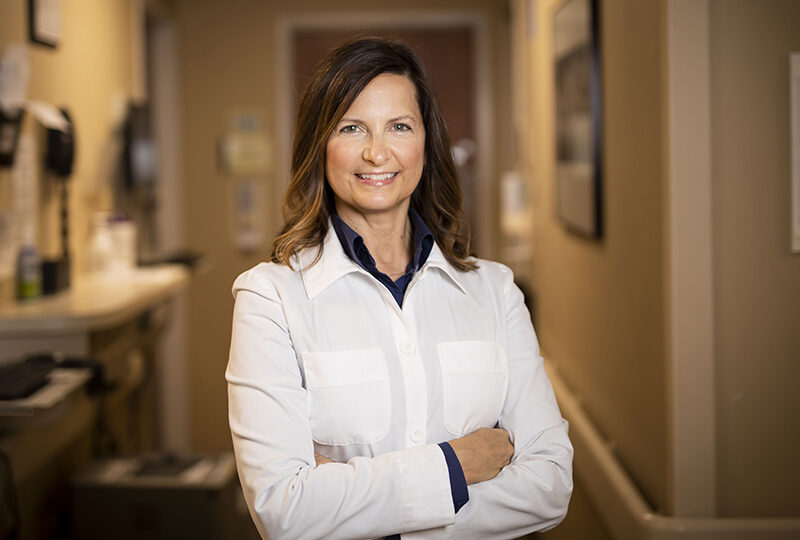 Photo by Susan Urmy
Annette Goad, RN, a nephrology triage nurse, is one in a million.
For the past 20 years, Goad has effectively applied something as simple as the golden rule to her complex job as a nurse — caring for patients the way she wants herself or her family to be cared for. Her approach to caregiving has not gone unnoticed. She received a Credo award at the November Leadership Assembly.
In addition to being a fantastic nurse, Goad is also humble, fully crediting her success to the team she has the pleasure of working with every day.
"I work with an excellent team," Goad said. "I have a strong, trusting relationship with my providers. I understand that they set the treatment plans, and I support the plan and educate the patient on why we're doing what we're doing."
Goad has been at Vanderbilt Unviersity Medical Center since March 1999, when she started as a PRN. From there, she worked in the oral surgery unit for 12 years. She eventually made her way into nursing management and worked as a clinic manager for two years. However, Goad quickly found herself missing hands-on patient care, and before long, she applied to a role in the nephrology clinic.
"I have never regretted my decision to go back to patient care," she said. "I enjoy working directly with patients and playing a role in their care."
An average day for Goad consists of communicating treatment plans with patients and listening to updates from patients, such as blood pressure readings, fluid intake or unexpected weight gain, and deciding what needs to be medically managed. Goad describes herself as a support liaison for patients.
A recent example of Goad's expertise as a liaison came when she consoled an upset patient on the phone and went out of her way to resolve an issue for the patient.
This patient needed samples of a particular medication, but the samples were inadvertently sent to an outside pharmacy instead of the VUMC pharmacy. On top of that, the pharmacy was out of the samples the patient needed.
Goad spent time on the phone with the pharmacy to get the needed samples to the patient immediately. Goad realized that prior authorization was the root of the issue and collaborated with all parties to provide quick care to the patient. Goad followed up with the pharmacy, pharmaceutical representatives, leadership and the patient's provider to ensure that everyone was on the same page about this patient's prescription. The next day, Goad informed her teammates of the situation and started a discussion to prevent this situation from happening again to another patient.
"This is nothing short of what Annette does with every single patient, every single time," said one of her nominators. "When commended for handling this situation, Annette simply said there were a lot of missed opportunities with this patient, but that she wasn't going to let this be another one."
"She's fantastic. She is very attentive, detail-oriented, cares a lot about patients and always closes the loop. Annette is approachable, professional and very friendly. It is a pleasure working with her. She is a great asset and resource for our division and clinic, and she deserves nothing but the best," said another nominator.
Goad's colleagues agree that the most humbling thing about her is that she simply sees going above and beyond as part of her everyday job.
"I don't see myself as a one in a million," Goad said. "God has granted me the health to be able to work in this role, and I just want to take care of the patients. It can be emotionally draining, but I have to set that bar high because that's the way I want other providers to treat my family, friends and co-workers who I love dearly. It's just the right thing to do."
If you are a VUMC employee, you can nominate a colleague for an Elevate Credo Award, Five Pillar Leader Award, or Team Award. Visit the Elevate website to fill out a nomination form. Employees demonstrate credo behaviors when: they make those they serve the highest priority; respect privacy and confidentiality; communicate effectively; conduct themselves professionally; have a sense of ownership; and are committed to their colleagues. Elevate award nominations are accepted year-round. If a nomination is received after the cut off for an award selection period, the nomination will be considered for the next period. VUMC Voice will post stories on each of the award winners in the weeks following their announcement.