Bear the therapy dog's legacy lives on at Children's Hospital
Bear was calm and gentle with children and loved to visit them in the hospital. He leaves behind a legacy at Children's Hospital, especially in the Pediatric Intensive Care Unit.
November 30, 2017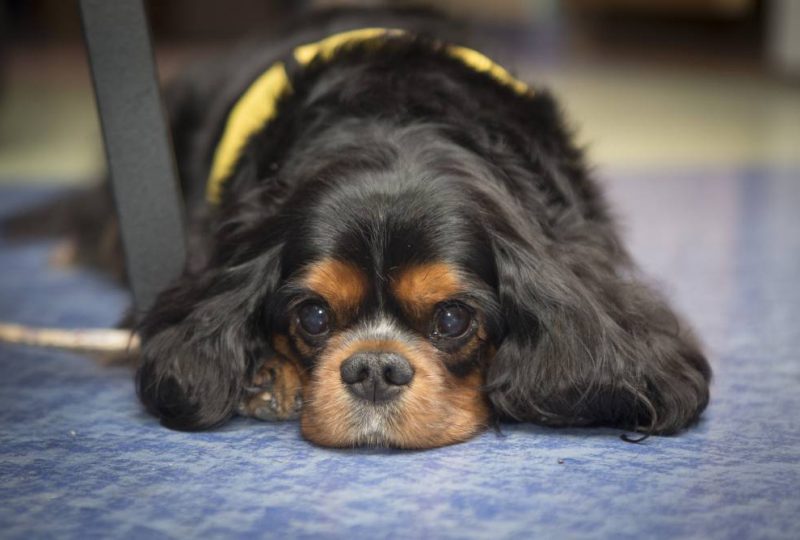 Photos by Susan Urmy
Leigh Barnes and her Cavalier King Charles Spaniel, Bear, were faithful volunteers at Monroe Carell Jr. Children's Hospital at Vanderbilt for three years. As a certified Pet Partner team, Leigh and Bear regularly visited with patients and families, bringing them joy amidst stressful days.
Bear was born with mitral valve disease and recently succumbed to the heart condition, but he leaves behind a legacy at Children's Hospital, particularly for his work in the Pediatric Intensive Care Unit (PICU).
Leigh and Bear were among the first of the Pet Partner teams to visit patients in the PICU, and because of the success of this pilot, Pet Partner volunteers will continue to be placed in that unit.
"Like all of our Pet Partner dogs, Bear was truly special," said Stephanie VanDyke, director of Child Life and Volunteer Services at Children's Hospital. "Because of his successful work in the PICU, Bear's legacy will always be a part of our programs at Children's Hospital."
In addition to visiting inpatient rooms, Bear participated in Children's Hospital's "Dog Days of Summer" annual pet therapy dog show.
Leigh's daughter, Emily, got Bear while in high school and trained him to work in therapy as part of a school service learning project. Before working at Children's Hospital, Emily and Bear worked in nursing homes and with children with disabilities.
When Emily left for college, Leigh became certified as Bear's handler through Pet Partners and connected with Children's Hospital, where the pair volunteered every Wednesday until Bear's passing.
"Bear loved his hospital visits. He would bolt to the door when he saw me pick up our visiting bag and leash," Barnes said. "Bear excelled as a therapy dog. He was calm and gentle and loved to cuddle with the patients. Bear also enjoyed the sweet attention from the hospital staff and would stop for anyone wanting to pet him."
"Like all of our Pet Partner dogs, Bear was truly special," said Stephanie VanDyke, director of Child Life and Volunteer Services at Children's Hospital. "Because of his successful work in the PICU, Bear's legacy will always be a part of our programs at Children's Hospital."