Calm, cool and collected, Lamar Bowman shines in high-pressure situations
For his professionalism, kindness, patience and nursing skills, Bowman, assistant nurse manager, was recognized with a Credo Award.
February 27, 2023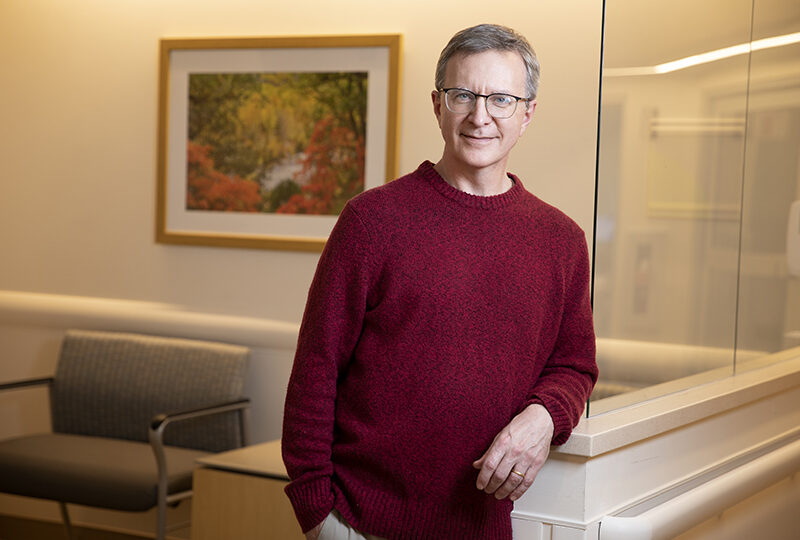 Lamar Bowman, RN. Photo by Erin O. Smith
Lamar Bowman, RN, can simultaneously care for a cognitively impaired patient in the Clinical Research Center (CRC), clean up a centrifuge mishap, advise a young colleague who is applying to medical school, and quickly fix a scheduling snafu to maintain a rigid research protocol. And he does it all with a smile and a sense of humor, say his co-workers in the CRC.
For his professionalism, kindness, patience and nursing skills, Bowman, assistant nurse manager, was recognized with a Credo Award at the VUMC February 2023 Leadership Assembly. He has been a nurse at Vanderbilt since 1999 and has worked in the CRC since 2007.
"Lamar has helped me so many times with last minute CRC scheduling or making accommodations due to strict sponsor requirements," wrote one of his nominators, a clinical research coordinator. "He is very supportive in high-stress situations. He is always calm, cool and collected in front of the patients."
"Lamar is the first person I (and many other people) go to for help, knowing that he is always willing to lend a hand and that his work is always exceptional," wrote another nominator, a clinical/translational research coordinator. "In fact, he is constantly offering to help others before they even have to ask. While working at the CRC and dealing with the ever changing and unpredictable patient visits, I would often be darting around looking for various supplies or trying to fix an unexpected issue, and Lamar would drop what he was doing to step in and help make sure the patient was safe and comfortable."
Bowman is known for providing encouraging check-ins on early morning visits, spending extra time with the research coordinators, or stepping in to help with severely cognitively impaired clinical trial participants. He is "an invaluable asset to my team in making those individuals feel safe and welcome in our facility," writes one nominator and colleague.
"For example, a patient who was experiencing marked memory loss and was often disoriented was also a challenging blood draw. Each month, Lamar would be available to our team during her study visits to back up our research nurse and help us to make the patient feel calm even when she had forgotten why she had come. This patient is just one among dozens who always felt welcomed and at ease in the CRC when they worked with Lamar in the context of our study appointments."
Junior team members, many straight from undergraduate education and working their very first jobs, find a patient mentor in Bowman who is "always open to answering questions about procedures at the CRC, debriefs after visits, and views every moment as a teachable one."
Working in the CRC has given Bowman an opportunity to participate in the journey of discovery, and along the way, he has found a supportive and caring group of co-workers, he said.
"I really enjoy working in an innovative environment where we are researching medicines and treatments that can help patients for years to come. I am given the opportunity to learn skills that were not open to me working on the units," Bowman said. "Most people do not realize that if it were not for research, the field of medicine would collapse; it is an essential part of every hospital. It is the foundation of all we do at Vanderbilt.
"My favorite thing about working on the CRC is the great people that I work with. They are not just my colleagues, but they have become my family and friends."
Bowman's Credo Award nominators consistently mention his sense of humor as one of his greatest assets.
"I hope to one day tell a joke that others will find humorous; until then, I march on," he said, wryly. "My desire is to ease situations where the patients are nervous, or my colleagues are stressed. I am honored that people respect me enough to think that I am deserving of this award.  If I am deserving, it is only because of the great people I work with who support me every day."
If you are a VUMC employee, you can nominate a colleague for an Elevate Credo Award, Five Pillar Leader Award, or Team Award. Visit the Elevate website to fill out a nomination form. Employees demonstrate credo behaviors when: they make those they serve the highest priority; respect privacy and confidentiality; communicate effectively; conduct themselves professionally; have a sense of ownership; and are committed to their colleagues. Elevate award nominations are accepted year-round. If a nomination is received after the cut off for an award selection period, the nomination will be considered for the next period. VUMC Voice will post stories on each of the award winners in the weeks following their announcement.