Catherine Stober plays health care quarterback for generations of families
Stober, a primary care physician, was named a 2023 Patient and Family Choice Award winner
May 30, 2023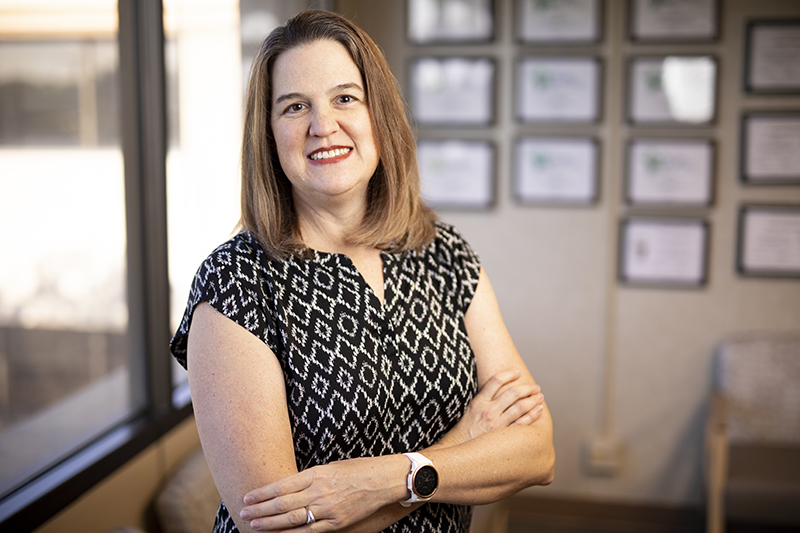 Catherine Stober, MD. Photo by Erin O. Smith.
It's no surprise to those who work with Catherine Stober, MD, that when she was ceremoniously presented with a Vanderbilt University Medical Center Ambulatory Patient and Family Choice Award outside a patient exam room in her clinic, her first thought, after complete shock, was "my patient is waiting in there for me. I can't take too long."
That's the way Stober, who has been at VUMC since her residency in 2002, approaches every patient encounter – with the patient's needs front and center.
Stober, a primary care physician at Vanderbilt Primary Care Green Hills, is one of five employees chosen this year to receive a Patient and Family Choice Award, sponsored and selected by each of the Vanderbilt's four patient and family advisory councils. Nominations were submitted by patients and families.
The 2023 Patient and Family Choice Award honors employees from across Vanderbilt University Medical Center who act with compassion and excellence to provide an exceptional experience for patients and their families. This year the patient and family advisory councils bestowed awards to five individuals from Vanderbilt University Hospital, Monroe Carell Jr. Children's Hospital at Vanderbilt, Vanderbilt Psychiatric Hospital, Vanderbilt Adult Ambulatory Clinics, and Vanderbilt Wilson County Hospital.
Stober said she was "shocked and flabbergasted" when several administrators, including Thomas Nantais, MBA, Executive Vice-President for Ambulatory Operations, traveled to Green Hills recently with balloons, flowers and gifts to present her with the award. The celebration included a large cake with Stober's photo on it, made by the wife of her office manager, Anthony Locklayer.
"Dr. Stober represents the very best of a practicing physician," said Tom Elasy, MD, director of the Division of General Internal Medicine and Public Health. "She is smart, caring, available to her patients, has great follow through, and treats all with respect. She stewards well the trust her patients place in her. Her patients love her for all those reasons and more. She is simply outstanding."
Stober's nomination came from a patient who, along with her family, has been a patient of Stober's for more than 20 years.
"She has seen us through our daughter's cancer, my father's cancer, and more. She is the epitome of what a great doctor should be. She is straightforward, honest, and always offers solid advice. She takes the time to ask questions and make sure she's got all the right answers."
The patient said that Stober reviewed a routine kidney stone examination result on her husband last year and saw something suspicious. Stober contacted the husband and urged him to get a biopsy immediately, which uncovered tumors in his liver. He had no symptoms. The couple had a monthslong trip planned, and Stober's eagle eye prevented them from being abroad with a "ticking time bomb inside (her husband)," the nomination read. "Dr. Stober is really great. Very thorough and knowledgeable. I know I am in good hands!"
Stober said she loves having multiple members of a family in her patient load.
"It's one of the best parts of primary care," she said. "I have some three-generation patients. It really helps to know the background of families. There's a lot of things that people don't tell you that you remember from their parents or grandparents," she said. "A lot of my 80- and 90-year-old patients have unfortunately died, and that's hard, but it's nice being able to see the next generation of that family. I feel like it keeps those people's memories alive when I take care of the next generation of their family."
Stober also has a group of women patients who all walk together at Radnor Lake. Stober has seen the women for years but had no idea they were connected until one of them told her and mentioned that Stober comes up occasionally in their walks at Radnor Lake.
"You get patients by referral, so I've been seeing this group of patients who all know each other well, and I had no idea they were connected."
Stober said being a good doctor is all about listening to your patients, seeing who they are, and appreciating their perspective.
"It's important to know their educational level and what they do for a living so you can make sure you talk at their level and explain things so they understand it," Stober said. "I find that a lot of my time is spent interpreting things in their chart that they have been told by a specialist and might not really understand. Being a good doctor is meeting people where they are emotionally, physically, intellectually and helping your patient navigate this really complicated health care system that we have. I tell my patients I'm their quarterback and I'm here to help them figure out what the next step should be."