Children's Hospital nurses support COVID colleagues: "Have a cup on us."
A coffee gift card, along with a note of support
June 10, 2020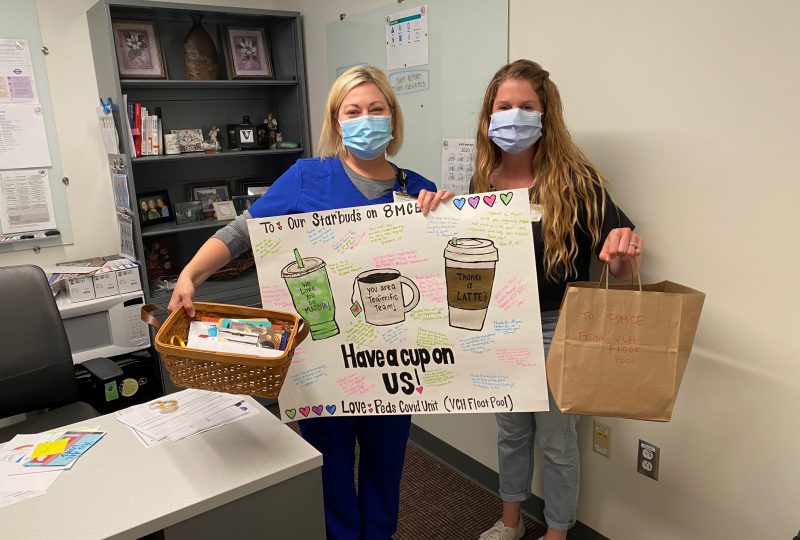 Kim Hurt, left, the manager of the main adult COVID unit at Vanderbilt, 8MCE, accepts the donation of Starbucks gift cards from Erin Blatchford, a nurse in the Children's Hospital who works with pediatric COVID patients.

Erin Blatchford, BSN, RN, is a nurse in  the float pool at Monroe Carell Jr. Children's Hospital at Vanderbilt, which helps staff the pediatric COVID-19 unit. Because COVID-19 affects adults more than children, the unit has not been nearly as busy as the adult COVID unit at Vanderbilt University Adult Hospital. That got her thinking about what she could do for her colleagues on the adult side COVID unit, on the eighth floor of Medical Center East (8MCE).
Blatchford was at Starbucks when the idea hit her. "It would be nice to buy a cup of coffee for them," she said. So she did – for 100 of them.
She raised funds from the wider community over social media, bought 100 Starbucks gift cards worth $5 each and created a poster board for the unit inviting her adult-side colleagues to "have a cup on us."
Every gift card came with a handwritten note from the community thanking them for their efforts, Blatchford said, from coworkers and people in the community.
"I wanted to make sure that they knew that we appreciated their efforts," she said.
Kim Hurt, MSN, RN, NE-BC, manager of 8MCE, said, "Staff really appreciated the handwritten words of support in addition to the gift cards. They were all so excited to be on the receiving end of such a kind gesture. I had a lot of fun passing them out as well!"