Chris Terry gets satisfaction from solving patients' barriers to care long before they become real problems
"Chris's dedication not only kept the patient from having a potentially bad outcome, but also demonstrates the type of customer service our patients should expect from VUMC."
May 26, 2021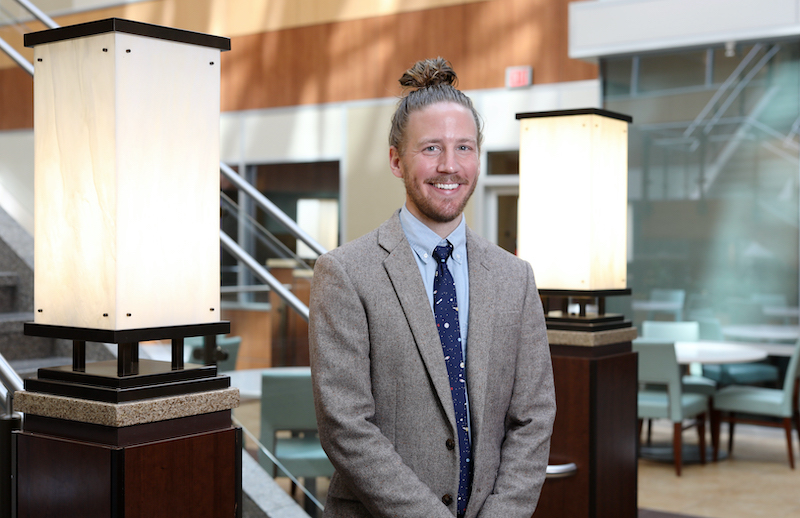 Photo by Erin O. Smith
Population Health Clinical Pharmacist Chris Terry, PharmD, CDCES, remembers being surprised when a woman with a troubling history of repeat hospitalizations brought her medications in for his review.
"She was in a wheelchair pushed by her husband," he said. "She had two huge tackle boxes, and her husband was dragging a couple of coolers behind him, all full of medications. I ended up finding 30 or so medication discrepancies."
Some medications were prescribed to treat other medications' side effects. There were also expired prescriptions because the couple had difficulty getting to a pharmacy and couldn't afford every co-payment.
Terry signed her up with Vanderbilt Health's mail-order pharmacy service and synced her refills so they would conveniently refill at the same time. After reviewing her medical history, he believed the pain, neuropathy and other symptoms leading to her readmissions were due to uncontrolled diabetes.
Terry collaborated closely with the patient and her care team. She ultimately had no avoidable hospital visits for a full year, and her A1C screening level for diabetes was cut from 13.4% to 7.4%. She was able to walk unassisted, and her original pain score of 10 was reduced to zero.
"Every A1C that gets dropped down to goal and every blood pressure we can get controlled is awesome because I know what that means for that person in the long term, but helping patients achieve their personal goals is far more satisfying to me," Terry said. "For her, it was what anyone would want, which was to get her life back."
Terry's commitment to patients, the Vanderbilt Health Affiliated Network (VHAN) Population Health Pharmacy team and other medical providers as they work together to knock down barriers to care earned him a Credo Award at the May 2021 virtual Leadership Assembly.
"Chris is not only accessible to patients and families, but he also naturally goes above and beyond to serve others."
Terry, one of the first Population Health clinical pharmacists hired at VHAN in 2017, is a critical player in the Network's Care Management Team which includes pharmacists, social workers and nurse care coordinators. This team provides support and resources for the care of complex patients at VHAN-affiliated practices throughout Tennessee and into Kentucky and Mississippi.
"Chris is not only accessible to patients and families, but he also naturally goes above and beyond to serve others," wrote his manager Erin Neal, PharmD, MMHC, VHAN's director of Medication Management and Population Health. "One patient called Chris on a Saturday to let him know he was out of insulin, and Chris worked with the patient (on his day off) to ensure he could access insulin from a local pharmacy at a price he could afford. Chris's dedication not only kept the patient from having a potentially bad outcome, but also demonstrates the type of customer service our patients should expect from VUMC."
Terry's mother was a dedicated nurse, so he was exposed early to health care as a vocation. He earned a Doctor of Pharmacy degree at University of Kentucky College of Pharmacy. During college, he worked for a small, independent pharmacy in his hometown of Owensboro, Kentucky, but during a pharmacy internship at the Mayo Clinic, he was exposed to unexpected career paths.
He had watched his mother struggle with congestive heart failure as she grew older, and because of this, he quickly connected to the ambulatory care pharmacy in which a pharmacist in an outpatient setting helps manage patients' chronic diseases.
Terry completed a pharmacy residency working as an ambulatory care pharmacist in Asheville, North Carolina, followed by a year as an ambulatory care clinical pharmacist at a Washington, D.C., health center serving patients who were often homeless and under- or uninsured. When he joined VHAN, he felt like he'd found his home.
"When I was seeing patients in the clinic, it felt like I was putting fires out rather than preventing fires from getting started in the first place," he said. "That's what led me to VHAN and Population Health where we're more proactive and outreaching to patients before problems become bigger issues."
Outside of work, Terry and his wife Hannah, find themselves busy around the clock as they recently welcomed their second girl, Maeve, who joins 2-year-old big sister, Roby Sue.
If you are a VUMC employee, you can nominate a colleague for an Elevate Credo Award, Five Pillar Leader Award, or Team Award. Visit the Elevate website to fill out a nomination form. Employees demonstrate credo behaviors when: they make those they serve the highest priority; respect privacy and confidentiality; communicate effectively; conduct themselves professionally; have a sense of ownership; and are committed to their colleagues. Elevate award nominations are accepted year-round. If a nomination is received after the cut off for an award selection period, the nomination will be considered for the next period. VUMC Voice will post stories on each of the award winners in the weeks following their announcement.