Doing his own colonoscopy made Christopher Lind a legend. But his commitment to patients and families is also legendary.
"The cultural change of having a respected, practicing physician serve as a Patient and Family Advisory Council member has been invaluable."
June 5, 2018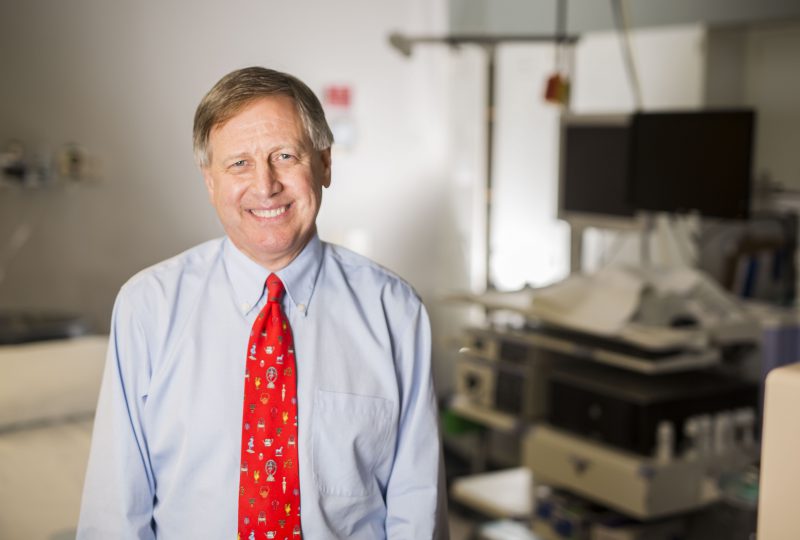 Photo by Susan Urmy
Gastroenterologist Christopher Lind, MD, has a good sense of what patients feel when he performs a screening colonoscopy — because he's done one on himself.
"I thought I knew what it would feel like, but I wanted to know for sure," said Lind, professor of Medicine. He emphasizes that he guided only the insertion of the scope, and that a colleague took over for the careful look and assessment.
Even though it was tricky and "a little uncomfortable," he said he plans to try again when he's due for a screening next year. "I want to see if I can do it better next time," he said with a laugh.
This dedication to his patients' experiences and to his own technical skills has marked Lind's 30-year career at Vanderbilt University Medical Center.
"Dr. Lind is a 'doctor's doctor:' a great diagnostician, a talented proceduralist, an active listener, and a compassionate caregiver," said Paul Sternberg, MD, Chief Medical Officer, Vanderbilt Medical Group. "In his quiet, unassuming way, he models excellence as a clinician. When he speaks, we listen; when he acts, we follow his lead."
For the last few years, he has served as a member of both the Physician Council for Service Excellence and the Patient and Family Advisory Council. In these roles, Lind has worked to improve quality and service at VUMC, and his efforts were recognized with a Credo Award at the May Clinical Enterprise Leadership Assembly.
Lind is the first physician to serve on the Patient and Family Advisory Council.
"The cultural change of having a respected, practicing physician serve as a Patient and Family Advisory Council member has been invaluable," said Terrell Smith, director of Patient and Family Engagement. Smith nominated Lind for the Credo Award on behalf of the members of the Council.
"He is in a unique position to understand and incorporate the patients' perspective into discussions at the physician's council," Smith said. "This linkage between the two councils has broadened the perspective of both groups when approaching improvement initiatives."
"I've felt like my role on the patient council to a large degree has been to listen," Lind said. "I can offer some perspective to the patients and family members from the physician's standpoint, and then I take their concerns to the physician council.
"I feel like I've learned as much or more from the patients and family members as they've gotten from me."
Lind grew up in Colorado and was a math major at Pomona College in Southern California. He had never set foot in Tennessee when he decided to come to Vanderbilt for medical school. Lind met his wife Melissa, an undergraduate nursing student at the time, in the medical library during his first year, and saw the new Vanderbilt University Hospital open during his fourth year.
He found gastroenterology — with its mix of hands-on technical procedures and long-term relationships with patients — to be a perfect fit, and following residency and fellowship at the University of Virginia and the University of Florida, he joined the Vanderbilt faculty in 1988.
Gastroenterology "is a quality-of-life field," Lind said. "It's so rewarding to see people with longstanding issues and help them figure them out. They feel more like normal human beings, and that's a very rewarding thing."
"Dr. Lind is a 'doctor's doctor:' a great diagnostician, a talented proceduralist, an active listener, and a compassionate caregiver," said Paul Sternberg, MD, Chief Medical Officer, Vanderbilt Medical Group. "In his quiet, unassuming way, he models excellence as a clinician. When he speaks, we listen; when he acts, we follow his lead."
To find out more about colonoscopies at Vanderbilt, see nurse Ellen Williams' story, "Colonoscopy Confidential."