Arbee Hossain is a genius at helping the Children's Hospital Outpatient Pharmacy operate at its best for patients and employees
"He works so hard behind the scenes, then shows up to the patient's room with a smile on his face and makes the whole process appear seamless and easy."
February 26, 2020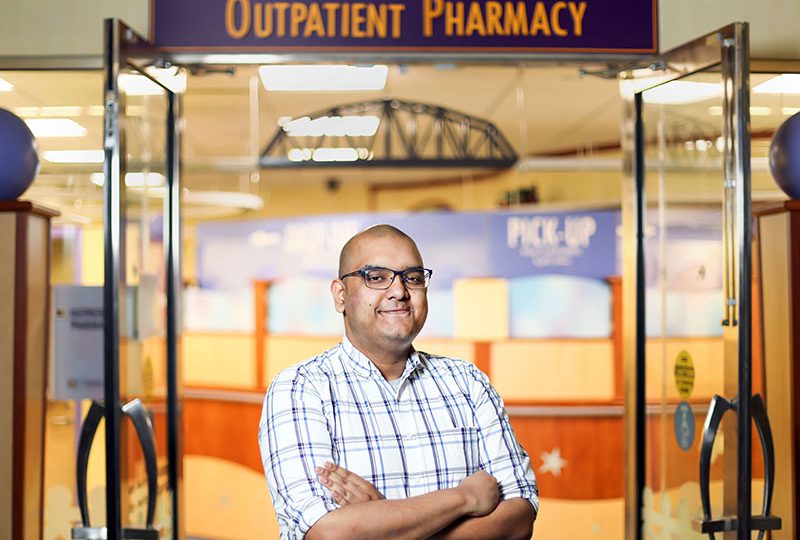 Photo by Susan Urmy
Arbee Hossain has a simple motto that propels his everyday work: "See problem. Solve problem."
A pharmacy technician in the Outpatient Pharmacy at Monroe Carell Jr. Children's Hospital at Vanderbilt, Hossain has a knack for finding the source of issues with complex medications, understanding why the problems are occurring and determining how they can be solved. Then, he gets to work fixing them.
His devotion to providing a smooth pharmacy experience for both patients and physicians earned him a Credo Award at the February 2020 Leadership Assembly.
"On any given day, you might find Arbee walking quickly and purposefully with his notepad in hand juggling many tasks all at once. He always seems to be right there when you turn around," wrote one of his nominators.
"He works so hard behind the scenes, then shows up to the patient's room with a smile on his face and makes the whole process appear seamless and easy," added another.
Hossain's problem-solving skills were put to the test through the Pediatric Surgery Trauma Adolescent Medicine unit, located on the eighth floor of Children's Hospital. The floor houses multiple services, leading to plentiful medication turnovers. Because of this, patients were often delayed in their discharge and waiting in the pharmacy on their way home.
Arbee began working directly on the floor to assist pharmacists with prescriptions, anticipating medications a patient may need and running insurance claims in advance of upcoming discharges. He then delivers prescriptions directly to patients' rooms so they can head home without stopping in the pharmacy.
"Oftentimes, I'm the first person who gets to say to a patient, 'Hey — you get to go home!' That's my favorite part of interacting with patients and families," said Hossain. "I like being the first to deliver the good news."
Hossain also specializes in helping the transplant unit overcome complicated insurance problems, advising physicians on how they can write prescriptions to discharge patients faster and assisting families with their insurance questions.
"As we relocated during the transplant process, I have interacted with many pharmacy technicians across multiple states. I had never met a pharmacy technician who will make multiple phone calls to multiple companies for financial assistance, who bothered to return my calls within an hour or who went far above the general expectations of his job description until Arbee," the parent of a transplant patient wrote in a letter to the Outpatient Pharmacy, adding that they mistakenly took Hossain for the lead pharmacist because of his extensive knowledge.
Hossain, who showed up to his Vanderbilt job interview nearly four years ago ready to begin working the same day, humbly credits his hard work to the people he gets to collaborate with daily.
"It's great that I got this recognition, but the only reason I'm able to pull off some of the stuff that I do is because I have an amazing team," said Hossain. "I can blindly throw something behind me, and I know for a fact somebody will catch it."
If you are a VUMC employee, you can nominate a colleague for an Elevate Credo Award, Five Pillar Leader Award, or Team Award. Visit the Elevate website to fill out a nomination form. Employees demonstrate credo behaviors when: they make those they serve the highest priority; respect privacy and confidentiality; communicate effectively; conduct themselves professionally; have a sense of ownership; and are committed to their colleagues. Elevate award nominations are accepted year-round. If a nomination is received after the cut off for an award selection period, the nomination will be considered for the next period. VUMC Voice will post stories on each of the award winners in the weeks following their announcement.