Dads of the Medical Center
Father knows best — about finding a great place to work
June 14, 2018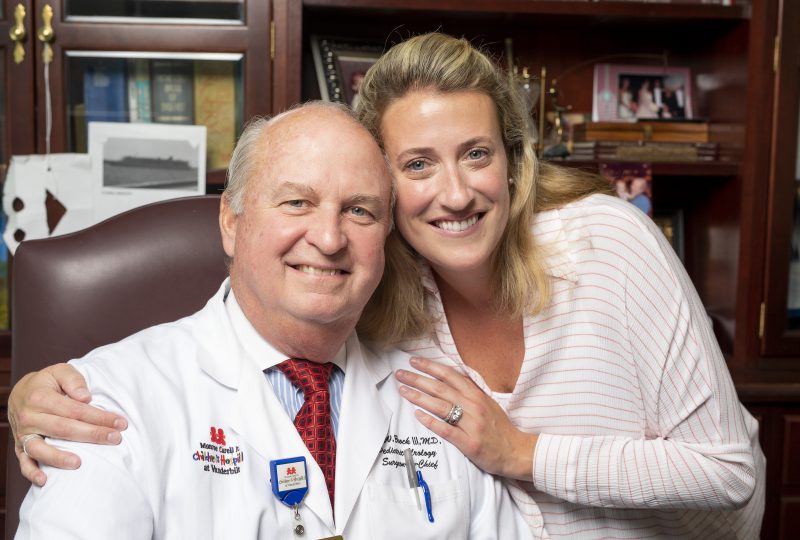 John W. Brock III and daughter Elizabeth Wells. Photo by Joe Howell
Editor's note: Many VUMC employees have a parent who also works at the Medical Center. For this Father's Day, VUMC Voice is featuring a few of these special dad-and-daughter and dad-and-son pairs. To see the "VUMC Voice" Mother's Day feature "Moms of the Medical Center," go here.
John W. Brock III and daughter Elizabeth Wells.
John W. Brock III, MD, Director of Pediatric Urology, Surgeon-in-Chief for Monroe Carell Jr. Children's Hospital at Vanderbilt and Monroe Carell Jr. Professor, was a year away from finishing his residency at Vanderbilt when his oldest daughter, Elizabeth, was born in 1982. Elizabeth Wells, MSN, APRN, FNP-BC, joined the Children's Hospital family in 2010, and works as nurse practitioner for Perioperative Services and the Preoperative Assessment and Teaching for Children's Hospital (PATCH) program. Wells jokes that even after eight years at Children's Hospital many people still don't know she is Brock's daughter.
"My dad and I share a common passion in caring for children which creates a special bond. Monroe Carell Jr. Children's Hospital at Vanderbilt is an incredible institution and I am fortunate to be part of it," Wells said.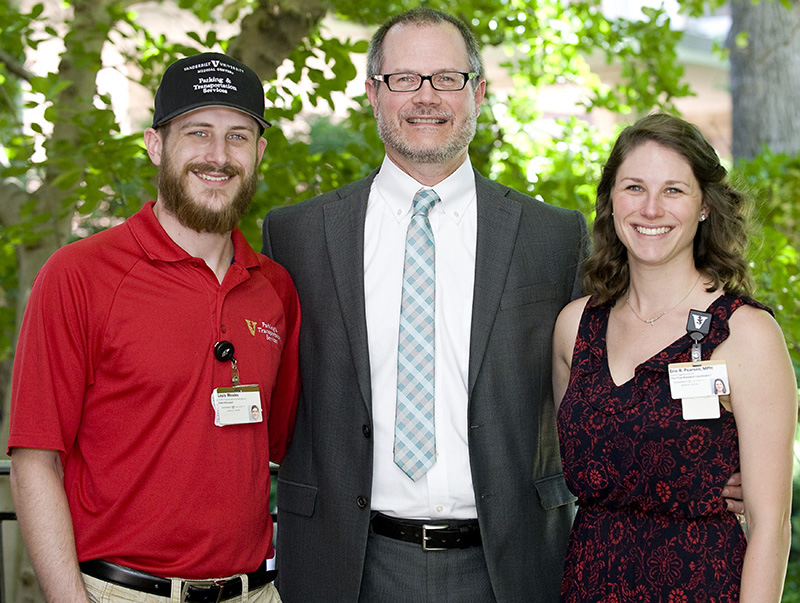 Photo by Kristi Irving
Lou Rhodes (center), son Louis "Cliff" Rhodes, and daughter Erin Pearson.
For the Rhodes family, VUMC really is in the blood (or you marry into it). Lou Rhodes, associate operating officer for Women's Health, came to Vanderbilt three years ago. About a year later, his daughter Erin Pearson, MPH, would join the team, working as a clinical research coordinator in the Neurology Department. Erin's husband, Jonathan Pearson (missing from the photo) also is a clinical research coordinator in Neurology. And chances are if you've ever visited or used a VUMC valet parking station, Lou's son, Cliff Rhodes, a valet attendant, has been there to help.
As a close-knit family, they see each other frequently at work, whether it's for lunch or to dip into the "community" candy bucket at Lou's office, and they see each other often outside of work. "Since everybody lives close, we are able to get together for Sunday dinner and some friendly competition over a game," Lou said.
"We see each other a good amount. My office is at the Village at Vanderbilt, but I do a lot of work in MCN and the CRC, so I'm always passing by my dad's area. I run into Cliff every time I'm going to meet people in TVC," Erin added.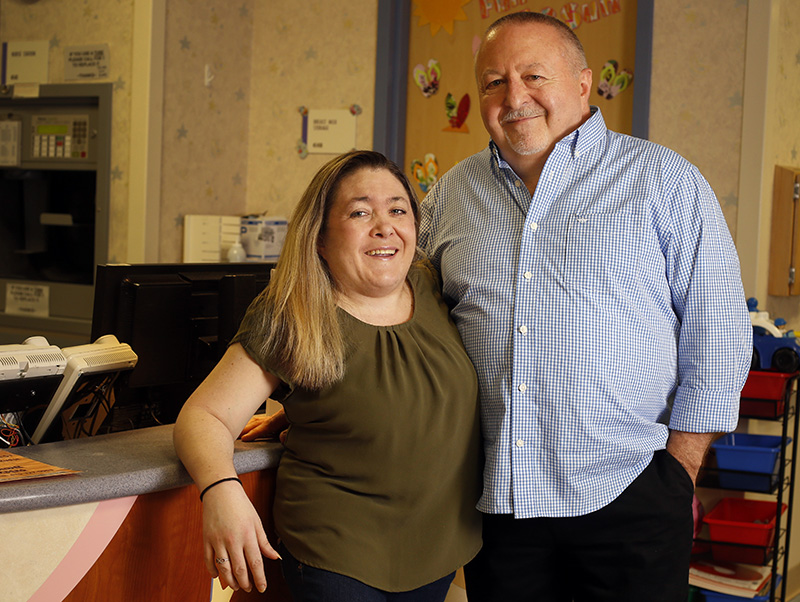 Photo by Steve Green
John "Frank" Nix and daughter Kim Nix.
Sometimes father doesn't know best. Kim Nix began working for Monroe Carell Jr. Children's Hospital at Vanderbilt six years ago as medical receptionist in the Neonatal Intensive Care Unit (NICU). That was before her dad, John "Frank" Nix, came on board at Children's Hospital — doing the same job. Frank was hired as a medical receptionist in the NICU a little more than four years ago. On occasion they even work the same shifts, but Kim is quick to offer a reminder, Frank says, "that she has 'seniority' over me and will gladly share that with others."
"We always have people say they could never work with their dad or daughter but I believe we complement each other and we push each other to give our best, holding each other a little bit accountable because we enjoy the competitiveness," said Frank Nix. "We both believe it's all about doing our part of the puzzle to make this experience the best possible for our many families. Kim was a NICU baby herself at birth so this helps me to see the situation through the eyes of our parents and help meet any needs. Kim, having numerous surgeries through the years, can also quickly recognize a need they may have and is quick to help them in any way she can. We both believe being here together makes a pretty good team for our unit and we love it when we can actually work in the same location together."
Photo by Wayne Wood
D'Mitri Blivens Sr., right, and son D'Mitri Blivens Jr.
D'Mitri Blivens Sr., of Central Sterile Processing, and D'Mitri Blivens Jr. of Patient Transport have deep family ties to VUMC. Blivens Sr.'s mother is a former employee of the Medical Center, and her twin sister, Vanessa Blivens, still works at Vanderbilt in Environmental Services. Blivens Jr. says that he came to work at Vanderbilt specifically because his father was here. Because their jobs require they both move around during the course of a work day, the two generations of the Blivens family enjoy frequent chance meetings. "We walk past each other a lot—we see each other in the hallways," Blivens Sr. said.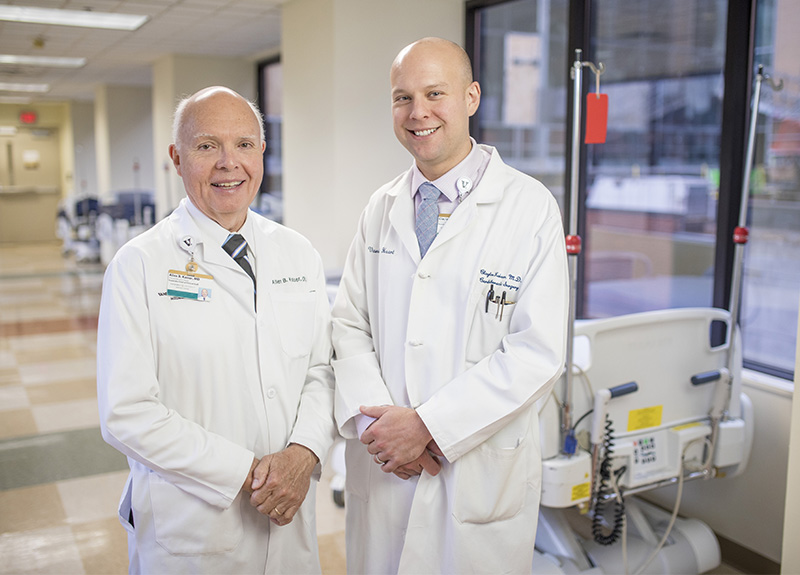 Photo by John Russell
Allen Kaiser and son Clayton Kaiser.
Allen Kaiser, MD, associate chief of staff for the Vanderbilt Health System and professor of Medicine, came to Vanderbilt University Medical Center in 1988 when his son, Clayton Kaiser, MD, (or "Clay" as his dad calls him) was 9 years old. After obtaining his undergraduate degree from Duke University, Clayton attended Vanderbilt University School of Medicine, earning his medical degree in 2008. Following residency in cardiothoracic surgery at Stanford, he joined is dad at VUMC in 2014 as an assistant professor in the Department of Cardiac Surgery.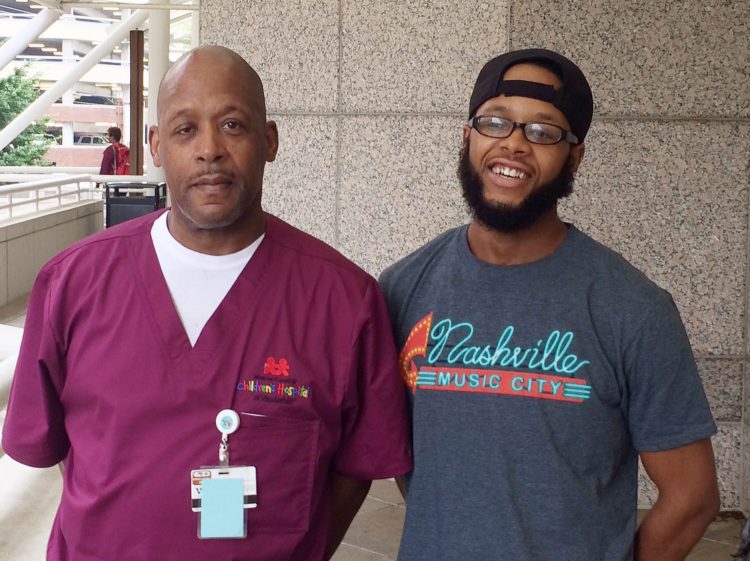 Photo by Wayne Wood
Eric H. Jenkins and son, Eric G. Jenkins.
Eric H. Jenkins, who works in Environmental Services at Monroe Carell Jr. Children's Hospital at Vanderbilt, has been at VUMC for 15 years, and when his son, Eric G. Jenkins, was looking for work, he pointed him to Vanderbilt Temporary Services. "He told me they're always hiring, always looking for good people," the younger Jenkins said. He has been at VUMC six months, and is assigned to the 11 p.m. to 7 a.m. shift in Central Sterile Processing. Since the son works all night, and the father works the day shift, they seldom cross paths at work — or at home. "He's usually asleep when I get off," the elder Jenkins said. Eric H. Jenkins has six children, and, in addition to son Eric G., his daughter Tiffany Jenkins also works at VUMC. She is a nurse in Children's Hospital and is finishing a master's degree at Vanderbilt University School of Nursing.
Photo by Steve Green
Wallace "Skip" Neblett and son David Wallace.
David Neblett, MD, a third year resident in Pediatrics at Vanderbilt, probably doesn't remember his dad, Wallace "Skip" Neblett, MD, working anywhere else besides Vanderbilt. Skip Neblett, professor of Pediatric Surgery and Pediatrics, joined the faculty in 1980, when David was just 1 year old. David, who is completing his residency, will begin a fellowship in Sports Medicine July 1. The father and son duo share the same passion: caring for sick and injured children.
"We get to work at such a great institution where can devote our time to caring for sick and injured children, and we are also able to see each other occasionally while here at the hospital — all while carrying on a family tradition of being at Vanderbilt," said Skip Neblett, who noted that he, David, and his other son, Sandy, all attended Vanderbilt University School of Medicine.
Do you know of other VUMC employee family groups — fathers and sons or daughters; spouses; siblings, or others? "VUMC Voice" is interested in hearing about VUMC families for potential future features. Send word to VUMCVoice@Vanderbilt.edu.
To read about another VUMC father-son duo, see this 2004 profile from the VUMC Reporter of Anderson "Andy" Spickard Jr., MD, and his son, Anderson III, MD.