Deborah Bohlen celebrated for compassion and support of her team at the office and beyond
"Deb supports people in their professional roles as well as their personal roles."
September 11, 2019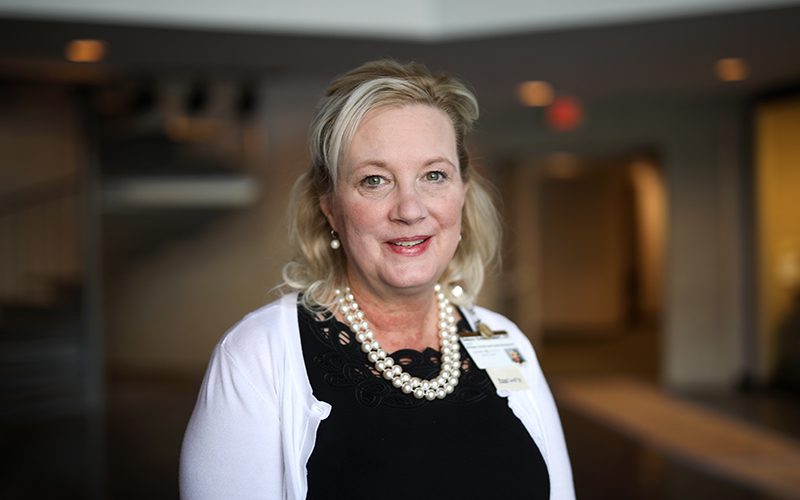 Photo by Susan Urmy
Debora Bohlen, manager of Portfolio and Product Management with Vanderbilt University Medical Center's Health IT Revenue Cycle Billing Portfolio, believes her team should work hard and efficiently. She wants them to have fun and take care of each other and believes there's no reason a team can't do both.
When hiring new staff, Bohlen thinks back to when she was a new employee.
"I recall it was intimidating and overwhelming, but my team who hired me really treated me well and that kindness and first impression just sticks with you. I care deeply about my team members as people and I also care about their families. I feel it's extremely important to lead by example," she said.
It's these management characteristics that have earned her the Credo Award. She was recognized at the Aug. 14 Leadership Assembly.
One of Bohlen's nominators recalled a time when she went out her way to help a team member who had only worked for Bohlen for six weeks. The employee's wife and son became very sick, and then he developed disabling back pain. On Saturday morning the employee's doorbell rang and he found a fully packaged family dinner on his doorstep, from Bohlen and another team member.
Bohlen said she considers her team her "work family." They celebrate birthdays, weddings, new grandchildren and other life events together. "I want to know what is important to them outside of the workday."
Another colleague calls Bohlen "a wonderful, compassionate human being. Deb supports people in their professional roles as well as their personal roles."
Bohlen said that her team "spins many plates" and often the plates are spinning at the same time. She tries to remove any roadblocks for them so they can complete projects on time.
"She is there to help figure out technical solutions to problems as well as to provide a meal to a team member who is ill," a nominator wrote. "Deb takes time to listen and to provides just the right support. She is a teacher at heart and seeks to achieve understanding of the tools by the user, not just the how, but the why."
Bohlen has been married for 33 years to her husband, Jim. They have three children: Erica, Stephen and Noelle; and two grandsons, Parker, 5, and Jax, 1.
To place a nomination for an Elevate Credo Award, Five Pillar Leader Award, or Team Award, visit the Elevate website to fill out a nomination form. Employees demonstrate credo behaviors when: they make those they serve the highest priority; respect privacy and confidentiality; communicate effectively; conduct themselves professionally; have a sense of ownership; and are committed to their colleagues. Elevate award nominations are accepted year-round. If a nomination is received after the cutoff for quarterly award selection, the nomination will be considered for the next quarter. VUMC Voice will post stories on each of the award winners in the weeks following their announcement.