Doctors urge scooter safety; reminder that VUMC Plaza is a no-ride zone
"We've treated broken bones, lacerations, friction burns, concussions and even dental trauma."
October 20, 2020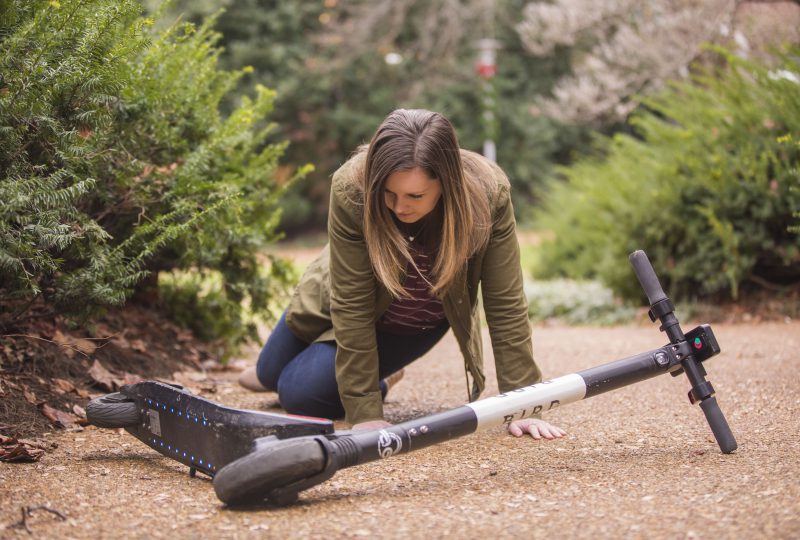 Don't let this happen to you. Photo by Anne Rayner
With the arrival of fall weather, visitors, students and employees have started to use various forms of transportation around the Vanderbilt University Medical Center campus.
The use of electric scooters, as well as bikes and skateboards, is prohibited on the VUMC Plaza (see number 4 on map below). These modes of transportation pose an unacceptable risk to patients and employees on the crowded Plaza.
"We've treated broken bones, lacerations, friction burns, concussions and even dental trauma from city-wide, scooter-related accidents," said Tyler Barrett, MD, associate professor of Medicine and medical director of the VUMC Adult Emergency Department.
Last year, the adult emergency department treated 10-15 scooter injuries a week.  Since then, scooter safety improvements have been made.
"After multiple discussions with the major scooter manufacturers, the companies have redesigned the scooters with bigger wheels, better brakes and have electronically slowed the motors for new users to reduce the risks associated with first-time scooter use," said Oscar Guillamondegui, MD, MPH, professor of Surgery and vice-chair of Surgical Quality and Patient Safety.
"We have seen a drop off in scooter-related injuries in the Trauma Center, but this may be associated with the COVID-related shutdown," Guillamondegui said.
Metro Nashville city officials continue to make safety improvements for electric scooter use. They say the four companies who currently operate scooters in Nashville have voluntarily reduced their fleets during the pandemic and instituted cleaning procedures.
The Metro Nashville Transportation Licensing Commission has also implemented slow-zones and no-ride zones for scooters.
It is important to note that VUMC's Plaza area is designated as one of those no-ride zones. Scooter companies are required to geofence these areas in such a way so that the motor of a scooter will not operate within the marked zone.
If you choose to use an electric scooter, bicycle or skateboard on the Medical Center campus, remember these safety guidelines:
Adhere to local laws and rules of the road.
Ensure adequate safety measures and equipment are in place.
Maintain situational awareness of riders, pedestrians and other motorists.
Dismount the device in the VUMC Plaza no-ride zone (number 4 on map).