Donna Atherton and Karen Pinkard are nurses who have worked together for years. The day Karen's heart stopped at work, Donna was there to save her life.
A lot of people worked to save her life and help her recover. Thanks to them, Karen Pinkard is back at work.
January 24, 2022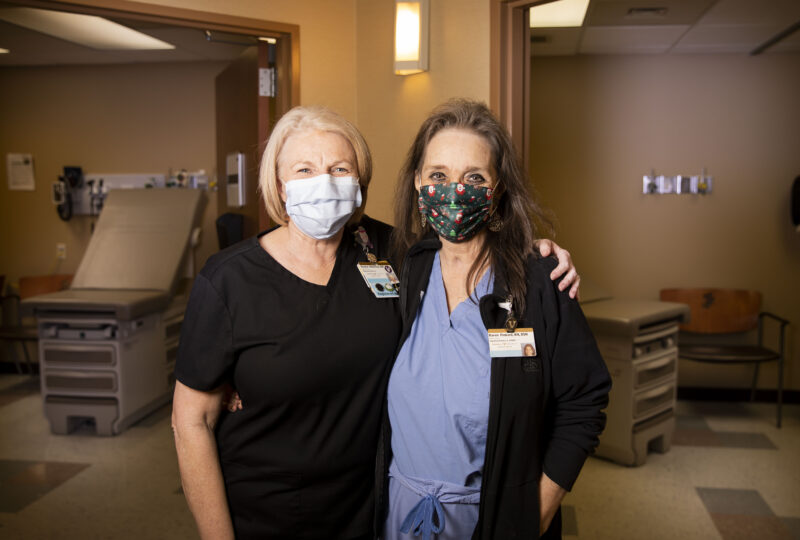 Donna Atherton and Karen Pinkard. Photo by Susan Urmy
Donna Atherton wasn't supposed to be at work the day she saved the life of Karen Pinkard, a nurse colleague.
Atherton had originally planned to be on vacation that week, but she had delayed the time off because her office was moving to a new location in The Vanderbilt Clinic.
She had come in early for a physical therapy appointment the morning of July 21, 2021, and shortly after 7 a.m., she walked into her new office and greeted her officemate Pinkard.
It was the most routine thing in the world. The nurses chatted briefly as Atherton put away her keys.
Then everything changed. Pinkard suddenly slumped back in her chair, and her head jerked to the left. She was eerily quiet.
"Are you okay?" Atherton asked.
Getting no answer, she went over to Pinkard and shook her gingerly at first then more aggressively. No response.
Atherton's training immediately took over. She performed a sternal rub with all her might, but Pinkard didn't acknowledge the knuckles bearing into her breastbone, a triage procedure to determine whether someone is conscious. Atherton then checked for a pulse. There wasn't one.
Atherton picked her colleague up from her chair, carried her to the center of the room and checked again for any sign of breathing or heart rate. Still nothing.
Atherton began CPR, talking between chest compressions to the friend and colleague she had worked with for seven years, telling her to fight for her life and her family, and silently praying for her all the while.
After administering two rounds of CPR, she made a code call and gave specific directions for where the code team could find them. She continued administering CPR for what seemed like an eternity, then she heard a door close in the hall and called for help.
James Tolle, MD, a critical care pulmonologist, and Patrick Bass, an intraoperative neuromonitoring specialist, came running to relieve her. Bass was in the process of changing into his work scrubs when her heard the call for help and came running without his shoes on.
Atherton then called Betsy-Kay Hall, a surgery scheduling colleague, contacted staff in VICC, some of whom headed to the site of the code, and also contacted Pinkard's family to tell them she had passed out. She made another call to the code team, then begin alternating CPR with Tolle and Bass. Justin Hewlett, MD, assistant professor of Medicine, Edward Qian, MD, a fellow in Allergy/Pulmonary and Critical Care Medicine, and Anil Trindade, MD, assistant professor in Allergy/Pulmonary and Critical Care Medicine, were also quickly on the scene.
Fernando Benito, a neurodiagnostic tech, brought a code cart to the office where Pinkard needed help. Then the code team arrived and began the next level of emergency care with a defibrillator, an IV drip, intubation, and more CPR. As Atherton prayed with another colleague, Dennis Wordlaw, a patient care tech in the Cancer Clinic, she heard a member of the team announce, "We have a pulse."
The basement of TVC is not the easiest place to find office numbers, and charge nurse Tiffany Dabney, RN, was on site and assisted the response team in finding the office to provide the stretcher for transport. As Atherton remained in the office, the team rushed out with Pinkard on the stretcher, but when they exited the elevator and emerged onto the first floor headed to the Emergency Department, her heart stopped beating again and a team member began CPR again as the she was wheeled away.
Pinkard had suffered a life-threatening heart attack.
News had traveled fast because Hall had contacted the physicians Pinkard worked with after first notifying her family. Jonathan Nesbitt, MD, who was then chair of Thoracic Surgery, learned of Pinkard's health crisis even while on vacation in Michigan. He had called her phone while her colleagues were administering CPR in the basement and gotten an update. He then contacted Matthew Bacchetta, MD, the director of the ECMO (extracorporeal membrane oxygenation) Program. Bacchetta rushed to the Emergency Department where he had an ECMO on standby and a cardiac catheterization lab order awaiting.
A team of VUMC colleagues awaited her there, as well. Pete Fong, MD, assistant professor of Medicine, opened her coronary artery. John Stokes, MD, and Yatrik Patel, MD, were ECMO fellows performed the ECMO cannulation. Phyllis Adcock was the perfusionist who initiated and managed the ECMO circuit during CPR.
Her colleagues were with her every step of the way with actions, prayers and healing wishes. She had a whole team of doctors ready to spring into action that also included Eric Lambright, MD, Eric Grogan, MD, Robert Lentz, MD, and Otis Rickman, DO. Atherton and other colleagues, including Nikki Baldi, RN, and Julie Jenkins, RN, the manager of patient care services for the Vanderbilt Lung Institute, were also there awaiting news about their friend. They weren't alone.
"The entire Vanderbilt Lung Institute was awaiting news of their colleague," Jenkins remembered. "We have several staff who have worked with Karen for years."
Pinkard had a total right coronary artery block and circumflex blockage. The blockages were cleared with two stents, but her condition was so serious that she depended upon ECMO for several days. She was hospitalized at Vanderbilt Hospital for about four weeks and then stayed at Vanderbilt Stallworth Rehabilitation Hospital for almost three weeks where she worked to regain her strength and mobility.
Atherton has a dogwood tree growing in her yard that was a gift from Pinkard before she saved her life. When it blooms this spring, she can reflect on the gift of her friend's survival.
Her husband, John; daughter, Caitlin, and son, Peyton kept an alternating bedside vigil with her. John Pinkard sent daily texts to her colleagues to keep them updated.
And here's the good news and the happy ending: Pinkard returned to work in October.
"Donna and everyone else kept me so ventilated with CPR – they tried to get my oxygen saturation about 90% – that I had no brain deficits. My kidneys did take a hit. I had to do a few dialysis treatments in the hospital. I know I have no kidney trouble. I am back to normal. My brain function is fine."
Atherton has a dogwood tree growing in her yard that was a gift from Pinkard before she saved her life. When it blooms this spring, she can reflect on the gift of her friend's survival.
"We all know Karen is a miracle," Atherton said. "We give God the glory for arranging everything to be in the right place at the right time to save Karen."
Later, when everybody had more time to reflect on the day's events, there were several instances of everything working out perfectly to save Pinkard's life:
Atherton had asked for the automatic closure to be removed on the office door only a week earlier. She doesn't think she would have been able to open the door and still do CPR if this seemingly minor change hadn't been made to the door only days earlier.
The PT appointment — the reason Atherton was in the office early that day — had actually been rescheduled to 2 p.m. She got a voice mail the day before with the change, but had not listened to it. Since her usual arrival time for work is 8 a.m., if she had listened to the voice mail, she wouldn't have been at work when Pinkard needed her. In fact, the most likely outcome in this case is that Atherton, rather than saving Pinkard, would have found her when it was too late.
On her way back from walking to the PT appointment that had been rescheduled to later, Atherton looked at their new office number. The office that the two nurses had just moved to is part of a suite of offices tucked behind the Pulmonary Clinic, in the basement of TVC. Because that very morning she had memorized her new office number, she was able to direct help to the right location.
Tolle, one of the first to respond, was on service and had arrived earlier than usual to work. If he had not been on service, he would not have been in the office until later — again, when it would likely have been too late.
Pinkard realizes now more than ever that she is surrounded at work by people who love her.
"The people I work with all saved my life," she said. "I don't know honestly why I am still here, but someone higher up than me has a purpose."