Drea Gaffney thinks of her own father every time she speaks with patients about their bills
Gaffney, longtime VUMC employee, earns Credo Award for her work
September 23, 2019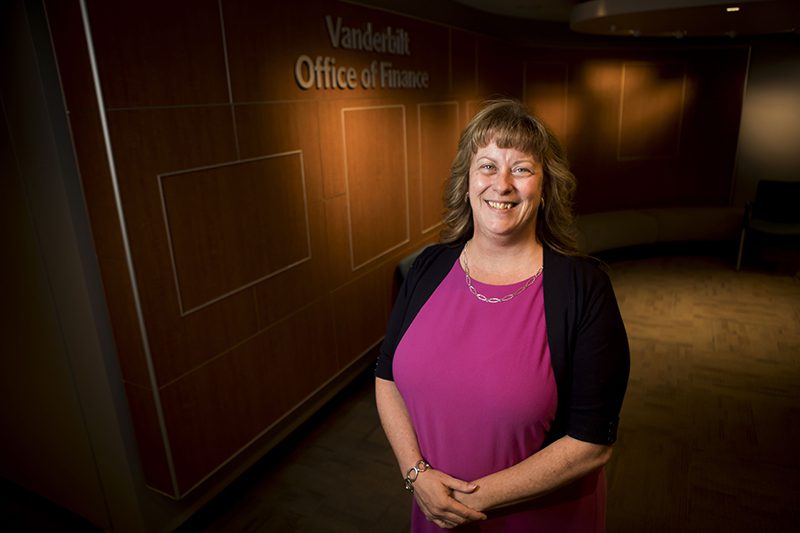 Photo by Susan Urmy
Drea Gaffney keeps one thing in mind as she goes about her job with Patient Financial Services at Vanderbilt University Medical Center: nobody chooses to be sick or injured, and patients and their families deal with a lot of stress surrounding a hospital admission.
The 18-year VUMC employee also thinks about her elderly father, who knows little about health insurance, when she talks to patients about their bills.
"Patients have unique situations. Something bad has happened, and there's a lot of stress and the patient's bill is one more thing to think about. So we try to keep it simple and hope that the least amount of stress is the result of the bill," said Gaffney, honored with a Credo Award at the August 2019 Leadership Assembly.
"Quality is never sacrificed; her work and the patients she serves are too important to Drea," one colleague wrote.
Gaffney has worked in several roles in Patient Financial Services including, most recently, assistant director.
Gaffney's colleagues mentioned in her nomination that she goes about her job of managing several different teams of 34 people with a smile no matter what her day involves. One called her "the glue in Patient Financial Services."
"Quality is never sacrificed; her work and the patients she serves are too important to Drea," one colleague wrote.
But she also knows that her job is critical to Vanderbilt University Medical Center keeping its doors open, so she walks a fine line in helping the patient and getting the end result — payment.
One patient, the nomination mentioned, "was satisfied in the end with Drea's one-on-one approach, her honesty about the patient's responsibility and genuine concern for the patient's situation. Drea's consideration and care for both Vanderbilt and its patients exhibit her exceptional leadership skills and accountability to those she serves."
When Gaffney talks to a patient, there are many numbers in front of her — account numbers, patient fees and insurance company payments. But to her, the person on the other end of the line is anything but a number.
She knows that patients are bombarded with solicitations of many types, "so when I call, I try to work out an arrangement. It might be that the bill gets paid. It might be the patient assistance program, but whatever it is, I'm here to help."
Gaffney said that the best part of her job is being able to tell patients that their account is resolved, and they don't have to worry about it any more. The most rewarding part of her day is when a patient thanks her for listening. "That's when you know you've made a difference," she said.
On Aug. 1 she began a new role at VUMC: associate director, Revenue Cycle Patient Financial Services. In the new position she will be working with more areas throughout the Medical Center overseeing revenue.
Gaffney, who moved to Nashville 20 years ago from central Washington state, said that although VUMC is a large organization, it's made up of many individuals with one aim — taking care of the patient.
"I still see VUMC as a mom-and-pop company. We are large, but people work here with their hearts. I hope I'm able to share my knowledge and experience with others, as well as my attitude," she said.
To place a nomination for an Elevate Credo Award, Five Pillar Leader Award, or Team Award, visit the Elevate website to fill out a nomination form. Employees demonstrate credo behaviors when: they make those they serve the highest priority; respect privacy and confidentiality; communicate effectively; conduct themselves professionally; have a sense of ownership; and are committed to their colleagues. Elevate award nominations are accepted year-round. If a nomination is received after the cutoff for quarterly award selection, the nomination will be considered for the next quarter. VUMC Voice will post stories on each of the award winners in the weeks following their announcement.