"My dream was to be a nurse, taking care of critically ill children"
After four decades of caring for children, Jade Forlidas is passing the torch to a new generation — including her daughter, a LifeFlight nurse
November 14, 2017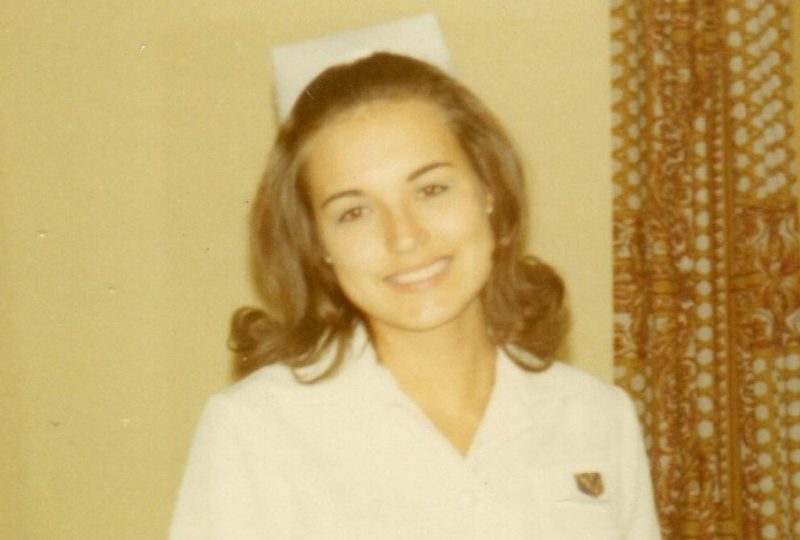 Jade Forlidas on the day of her pinning ceremony in 1970. 
Jade Forlidas, MSN, RN, first stepped onto the Vanderbilt University campus in 1969, beginning four years of nursing school. Last month, she walked away for the last time as an extracorporeal membrane oxygenation (ECMO) specialist for Monroe Carell Jr. Children's Hospital at Vanderbilt, capping a 43-year career in nursing.
"I've been a nurse for 43 years, and I've learned as much in the last nine years as I learned probably in all the years before that."
In between, she left an indelible mark on the people she worked with, the patients she cared for and the children she raised. Her Vanderbilt career started with the cheers she gave as a member of the Vanderbilt cheerleading team and ended with the cheers from her co-workers, family and friends at a retirement party at the Children's Hospital theater.
"We all lift each other up by the bootstraps every day, and we work really well together and we work together with everybody here at Children's Hospital," Forlidas told her colleagues on the extracorporeal membrane oxygenation (ECMO) team. "And I just thank all of you so much. I just think it's time to pass the torch and cheer you all on and just know that I'll be praying for you every day to carry on the great work."
ECMO is a special machine that takes over for the lungs or heart when one or both fail to perform. External pumps and oxygenators remove carbon dioxide from the blood, replace it with oxygen and return it to the patient's circulatory system.
Forlidas, who is from the New Orleans, Louisiana, area, said she was smitten with Vanderbilt from her first visit. "When I started here, the children were in the Round Wing. That is where I really fell in love with pediatric critical care and that is where I watched my first open heart surgery. That started my dream to be a nurse, taking care of critically ill children, in particular, heart patients."
After graduation, she returned home to Louisiana, where she worked at Ochsner Medical Center for 15 years, helping to set up a pediatric intensive care unit (PICU). But she felt the tug to earn an advanced degree. She returned to finish her career at Vanderbilt, obtaining her Master's degree in Nursing while raising three children — Judson Van Meter, Christina Merrell and Jessica Van Meter — as a single parent. She married Vanderbilt alumnus Nicholas Forlidas in 1995.
"I just think it's time to pass the torch and cheer you all on and just know that I'll be praying for you every day to carry on the great work."
Jessica Van Meter, DNP, RN, is now a flight nurse at Vanderbilt. She remembered the evenings she and her siblings did their homework at the hospital while their mother was working. "We always knew that weekends, nights and holidays, like those times that all our nurses are aware of that we sacrifice for our families, that our mom was taking care of sick kids. And we were lucky to be happy and healthy and have such a wonderful, supportive family to let her do that. And since that time, I always knew who I wanted to grow up to be like."
Forlidas' career at Vanderbilt took her to pediatric cardiology, cardiac surgery, the neonatal intensive care unit (NICU), PICU and the ECMO team, where she spent the last nine years.
"I've been a nurse for 43 years, and I've learned as much in the last nine years as I learned probably in all the years before that," she said of her ECMO colleagues. "It's just a really great group, really great camaraderie and really great physician support."
One of those physicians is Brian Bridges, M.D., medical director for the ECMO program. "I think in a lot of ways that ECMO can be very much the same from unit to unit, hospital to hospital," he said. "It's the patients who are different. I don't think I've ever worked with a specialist who understood patients and the differences in those patients better than Jade."
Executive Chief Nursing Officer Marilyn Dubree, MSN, RN, also sent her congratulations to Forlidas for her work. "Jade's commitment to all of our patients and their families has always been matched by her commitment to Vanderbilt Nursing and the entire team caring for patients," she said. "She epitomizes the best of Vanderbilt Nursing. She is caring, exceedingly competent and compassionate."
Kathie Krause, MSN, RN, Chief Nursing Officer for Children's Hospital, added, "Nursing is often about touching the lives of people when they are at their most vulnerable. Throughout her 43-year career as a nurse, Jade has not only touched the lives of countless children and families but also the lives of those who have practiced with her. The mark she has made and the legacy she leaves will forever be a part of Vanderbilt Nursing."
Forlidas was moved to tears by the accolades, and told those at her party:  "It has been the greatest joy ever to be with you all every day," she said. "I won't ever have that sense of being so proud as I am when I've been standing by you taking care of families and kids. Thank you so much. I love you all."
Another story from VUMC Voice about a daughter inspired to become a nurse because of her mother's example: "Daughter follows mother into nursing through VUMC Nursing Explorer program."