Elevate Team Award celebrates COVIDRX team's coordinated, statewide distribution of COVID-19 therapeutic
"The team focused on the patients. We took a Vanderbilt Credo and extended it and portrayed it for the entire state of Tennessee."
November 6, 2020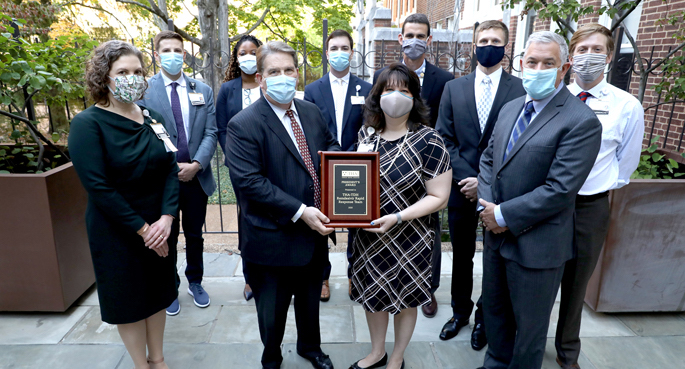 Photo by Erin O. Smith
A team of pharmacists and physicians from Vanderbilt University Medical Center (VUMC) that coordinated statewide distribution of remdesivir, an urgently needed investigational drug for severely ill patients hospitalized with COVID-19, received the Elevate Team Award during VUMC's virtual Leadership Assembly on Oct. 28.
Remdesivir was granted full approval by the U.S. Food and Drug Administration on Oct. 22, after the drug showed promise in hastening recovery among patients hospitalized with COVID-19.
The FDA granted emergency use approval in early May. Days later, VUMC received enough vials of remdesivir to treat 25 to 50 patients. At that time, according to the Tennessee Department of Health, the statewide count of hospitalized COVID-19 patients had exceeded 1,200 and was growing rapidly.
VUMC pharmacists assumed other hospitals had received their own shipments. That assumption was shattered when Mark Sullivan, PharmD, MBA, executive director of VUMC Inpatient and Clinical Pharmacy Operations, got a call from Cary Chrisman, PharmD, requesting the drug for a patient at Methodist Medical Center in Oak Ridge, Tennessee.
"All of a sudden we realized we were the only people in Tennessee who had this life-saving drug," said Patty Wright, MD, associate director of the Division of Infectious Diseases and co-leader with Warren Sandberg, MD, PhD, professor and chair of Anesthesiology of the team that became known as COVIDRX.
With the support of C. Wright Pinson, MD, MBA, VUMC Deputy CEO and Chief Health System Officer, VUMC pharmacists and physicians developed a protocol  for distributing remdesivir to patients who met specific clinical criteria — a plan that received approval by the state and the Tennessee Hospital Association (THA).
More remdesivir arrived, and the COVIDRX team swung into action. At first through paper submissions and later using a REDCap survey tool set up by Garrett Crothers, PharmD, program director of Special Projects in the Department of Pharmaceutical Services, the team evaluated requests and set up a statewide distribution system.
By the end of September, when a federal distribution strategy was put in place, the COVIDRX team had responded to more than 1,400 individual patient requests from more than 60 hospitals, said Molly Knostman, PharmD, MHA, director of Inpatient Pharmacy Operations.
Remdesivir was delivered to the patient on average within seven-and-a-half hours after the request was approved, she said.
For their efforts the THA honored the team in October with its 2020 President's Award.
"The team focused on the patients," said Eric Patton, PharmD, Enterprise Support Services Pharmacist Manager. "We took a Vanderbilt Credo and extended it and portrayed it for the entire state of Tennessee."
Other team members were:
From the School of Medicine and Clinical Enterprise Administration — Ritu Bannerjee, MD, PhD, Cody Chastain, MD, Clisby Hall, JD, Sean Kelly, MD, and Todd Rice, MD, MSCI;
From the Department of Pharmaceutical Services — Donaye Blake, PharmD, Andrea Bryant, PharmD, MBA, MHA, Deidra Dickerson, PharmD, Jared Gabbert, PharmD, MBA, Whitney Nesbitt, PharmD, Bob Lobo, PharmD, Yufang Ma, PharmD, PhD, Cathy Oleis, PharmD, Michael O'Neal, PharmD, MBA, Pratish Patel, PharmD, Kevin Scharfman, PharmD, Ryan Schell, PharmD, Andrew Smith, PharmD, Jason Tomichek, PharmD, Ryan Turner, PharmD, Halden Van Cleave, PharmD, MS, and Jared Whitman, PharmD.
If you are a VUMC employee, you can nominate a colleague for an Elevate Credo Award, Five Pillar Leader Award, or Team Award. Visit the Elevate website to fill out a nomination form. Employees demonstrate credo behaviors when: they make those they serve the highest priority; respect privacy and confidentiality; communicate effectively; conduct themselves professionally; have a sense of ownership; and are committed to their colleagues. Elevate award nominations are accepted year-round. If a nomination is received after the cut off for an award selection period, the nomination will be considered for the next period. VUMC Voice will post stories on each of the award winners in the weeks following their announcement.