The elusive Nobel Prize winner
Stanley Cohen wanted to be left alone to do his research. I wanted to interview him for a radio show. Amazingly, he said yes.
February 7, 2020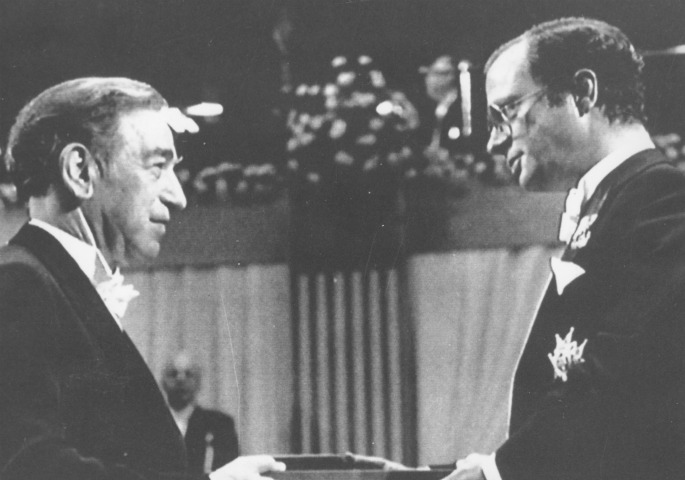 Stanley Cohen receives his Nobel Prize medal and diploma from King Carl XVI Gustaf of Sweden at the 1986 Nobel ceremony in Stockholm.
Shortly after he won the Nobel Prize for Medicine or Physiology in 1986, I wanted Stanley Cohen, PhD, the Vanderbilt biochemist who died Feb. 5 at the age of 97, to appear on the radio show I hosted at that time, a five-minute weekly NPR broadcast called "Medically Speaking."
This should have been easy.
I was then (as I am now) in the News office at Vanderbilt University Medical Center, where Dr. Cohen was a professor of Biochemistry.
The show was taped in a studio in Light Hall, the same building where Dr. Cohen's lab was located.
Since he had won the Nobel (he shared it with another researcher, Rita Levi-Montalcini, PhD, for their discovery of epidermal growth factor), Dr. Cohen had given dozens of interviews, including to national networks and publications.
But that was the sticking point: he had already given tons of interviews.
Stanley Cohen was basically a shy man who enjoyed working in the lab on scientific problems. He was often seen walking the halls of the laboratory floors, smoking his ever-present pipe, lost in thought. Being an international science star did not suit him. And at some point, he had told the people who answered the phone in the Department of Biochemistry that he wanted them to turn down all interview requests.
So when I called Marlene Jayne, the matronly administrative goddess over the domain of Biochemistry at Vanderbilt, she was sympathetic, but didn't leave much hope. Dr. Cohen, she said, was tired of talking. He wanted to get back to research.
So, naturally, I relied on the time-honored method of reporters looking for an interview: I begged.
"Ms. Jayne," I pleaded. "Dr. Cohen has talked to The New York Times and The Wall Street Journal and to NBC and CBS. Surely he'll let me interview him for a show produced at Vanderbilt!" I probably sniveled out a few other points. I don't remember.
But what I do remember is that after a few days, Ms. Jayne called me and told me that Dr. Cohen had–and she made this clear–RELUCTANTLY agreed to an interview.
Well, I thought, a grouchy Nobel Prize winner was better than no Nobel Prize winner at all.
But on the day of the taping, Dr. Cohen could not have been nicer. We had so much to talk about that he agreed to stay for an extra two shows, so I ended up with a three-part series with him on epidermal growth factor, and how it can help people understand and maybe help cure cancer, and even a little bit about what it feels like to get an early-morning call from Sweden with some very exciting news.
It was a good interview, fun to do, and, I hope, fun and informative for listeners.
And when it was over, he smiled, gave a little wave with his pipe in his hand, and headed back to his lab — the place where he was truly happy.
To read Stanley Cohen's obituary at the VUMC Reporter, click here.