Employing her background in counseling, Shannon Ontiveros brings compassion, advocacy and confidence to the Office of Faculty Affairs
"When your job is helping people through stressful times, you wonder about the impact you're having. To receive an award that says what I'm doing does matter is great. It's a really big honor."
August 25, 2023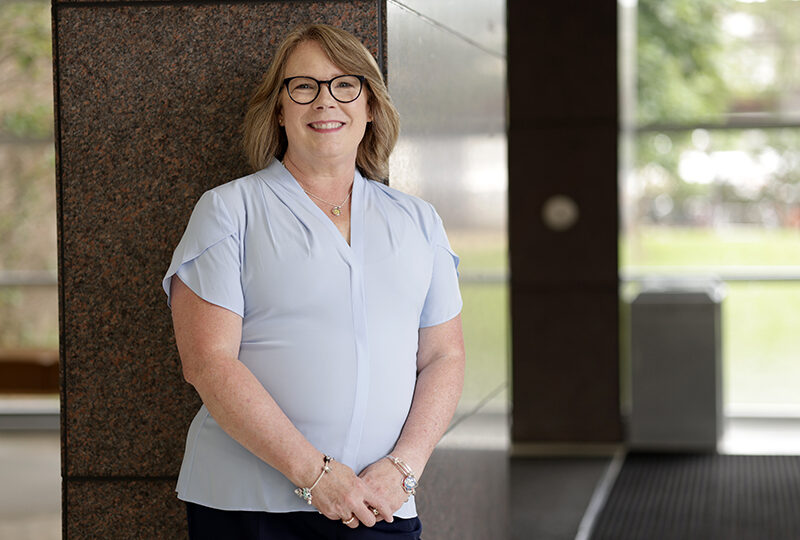 Shannon Ontiveros, director of the Office of Faculty Affairs and director of the Faculty Training and Compliance Program. Photo by Donn Jones.
To be successful in academic medicine, whether in teaching, research or clinical care, faculty members must be able to recognize and address potential conflicts of interest and comply with numerous, often-changing federal requirements.
Fortunately, at Vanderbilt University Medical Center, there is an expert and resourceful navigator to guide them. Her name is Shannon Ontiveros, director of the Office of Faculty Affairs and director of the Faculty Training and Compliance Program.
In recognition of the highly professional level of service she has provided to faculty members for more than two decades, and for her ability to communicate effectively while protecting their privacy and confidentiality, Ontiveros was recognized with a Credo Award at the VUMC August 2023 Leadership Assembly.
"She gets things done, easily and efficiently," Susan Mezger, director of VUMC Human Resources Service Delivery, wrote in her nomination letter. "She will go that extra mile because that is who Shannon is."
"In all my time at VUMC, I can't think of anyone more deserving" of a Credo award, added David Raiford, MD, VUMC's longtime Chief of Staff, and Senior Associate Dean for Faculty Affairs for the Vanderbilt University School of Medicine, who retired June 30.
"When your job is helping people through stressful times, you wonder about the impact you're having," Ontiveros said. "To receive an award that says what I'm doing does matter is great. It's a really big honor."
Service to others has long been a calling for Ontiveros, a Tennessee native and the mother of two adult children who lives in Clarksville with her husband, Robert Ontiveros, lead relationship manager for VUMC Information Technology.
After earning a master's degree in Community Mental Health from Austin Peay State University in Clarksville in 1993, she worked with young people in a residential treatment center, with children in therapeutic foster care, and for an early intervention program for children diagnosed with developmental delays.
In January 2001, she arrived at VUMC, first as a research analyst for the Institutional Review Board (IRB), and later in the Office of Faculty Affairs to help faculty members comply with training and conflict of interest requirements.
For example, she helps researchers seeking to partner with outside companies to develop their discoveries comply with federal rules protecting intellectual property rights.
"In her faculty affairs role, she works with individuals across all departments of the medical center, often dealing with very private and sensitive information," wrote Donald Brady, MD, Executive Vice Dean for Academic Affairs.
"In every instance, she displays the utmost respect for people's privacy and confidentiality, while also showing great care and compassion to everyone with whom she interacts," Brady wrote.
Ontiveros is also a problem-solver.
In 2012, when new rules tightened conflict-of-interest verification reviews for recipients of federal grants, Shannon worked with her IT team to develop a rapid review process that avoids delays in the disbursement of grant funds.
"Shannon's knowledge, helpfulness and commitment ensured that VUMC worked seamlessly to incorporate those regulations into processes that still work today," wrote Alison Cooper, associate director of Conflict of Interest and Commitment Management in the Vanderbilt University Office of General Counsel.
When the COVID-19 pandemic hit in early 2020, Ontiveros spearheaded the digitization of the appointment and promotion processes in the School of Medicine.
"This quick transition from paper to online processes and workflows allowed the Office of Faculty Affairs to continue reviewing faculty appointments and promotions seamlessly, despite the changes to remote work across the institution," wrote Amy Nabours, senior program manager in the Department of Pediatrics Office of Faculty Development.
"I'm not afraid of change," Ontiveros said. "We're always looking for ways to make things easier and better…When we're looking at compliance or conflict of interest, our goal is how to get to a 'yes,' how do we help (faculty) to do the things they wish to do."
If you are a VUMC employee, you can nominate a colleague for an Elevate Credo Award, Five Pillar Leader Award, or Team Award. Visit the Elevate website to fill out a nomination form. Employees demonstrate credo behaviors when: they make those they serve the highest priority; respect privacy and confidentiality; communicate effectively; conduct themselves professionally; have a sense of ownership; and are committed to their colleagues. Elevate award nominations are accepted year-round. If a nomination is received after the cut off for an award selection period, the nomination will be considered for the next period. VUMC VOICE will post stories on each of the award winners in the weeks following their announcement.