First as a server, and now as a food and nutrition patient ambassador, Carla Moore cares for the same people twice
Moore earns a Patient and Family Choice Award for Vanderbilt Wilson County Hospital
May 23, 2023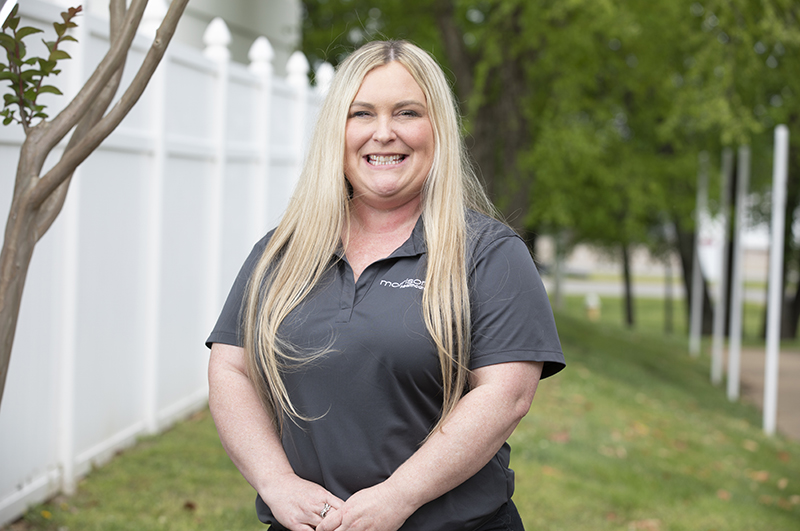 Carla Moore, food and nutrition ambassador at Vanderbilt Wilson County Hospital. Photo by Erin O. Smith.
When Carla Moore was invited to a meeting at Vanderbilt Wilson County Hospital (VWCH), she didn't think twice about it. As a food and nutrition patient ambassador, Moore often helps with food service at hospital events.
Then they asked her to sit in the front row.
"I stand about 4' 11'', so there I was, absolutely terrified, feet not touching the ground," Moore said with a laugh. "I thought at any minute the meeting would be over and they'd ask me to serve the snacks and drinks."
Instead, Moore was surprised with VWCH's Patient and Family Choice Award, which is sponsored and selected by each of Vanderbilt University Medical Center's four patient and family advisory councils. Nominations were submitted by patients and families. This is the first year the award was given out at VWCH.
"I was bawling and squalling," Moore said. "My mom and fiancé popped up out of nowhere. I hate being the center of attention, and I was about 16 shades of red, but I loved all the love and hugs. People I didn't even know were huggers hugged me, so now I know."
The 2023 Patient and Family Choice Award honors employees from across Vanderbilt University Medical Center who act with compassion and excellence to provide an exceptional experience for patients and their families. Each year, the patient and family advisory councils bestow awards to five individuals from Vanderbilt University Hospital, Monroe Carell Jr. Children's Hospital at Vanderbilt, Vanderbilt Behavioral Health, Vanderbilt Adult Ambulatory Clinics and Vanderbilt Wilson County Hospital.
 Moore visits patient rooms, explains their diet and helps them understand why they can or can't have certain foods. She follows up to make sure what they ordered is what they received and that preferences were fulfilled.
Many of Moore's patients have eaten a certain way their entire lives and find the shift to low-salt, low-sugar and other diet modifications challenging. According to the nominations, Moore has a way of softening the blow. They read:
"Carla was an incredibly sweet woman and made sure I had the best care when it came to all my meals. She made sure I was happy with everything while keeping my meals healthy and nutritious."
"Carla provided great care to my grandmother in her time of need. She made my grandmother feel comfortable and important. She was very nice and outgoing. We were always greeted with a smile from Carla, and she really did make a difference."
Before she took a job with Morrison Healthcare, the contracted service for Food and Nutrition Services at VWCH, Moore spent more than a decade as a server at Sunset Family Restaurant, an iconic Lebanon meat-and-three that closed its doors after 62 years in October 2021. Today she sees more than 40 patients a day — many of whom are former customers from Sunset.
"I hate that I have to see them here, but it gives them a lot of comfort to know I've fed them for 11 years and I'm still feeding them," she said. "As soon as they see me, they say, 'I want that meringue pie [from Sunset]!'"
A self-described "people pleaser," Moore is touched by the award because it means she's made others happy. But it's by no means her first surprise on the job.
"The first week I worked here, I helped out in the café, and it was snowing," said the Wilson County area native, who started in December 2021. "We were really short-staffed all the way through the hospital and the president [Scott McCarver, MHA] was running the cash register. I had absolutely no idea who he was. I was like, 'That's not how you do it.' And he said, 'Well then please help me,' So I helped him, and he said, 'Thank you so much for helping me.' I had no idea the whole time he was the president of the hospital. Now, no matter what, he and I speak when we pass each other. That's one of the many things I love about working here."