Five years of DAISY Awards: a celebration
Extraordinary nurses honored at event featuring Tena Barnes Carraher of the DAISY Foundation
May 18, 2023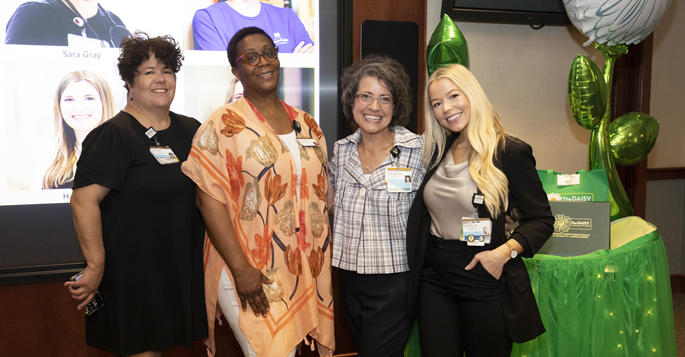 Among those at the celebration were, from left, Marianne Broyles, MSN, RN, Aureata Majors, APRN, Kimberly Burkeen, MSN, RN, and Kayla Felker, RN. Photo by Erin O. Smith
Winners of The DAISY Award from throughout Vanderbilt Health gathered on May 11 to celebrate nearly five years that Vanderbilt has participated in the national recognition for extraordinary nurses who exemplify compassion toward patients and families.
The reception, at Monroe Carell Jr. Children's Hospital at Vanderbilt, featured a special guest, Tena Barnes Carraher of the DAISY Foundation, which created The DAISY Award in 1999 to honor the memory of her late husband, J. Patrick Barnes.
Barnes died at 33 of complications of the autoimmune disease idiopathic thrombocytop- enic purpura (ITP), and his family was so moved by the nursing care they received that they started The DAISY Award to honor extraordinary nurses. DAISY is an acronym for Diseases Attacking the Immune System.
"Those nurses became our family," said Carraher, who is now vice president of marketing and communications for The DAISY Foundation. "We were included in information and decisions, and it was really the nurses who were our interpreters, to explain things to us in terms that we could understand."
Carraher said her family tried to find a way to recognize nurses, and finding nothing sufficient, decided to start their own.
"We came up with The DAISY Award for extraordinary nurses as a way for patients, families, colleagues, really anyone to be able to thank nurses and tell a story about the difference that you make."
The DAISY Award began in two hospitals involved in her late husband's care. But that was before "nurses got a hold of it," she said, and through word of mouth, "we started to grow."
Vanderbilt is now one of nearly 6,000 health care facilities and schools of nursing in all 50 states and 37 other countries that offer the award. The DAISY Foundation estimates more than 200,000 nurses have received the award, out of about 2.5 million nominations.
At Vanderbilt, the award is open to all licensed nurses and anyone can nominate — including co-workers, patients and their families. VUMC nurse committees determine the individual recipients, and award them quarterly to entities throughout Vanderbilt Health. To nominate a nurse and for more information and past winners, visit https://www.vumc.- org/vanderbilt-nursing/daisy-award.
"I really thank all of you who do that work behind the scenes to make your DAISY program what it is," Carraher said.
The DAISY Award reception took place during Nurses Week, a yearly celebration from May 6-12 that ends on the birthday of Florence Nightingale, considered the founder of modern nursing.
The month of May is typically filled with events celebrating nurses, and Executive Chief Nursing Officer Marilyn Dubree, MSN, RN, NE-BC, added that Vanderbilt celebrates nurses daily.
"We are in partnership with The DAISY Foundation that does exactly the same thing, celebrating nurses and the compassionate care that they each bring to patients and families and communities every day," she said.
Among the many Vanderbilt winners of The DAISY Award was Aureata Majors, APRN, who received her award in 2022 for care the nurse practitioner gave to a little girl with an earache at one of the Vanderbilt Health Clinic at Walgreen's locations.
"My daughter developed a severe and painful case of swimmer's ear," the nominee for her award wrote. "It was hot, it was Sunday, we were tired, and nobody wants to be at a walk-in clinic for urgent care on a hot summer Sunday. Aureata was a beam of light and positivity as soon as she entered the room. Her exam was thorough and responsive. She also brought refreshing humility to the visit, carefully explaining things, including when swimmer's ear would merit a visit to the ER to both my daughter and me. Honestly, my reaction is really to the attitude of caring and interest that Aureata brought in to the exam room that day."
At the reception, Majors recalled she was just doing her job.
"The child was in a lot of pain, and we just kind of walked in, let the child take the lead, and in allowing her to take the lead, it helped the child and comforted the mom and she walked out feeling better," she said. "I think her words to me were, 'As soon as you walked in, we knew everything was going to be OK.' And I think that's something that Vanderbilt and Vanderbilt nurses deliver on a daily basis."