Flavia Atkins brings caring and leadership to the patients she guides as a health care navigator
She takes pride not only in guiding patients on their health care journeys but also in serving as a resource who is always available to her fellow navigators
September 19, 2023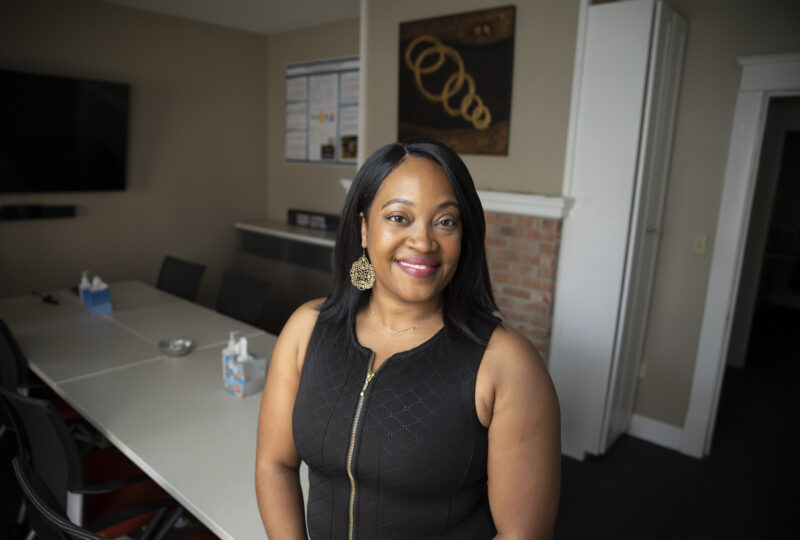 Flavia Atkins. Photo by Erin O. Smith.
If she can be helpful to her co-workers, Flavia Atkins doesn't hesitate — even if it means taking on extra work and delaying the daily and weekly tasks on her own to-do list. As the lead patient navigator for the MyHealth Bundles program, she takes pride not only in guiding patients on their health care journeys but also in serving as a resource who is always available to her fellow navigators.
For her dedication to patients and colleagues, Atkins received a Credo Award at the August 2023 VUMC Leadership Assembly.
"Flavia may underrecognize the impact she has on our team, but we feel her positive impact daily," a team member wrote in the Credo Award nomination. "She has shown that some of the strongest leadership skills come simply from how you treat your peers."
Atkins, who has a master's degree in instructional design and previously worked in education, started working at Vanderbilt University Medical Center in October 2016 in the women's health access center. She joined the Episodes of Care team in December 2020 as one of three patient navigators who offer concierge-level nonclinical support. The team now includes eight navigators, who work with about 3,200 actively enrolled patients across 10 bundles. Atkins became the lead navigator — a new position on the team — a year ago.
A typical day for a navigator can include enrolling patients in bundles, teaching patients about the benefits and requirements of their bundle program, coordinating care, answering phone calls, emails and My Health at Vanderbilt messages, tracking the progress of patients in a bundle, and reaching out to new patients who may qualify for a bundle, among many other tasks.
"It's a lot — a lot of communication with patients and checking databases and reports," Atkins said.
Sometimes there are tough conversations with patients, and Atkins handles them all with grace and finesse, a nominator wrote. "Whether it's escalating a patient concern to leadership or providing a gentle voice to a MyMaternityHealth bundle mom who has experienced a pregnancy loss and is crying, Flavia is there: unhurried and genuinely empathetic and caring."
As lead navigator, Atkins trains new team members and answers questions from all navigators throughout each day.
"She is the first to answer any question in chat posed by any navigator. She is the first to volunteer to take consults over for us if we have an emergency or there is an escalating patient situation. She is the first to take on extra work if one of us is struggling," wrote a fellow navigator. "Flavia is committed to her colleagues and patients and to the very idea of what it means to be a patient navigator."
Atkins also serves on the department's culture committee and helps plan activities that encourage team connection, like regular in-person gatherings and games for the weekly virtual team meetings. She encourages her colleagues to wear costumes to the gatherings and was especially pleased that one team worker dressed as a jar of queso dip for the group's recent summer fiesta. It was at this event that the group learned it had won the Elevate Team Award and that Atkins learned she had won a Credo Award.
"I was shocked," Atkins said. "I didn't really have words at the time. I just cried.
"I feel very grateful and appreciated. It's not that I didn't feel appreciated before, but the scope of this is different…the fact that someone even put in a nomination to begin with. It just feels really good."
View Flavia Atkins video from the Leadership Assembly here.
If you are a VUMC employee, you can nominate a colleague for an Elevate Credo Award, Five Pillar Leader Award, or Team Award. Visit the Elevate website to fill out a nomination form. Employees demonstrate credo behaviors when: they make those they serve the highest priority; respect privacy and confidentiality; communicate effectively; conduct themselves professionally; have a sense of ownership; and are committed to their colleagues. Elevate award nominations are accepted year-round. If a nomination is received after the cut off for an award selection period, the nomination will be considered for the next period. VUMC VOICE will post stories on each of the award winners in the weeks following their announcement.