For Ali Grubbs, leadership means mentoring and empowering every employee
"My favorite part of this job is taking care of the people and engaging with our staff and helping them solve problems and achieve professional growth and development."
March 31, 2023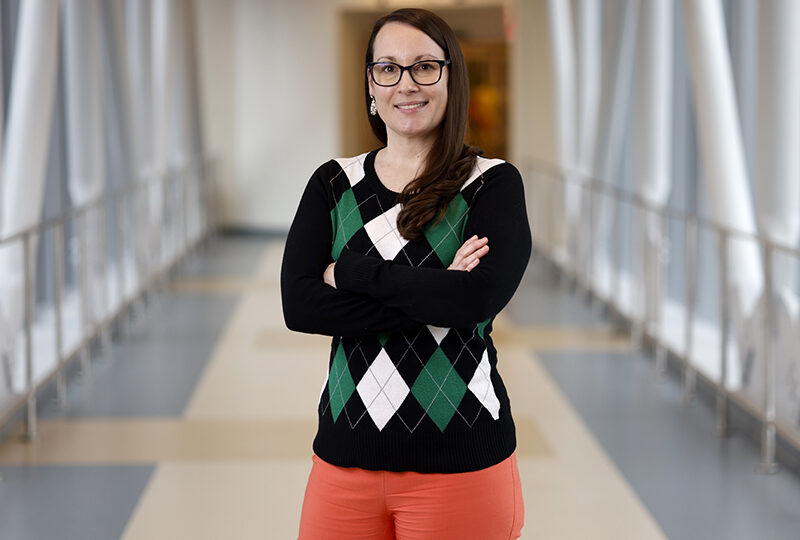 Ali Grubbs, MSN, RN, NE-BC, nurse manager of the Adult Emergency Department C-Pod for VUH. Photo by Donn Jones.
Ali Grubbs, MSN, RN, NE-BC, knows that a leader must understand the needs of her team members and the passion that drives their work. By allowing them room for growth and professional development, and for their ideas to be heard and implemented, she has earned the admiration of her colleagues and is transforming future leaders for Vanderbilt University Medical Center.
Grubbs is the nurse manager of the Adult Emergency Department C-Pod at Vanderbilt University Hospital, a dynamic, hybrid traditional ED and step-down unit, which provides acute and transitional care depending on the patient population of the day. The unit is fully staffed, and there's a waiting list to work on her team. She also manages a 17-bed Transitional Care Unit (TCU) and is preparing to open a new 17-bed unit in June for medicine observation patients.
Grubbs embodies the Credo and the Five Pillars — people, service, quality, innovation, growth and finance — that support VUMC's service and operational excellence. And that is why she is the latest recipient of the Five Pillar Leader Award, presented at the February 2023 Leadership Assembly.
"Ali has built our team with the VUMC standards of Credo," her nomination reads. "She has made a culture change, which is one of the hardest and most important things to do as a manager. She has coached people individually and globally to focus on team-oriented care…to have each person focus on innovation and quality as a whole. She is not a person to shut others down; she only builds and helps us all to improve within ourselves and our professional development. Ali is the definition of Credo at VUMC."
Grubbs came to Vanderbilt in 2006, starting as a staff nurse on the acute care unit that was then on 8 South, then shifting to the Emergency Department, where she progressed to clinical staff leader. From there, she entered leadership roles, first in inpatient neurosciences, then in the Burn Unit. When she took over as nurse manager in the C-Pod, the unit had a number of vacancies, a common situation after nearly three years of disruption from the COVID-19 pandemic.
She devised a new strategy for recruiting — emphasizing that joining her team for a year would give a nurse three years of experience in one. That's because the unit dynamically functions as an emergency department, inpatient critical care, and step down.
Grubbs also worked on improving retention by checking in with each member of her team to find out if they like their work, what they are passionate about, and if there is another area they would like better.
Grubbs puts herself out there as a mentor to guide professional development and empower the people she works with. For her, taking care of the people who take care of our families is her primary priority.
"Our new generations of nursing are different, and they require a different approach," she said. "They have different needs. My favorite part of this job is taking care of the people and engaging with our staff and helping them solve problems and achieve professional growth and development."
Grubbs relishes the relationships and partnerships she has made with different departments at VUMC and the structure and support she receives. She loves being a Vanderbilt nurse.
"I'm honored to get to do the work that I love with people I trust and respect," she said. "I wouldn't work anywhere else. I am exactly where I belong."
If you are a VUMC employee, you can nominate a colleague for an Elevate Credo Award, Five Pillar Leader Award, or Team Award. Visit the Elevate website to fill out a nomination form. Employees demonstrate credo behaviors when: they make those they serve the highest priority; respect privacy and confidentiality; communicate effectively; conduct themselves professionally; have a sense of ownership; and are committed to their colleagues. Elevate award nominations are accepted year-round. If a nomination is received after the cut off for an award selection period, the nomination will be considered for the next period. VUMC VOICE will post stories on each of the award winners in the weeks following their announcement.