For Kyla Terhune, communication, compassion and hard work are keys to successful leadership
Her balanced approached to leadership and focus on support for trainees amid a pandemic earned a Five Pillar Leader Award.
September 3, 2021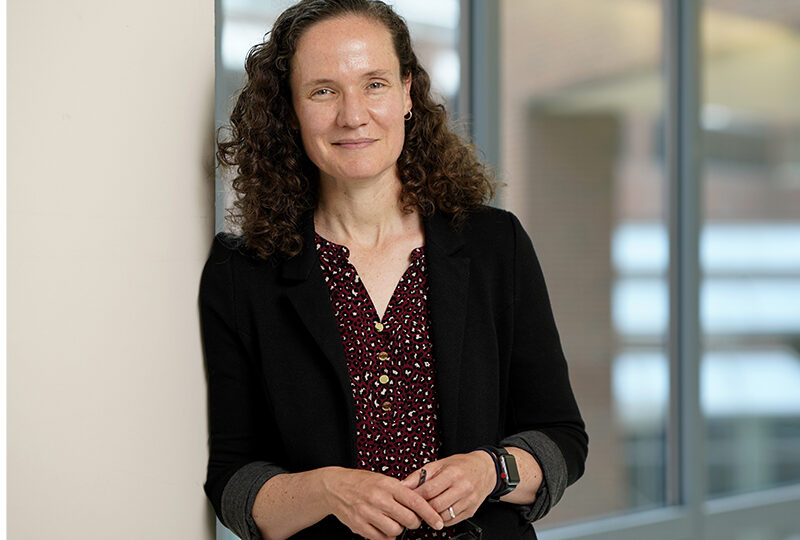 Photo by Donn Jones
Among Vanderbilt University Medical Center's biggest challenges during the COVID-19 pandemic has been how to continue offering top-notch training to its more than 1,000 residents and fellows as they had to pivot in their training to help care for very sick patients suffering the often-devastating effects of the virus.
Leading the Medical Center's training efforts with what a nominator calls "a truly unmatched amount of planning, coordination and communication" has been Kyla Terhune, MD, MBA, FACS, vice president for Educational Affairs and associate dean for Graduate Medical Education.
For Terhune's "compassion and extraordinary commitment to ensuring all residents, regardless of specialty, had a safe and nurturing training environment," she was awarded the Five Pillar Leader Award during the August 2021 virtual Leadership Assembly.
The award recognizes exceptional leaders who consistently model a balanced approach to leadership across the five pillars of excellence and the Credo. These leaders sustain a focus on people, service, quality, innovation, growth and finance, that supports VUMC's service and operational excellence.
Terhune is also associate professor of Surgery and Anesthesiology and the Accreditation Council for Graduate Medical Education (ACGME)/National Resident Matching Program (NRMP) Designated Institutional Official.
Since the pandemic began, she has sent house staff sometimes weekly emails with updates on major COVID-19 and other hospital events, and during especially intense months and weeks, held weekly or twice weekly virtual town halls for all residents.
"Communication is key to everything," Terhune said. "Intelligent, conscientious people do amazing things when they have the information they need to make good decisions. (Our trainees) needed to know what we knew, what we didn't know, and we also needed house staff input in how best to walk forward as an institution."
"Communication is key to everything. Intelligent, conscientious people do amazing things when they have the information they need to make good decisions." 
Another change during the pandemic has been the way in which residents and fellows are recruited into VUMC's training programs. Last year, when recruitment had to be done virtually, there was concern about how to effectively convey the Medical Center's unique culture of collaboration and camaraderie to the top applicants, one colleague wrote.
Terhune stepped up to the challenge, leading efforts to create professional videos and virtual tours led by current trainees. She, together with Thu Dang, an application developer in GME, and with members of Strategic Marketing, also oversaw the development of digital recruiting content, including creating a YouTube channel with 99 videos for the Medical Center's training programs. And she was intentional about ensuring representation and diversity within all materials, a nominator said.
At Terhune's core is her belief in hard work and her compassion, several colleagues wrote.
She even worked overnight shifts and holidays in the COVID ICU, last Thanksgiving Day, Christmas Eve and New Year's Eve, so that a resident and fellow on each holiday could be at home instead.
"Dr. Terhune's role makes our jobs easier and allows us to excel; her approachability, honesty, transparency and humor make her a role model for trainees and faculty alike," a colleague wrote.
Terhune cares deeply about her patients, her colleagues note. "I have worked with her in several clinical settings and she has spent hours sitting with patients and family members, caring for them and talking to them about their illnesses in a truly profound and compassionate way, as if she were talking to her own family members. Many of us have had the opportunity to learn from Dr. Terhune what it means to give empathetic, compassionate care," said one colleague.
"Dr. Terhune's role makes our jobs easier and allows us to excel; her approachability, honesty, transparency and humor make her a role model for trainees and faculty alike."
Terhune said she is honored to receive the award and the accolades from her peers. "But honestly, I think these are attributes that all leaders and members of a health care team should have, and I think I have some great role models here," she said. "I can't do anything without support, and the GME team as well as institutional leaders around me and above me have been incredibly supportive of the work in GME. And having a great environment in which to work and learn is the best way to attract the best trainees and the best future attendings," she said.
During the pandemic, Terhune said she also relied on the leadership of the ACGME.
"The ACGME instilled three important tenets for trainees – supervision, safety and support. I tried to use those three words as a mantra of what my role was on behalf of the trainees here at VUMC," Terhune said. "While I couldn't guarantee complete safety in the middle of a pandemic, it was my duty to provide the safest environment possible given the constraints of an unknown disease process in what might have been a resource-challenged environment.
"Supervision and support were two things we could guarantee, and we did that at every corner while also reminding residents and fellows to dig deep into the reasons that led them to become a physician. Because, although COVID wasn't necessarily what they signed up for, we don't get to dictate what patients' needs are – we have to meet patients where their needs are. And in the winter of 2020-21, the needs were for COVID care. And the residents and fellows stepped up tremendously."
Terhune said her husband, Rick, and their children, Tate, Amelia and Matthias, understand her commitment to her job and commit to it themselves.
"Rick and I remind our children that when we reschedule a holiday or they feel I am spending too much time at work, that they too are already participating in patient care and in service to others, and that it's possible to reframe one's response as being grateful to have the ability to lend help in a time of need. But if I am not at work, my time is theirs. And that's my favorite place to be."
If you are a VUMC employee, you can nominate a colleague for an Elevate Credo Award, Five Pillar Leader Award, or Team Award. Visit the Elevate website to fill out a nomination form. Employees demonstrate credo behaviors when: they make those they serve the highest priority; respect privacy and confidentiality; communicate effectively; conduct themselves professionally; have a sense of ownership; and are committed to their colleagues. Elevate award nominations are accepted year-round. If a nomination is received after the cut off for an award selection period, the nomination will be considered for the next period. VUMC Voice will post stories on each of the award winners in the weeks following their announcement.