Four years ago a Vanderbilt doctor agreed to help run the spelling bee at his daughter's school. This year she went to the National Spelling Bee.
The trip was a dream come true for Rosy Kannankeril, a rising ninth grader at Franklin Classical School.
June 26, 2018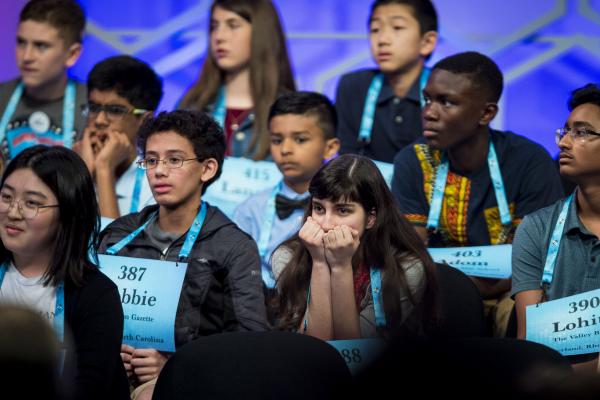 Rosy Kannankeril, daughter of VUMC's Prince Kannankeril, MD, watches the action at the Scripps National Spelling Bee along with a group of other contestants. Photo courtesy Kannankeril family
"Perfunctory." "Gaul." "Calcipotriene." "Fougasse." "Stolon."
When Prince Kannankeril, MD, professor of Pediatrics, agreed four years ago to help run the spelling bee at his daughter's school, he didn't know that, with her ability to spell these words and others, 14-year-old Rosy Kannankeril would reach this year's Scripps National Spelling Bee in National Harbor, Maryland.
The trip was a dream come true for the rising ninth grader at Franklin Classical School.
Since she was 6 years old Rosy has watched hundreds of spellers compete in the national bee. It wasn't until she reached the fifth grade that she decided she wanted to enter the competition in hopes of participating on the national stage.
In March she was one of two students to secure top spots at the regional spelling bee sponsored by the Tennessee Titans to earn entry into the national competition.
Rosy and her family spent a week in May attending the national bee.
"It was really fun and has been a once-in-a-lifetime experience for sure," said Rosy.
Rosy is appreciative of the support she received from her family, especially since her parents served as the impetus of her school-sponsored bee.
"Rosy asked if she could compete in a school spelling bee, but we found out that her school was not participating," said Kannankeril. "We were very supportive of her desire to compete. The school agreed to enroll in the Scripps program and asked if we would run the school bee for them.
"This is the fourth year we have organized it. It has been a great experience."
This year the Titans sponsored both the Middle and West Tennessee regions, allowing the top two spellers at the regional bee to receive an all-expense paid trip to the national competition.
This year's bee featured 519 competitors, the most in the history of the event. Spellers ranging in age from 8 to 15 came from all 50 states and five foreign countries.
Rosy, speller No. 388, took a written preliminary test then stepped onto the big stage and correctly spelled "kaitaka" in Round 2 and returned to spell "hydroplane" in Round 3. Spellers then advanced to the final phase of the competition based on their preliminary test score. A score of 28 was required, but Rosy came up just short with a score of 25.
She officially tied for 42nd place, along with about 280 students, said her dad.
But not winning didn't diminish her excitement and appreciation for the event.
"This had really been a great week," said Rosy. "A lot of what we did was getting to meet new people and isn't really study related. It's cool that it wasn't always about spelling. It was a great opportunity to make friends and have fun."
During her two appearances on stage, Rosy said she would spell the words of her fellow contestants leading up to her chance before the judges.
"There were definitely a few times I was glad I didn't get a certain word. One of the hardest words for me was actually one I spelled correctly in the regional bee — 'calcipotriene.'
"I really didn't have any idea how to spell it," she laughed. "It's a drug used for psoriasis. I thought for sure I was going to be out. I didn't have a plan or strategy. I just went for it."
Kannankeril said the bee was eye opening.
"I had a misperception before we arrived of kids constantly studying and parents pushing their kids," he admitted. "These kids aren't dedicating their lives to spelling and you can tell it's kid-driven.
"Spelling is a difficult thing — really pretty tricky. The rounds have varying levels of difficulty. One word may be easy and the next one will be really tough.
"We told Rosy coming into this that winning the entire thing would be difficult and whether she achieved that or not, the point was to have a good time and enjoy the experience. She did just that."
For her appearance, Rosy received a one-year subscription to Merriam-Webster Unabridged Online, a one-year membership to Britannica Online Premium, the Samuel Lewis Sugarman Award — a 2018 United States Mint Proof Set — and irreplaceable memories of being among the best spellers in America.