Gail Cherry remembers what it's like being a patient and brings that sensitivity to others
"She has a passion for nursing, for the patient and for anybody else in the room with the patient. She's a beautiful person inside and out." 
July 17, 2019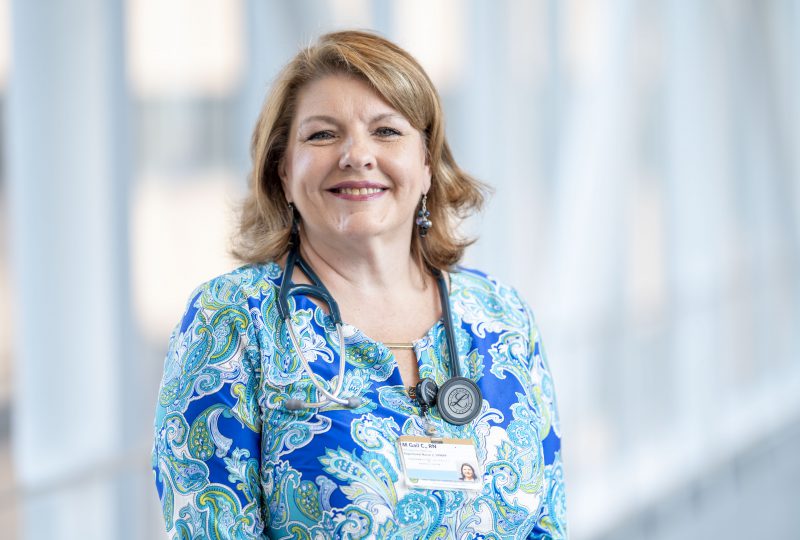 Photo by John Russell
Years ago, Gail Cherry, RN, cared for a gravely ill young woman in Vanderbilt University Adult Hospital. The woman's young son often sat by her side.  
Gail befriended the young boy, and near Christmas took him to the hospital's gift shop to pick out something for himself. 
But the child didn't want anything for himself. He asked if he could buy his mom a gift.  
"Gail was in tears," remembers her former colleague Brenda Wallace, RN. "But the woman's son was so happy and proud that he could do something for his mama. That's just Gail. She does whatever is necessary to make patients feel that they are the center of her attention." 
Cherry remembers the boy well. "When his mom died, I collected money and we were able to purchase him clothes for her funeral as well as some Christmas gifts." 
"I have a lot of compassion for patients, especially those waiting for and undergoing transplants, and for all patients. I have been in their shoes. I know what it's like to be stuck in a hospital bed, worried and frustrated."
Cherry, a staff nurse on 8 North for the past 12 years, was honored with a Credo Award at the June 2019 Leadership Assembly, for being an "angel…who takes care of … (her patients) like her own family." 
"She has a passion for nursing, for the patient and for anybody else in the room with the patient," Wallace said. "She's a beautiful person inside and out." 
She works nights, usually with a caseload of four to five patients, ranging from those with respiratory issues to transplant patients, to those with infectious diseases and behavioral issues.  
"There are many different types of patients. It's a floor you're not going to get bored on," she said. 
Cherry is particularly sensitive to her patients' needs, because she, too, has been a patient. She received a new kidney at Vanderbilt in 2013, after two and a half years of dialysis. 
"I have a lot of compassion for patients, especially those waiting for and undergoing transplants, and for all patients. I have been in their shoes. I know what it's like to be stuck in a hospital bed, worried and frustrated. I strive to be a strong advocate for my patients. If they have an issue, I try to help them take care of it, or if I can't, I make sure people on the day shift are aware." 
One of the greatest gifts she can give her patients is time, she says. 
"When I chart my assessments, I try to pull the computer into the room and sit down beside them, so I can give them more one-on-one time. Some of our elderly patients may be lonely. Many don't have visitors. Just taking a little extra time with them, even if I only have 10 or 15 minutes to spare, makes a difference." 
In the nomination letters for Cherry's award, she was described as "going above and beyond for both her patients and her colleagues. One patient who was admitted to our unit a few months ago specifically asked if Gail could be her nurse." 
Another nomination letter talked about Cherry's devotion to her colleagues. "Gail has spent her own time and money getting cards, gifts, throwing parties for our birthdays, advancements, etc." Cherry recently arranged a baby shower for a care partner on 8 North and hosted a game night at her house. "She is truly one of a kind and one of the most kind and devoted nurses I have ever come across in my nursing career," the nomination read. 
"It's important to get to know your colleagues," Cherry said. "They're great to me. Our unit works as a team." 
Another nomination letter mentioned that Cherry and another nurse took on a project to remodel the staff break room. The room got a fresh coat of paint and some new shelving. "She took on this project and saw it through because she is committed to our unit and our staff." 
Cherry said she wanted the staff to have a place to relax in between patients. "We have a busy, busy floor and this is a place where you can just go for a few minutes and relax and not have everything bombarding you." 
To place a nomination for an Elevate Credo Award, Five Pillar Leader Award, or Team Award, visit the Elevate website to fill out a nomination form. Employees demonstrate credo behaviors when: they make those they serve the highest priority; respect privacy and confidentiality; communicate effectively; conduct themselves professionally; have a sense of ownership; and are committed to their colleagues. Elevate award nominations are accepted year round. If a nomination is received after the cutoff for quarterly award selection, the nomination will be considered for the next quarter. VUMC Voice will post stories on each of the award winners in the weeks following their announcement.