Grace Cronin, known as "Miss Grace," by patients and families, just earned a Credo Award for her ability to ease concerns and willingness to help out wherever possible.
"She is a positive influence to all who meet her, and it is a privilege to know such a wonderful physical therapist."
February 25, 2021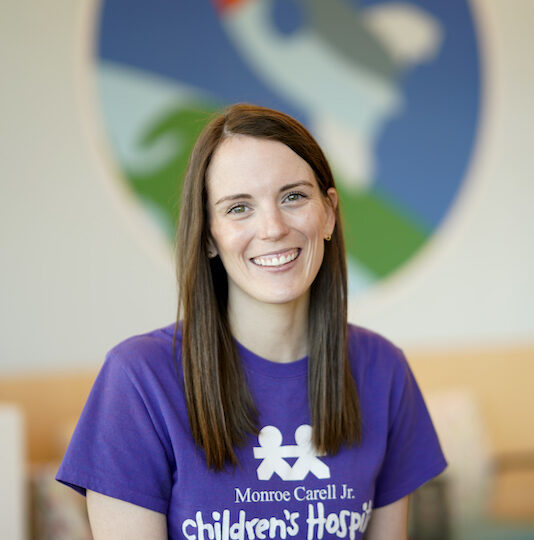 Photo by Donn Jones
For Grace Cronin, no day is quite the same. She is a physical therapist in Pediatric Rehabilitation Services for Monroe Carell Jr. Children's Hospital at Vanderbilt, with a specialty in oncology, which means every day at work is a little bit different. This is an idea Cronin fully embraces.
Everything about her job is varied — from the services she provides to the conditions she helps treat. Patients range from infants to young adults in recovery for a multitude of reasons, including injuries, surgeries, chronic or congenital conditions and cancer.
"We could be helping rehabilitate chemotherapy patients, teaching children who have been in accidents how to use crutches or helping parents care for a baby with a congenital condition," Cronin explains. "Every day is different, and it keeps me on my toes. It's definitely one of the reasons why I love my job."
Cronin's fiercely positive attitude and skill in every area of pediatric rehabilitation earned her a Credo Award at the February 2021 Virtual Leadership Assembly.
Her job may be complex, but Cronin's motivation is simple — the joy of seeing children play. "Seeing kids who have been through a tough time get to run, jump and play with other kids really grounds me and reminds me why I chose this profession," she said.
Cronin earned her Doctor of Physical Therapy degree from Belmont University in 2016. She found her way to Vanderbilt through the Pediatric Residency Program, where she spent a year being mentored closely by Vanderbilt physical therapists. After her residency, Cronin was overjoyed to stay at Vanderbilt as a physical therapist. Now, her colleagues are equally as overjoyed at the prospect of working with someone so dedicated and enthusiastic about the work they do.
Cronin's dedication is exemplified by the program she spearheaded to ensure pediatric rehabilitation patients with cancer are being routinely evaluated and getting important services. The program evaluates patients diagnosed with leukemia, refers additional services, provides home exercises and ensures frequent patient check-ins and monitoring.
"Grace did the background work, researched programs at other institutions and created the evaluation and maintenance therapies," said Christine Smith, MD, assistant professor of Clinical Pediatrics, who works in Children's Hospital's Hematology-Oncology Department. "She is an integral part of the team who makes herself readily available for patients and families, effectively coordinates care and truly embodies the VUMC Credo."
When the COVID-19 pandemic struck, Cronin's enthusiasm for patient care could not have been clearer. She was one of the first people on the pediatric rehabilitation team to volunteer to screen temperatures at Vanderbilt Health One Hundred Oaks, which she did for weeks. To Cronin, it was not a hard choice; she simply saw a need and filled it. One nominator says this attitude is what makes Cronin, "one of the most giving, caring and quiet forces on the team."
Cronin's caring, positive attitude may come as second nature to her, but it does not go unnoticed by her patients and colleagues. According to them, one thing is for sure — the pediatric cancer program is better because of her skill, and above all, her passion.
If you are a VUMC employee, you can nominate a colleague for an Elevate Credo Award, Five Pillar Leader Award, or Team Award. Visit the Elevate website to fill out a nomination form. Employees demonstrate credo behaviors when: they make those they serve the highest priority; respect privacy and confidentiality; communicate effectively; conduct themselves professionally; have a sense of ownership; and are committed to their colleagues. Elevate award nominations are accepted year-round. If a nomination is received after the cut off for an award selection period, the nomination will be considered for the next period. VUMC Voice will post stories on each of the award winners in the weeks following their announcement.