Grateful kidney transplant patient donates masks to VUMC
"I was really excited to have the opportunity to do something for those who had done so much for me."
May 11, 2020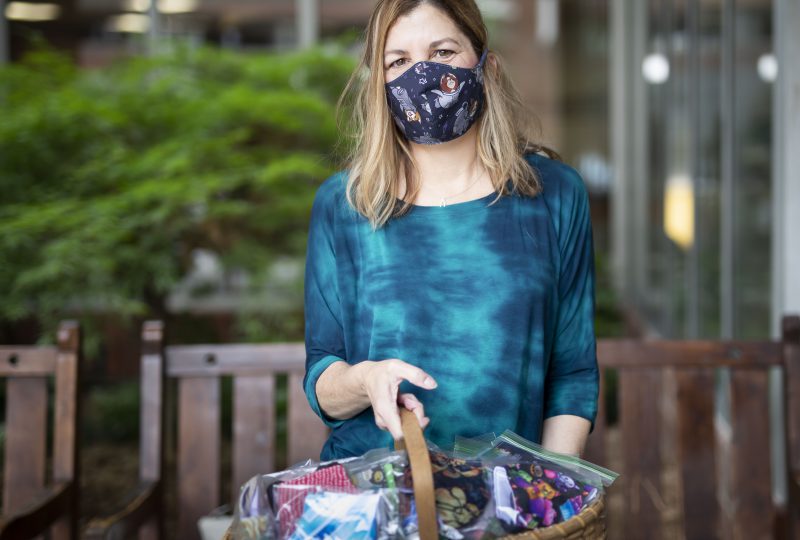 Kidney transplant recipient Lori Widmar drops off 100 masks at VUMC in honor of her kidney donor. Photo by Susan Urmy
A year after a life-saving kidney transplant, Lori Widmar thought her appointment with her nephrologist would be routine.
Much to her surprise, the telehealth visit turned out to be far from the norm.
Widmar signed off from her visit with a new task — making 100 masks for the kidney transplant program at Vanderbilt University Medical Center.
"I was really excited to have the opportunity to do something for those who had done so much for me over the years," Widmar said. "This was going to be something that really mattered."
A patient of Heidi Schaefer, MD, for 12 years, Widmar said she is excited to give back to the teams that gave her a second chance at life on Jan. 5, 2019.
Long ago, Widmar learned to sew from her grandmother. She's a frequent donor for area agencies and charities in need of homemade items and does so in honor of her late grandmother.
This time, the 51-year-old transplant patient's labor of love will serve as a thank you to the front-line workers amid the COVID-19 pandemic at Vanderbilt.
"When I heard that there was a need for cloth masks, it was a natural thing for me to get involved in," Widmar said. She added that she has made more than 300 masks in about six weeks for different agencies in Kentucky, her home state.
"During my telehealth appointment with Dr. Schaefer, we talked about making masks. It was a perfect fit for me. I want to give back to the folks who saved my life and help patients too.
"This is definitely a need I can and want to fill. Dr. Schaefer and her team are so important to me."
Schaefer, associate professor of Medicine, said the gift speaks volumes about the gratefulness of patients and their desire to give back.
"We are extremely grateful to Lori and her willingness to use her sewing talents to give back to transplant providers and patients during the COVID pandemic," Schaefer said. "Her masks will provide protection while at the same time honoring her kidney transplant donor and all those donors who have saved lives through the gift of organ donation.
"This is also a great way for me to honor my kidney donor, Brooklyn," Widmar said. "This will be my first donation with the hashtag 'becauseofbrooklyn'."
Widmar met Schaefer and others members of the kidney transplant team on May 5 to drop off the masks that bear the hashtag 'becauseofbrooklyn' in honor of her donor.
"You know, after the wonderful care I received at Vanderbilt, you leave feeling like saying 'thank you for helping save my life' just isn't enough," Widmar said. "You wonder what on earth can I do to show my true appreciation?
"I am thankful that I can be a part of an effort that is making a difference."