"Haute in the Hospital" displays custom gown designs from Children's Hospital artists
Many hands are required to decorate a gown, just like many hands are required to care for a patient
April 25, 2018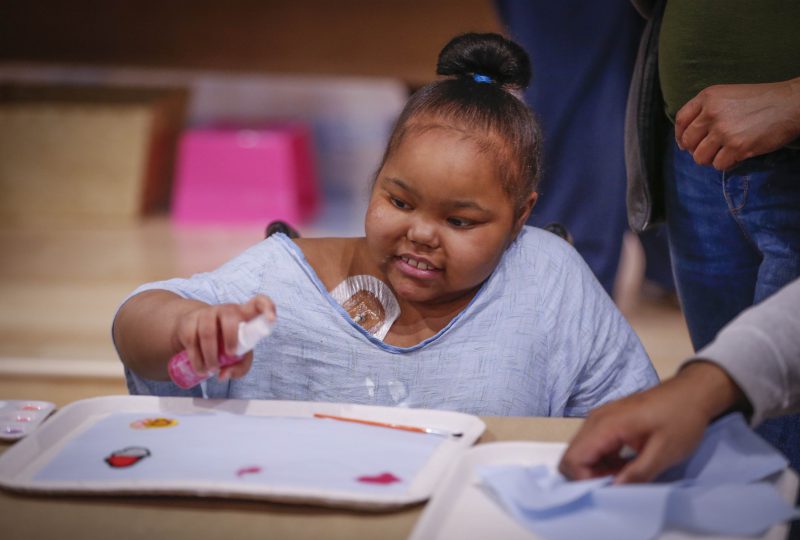 Children's Hospital patient Tyla Staten works on her section of a custom hospital gown art project. Photo by John Russell
Children's Hospital patients, families, staff and community partners recently came together for "Haute in the Hospital," a community event that allowed participants to design their own small piece of a deconstructed hospital gown.
The pieces were later sewn together into custom gowns, which were on display at the Little Art House during Nashville Fashion Week in April.
The event was organized by Children's Hospital art therapist Tara DeLuca and Seacrest Studios manager Mamie Shepherd, in partnership with the Acklen Avenue business the Little Art House, which offers art classes for toddlers to adults.
"These gowns represent the numerous hands it takes to care for a patient," said DeLuca, a board-certified art therapist. "An activity like this is therapeutic because it normalizes something like a hospital gown and allows the patient to take control and ownership of it. Patients, families, staff, doctors, nurses, students, celebrities, hospital supporters and community partners have all come together to design these gowns, similar to how it takes many hands to run our hospital and care for our patients."
One family in attendance designed sections in honor of Children's Hospital patient Coleton Parsley, who at the time was hospitalized due to a sledding accident.
"This event gave us inspiration to do something creative for Coleton," said Coleton's grandmother, Brenda Wyatt, who designed a section alongside her granddaughter and Coleton's sister, Caroline. "We got to meet some nice people at the hospital in the process, and doing this helped take our minds off of things for a while."