Heather Jackson aims to improve lives, no matter where she serves
She was honored with the Five Pillar Leader Award at the latest virtual Leadership Assembly
January 8, 2021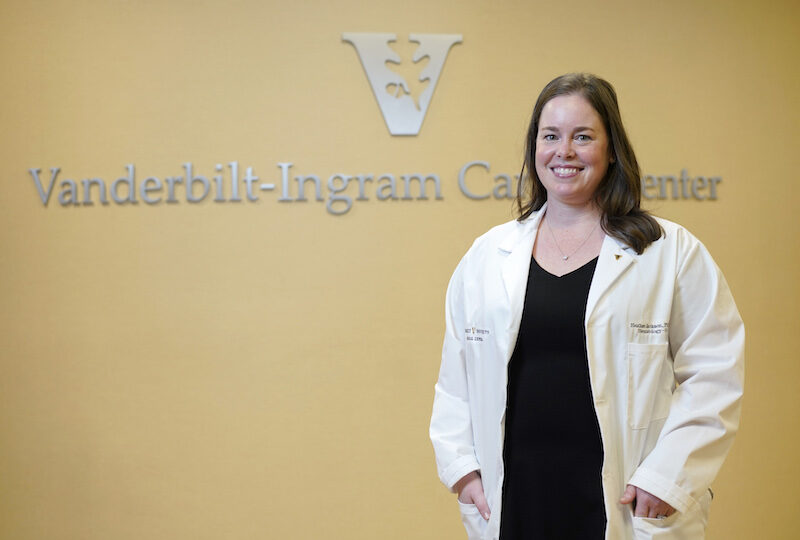 Photo by Donn Jones
From babies in the Neonatal Intensive Care Unit to individuals with chronic pain to adults undergoing treatment at Vanderbilt-Ingram Cancer Center (VICC), many patient populations at Vanderbilt University Medical Center have benefited from the compassion of Heather Jackson, PhD, FNP-BC, NEA-BC, and her unfailing determination to discover the best path for their care.
Jackson's colleagues also sing her praises when it comes to her leadership and collaborative attitude. In fact, because Jackson consistently demonstrates Credo behavior and checks every box when it comes to VUMC's Five Pillars – People, Service, Quality, Growth and Finance, and Innovation – she was honored with the Five Pillar Leader Award at the October virtual Leadership Assembly.
"Heather Jackson exemplifies the VUMC Credo," wrote one of her nominators. "From her positive attitude to her people-first approach, our Medical Center is a better place. She approaches situations with an open mind to understand first and then pursues to model transformative leadership. Nurses feel more supported under her leadership which translates to improved care to our patients."
Jackson earned a nursing degree at the University of Alabama at Birmingham and her Master of Nursing degree at Middle Tennessee State University. Since joining VUMC in 2006, her career has evolved from bedside care to nursing leadership roles.
"I've always found myself naturally stepping into those leadership roles where my mind just seemed to be able to organize things and engage people to collaborate with me," she said. "Building those relationships came really natural, so that propelled my trajectory."
Jackson began her nursing career in the neonatal intensive care unit at Monroe Carell Jr. Children's Hospital at Vanderbilt. She then cared for pediatric trauma and surgery patients before joining the Vanderbilt Pain Clinic at One Hundred Oaks where she served as team leader for pain nurse practitioners.
"Heather Jackson exemplifies the VUMC Credo. From her positive attitude to her people-first approach, our Medical Center is a better place."
Her dedication to finding minimally invasive, non-opiate alternatives for managing pain led Jackson to become certified in auricular acupuncture, the precise placement of needles in locations on the ear to bring relief. She then offered this treatment, not historically covered by insurance, at a low cost to individuals with chronic pain.
In 2020, she led a study to create a protocol for using acupressure to treat newborns with opioid withdrawal syndrome. Jackson's research, published in Substance Abuse, was part of her successful pursuit of a PhD from Medical University of South Carolina in 2020. She is now leading a larger study at Children's Hospital to examine whether acupressure can also help babies more easily wean off post-operative opioids.
Jackson became director for VUMC's Advanced Practice for Outpatient Neuroscience, Orthopaedics and Surgery before moving into her current role as administrative director of Advanced Practice for VICC in September 2019.
Less than six months after starting her new job, the COVID-19 pandemic hit, and Jackson quickly pivoted with the rest of the Medical Center staff to tackle new challenges.
"I ended up in charge of a COVID assessment site staffed by our VICC APPS (advanced practice providers)," she said. "I initially thought, 'I'm not sure if people are going to go for this idea.' In fact, I had more than enough volunteers. The teamwork has just been amazing."
Jackson's inspiration for becoming a nurse is simple. Growing up, whenever she or her friends got a bad scrape, she watched her Mom, a nurse, know what to do as she calmly made everything better.
"I told myself, 'I know I'm going to have kids one day, and that's what I want to be able to do for my family.'"
Today, being mom to sons, Trip, 8, and Rhett, 6, is her favorite job title.
"I'm very family oriented, and I go to great lengths to preserve my time with my boys," she said. "I want to be in the backyard, wearing hoodies, playing football and playing with our dog. That's what rejuvenates me and empowers me to work hard for them, too!"
Jackson also gives a lot of credit to her husband Eddie, a Williamson County educator. As he's adapted during the pandemic and throughout their lives together, she's been reminded of why they work so well as a unit.
"He has such a wonderful, patient personality that balances me out," she laughed. "There's no way I would be able to do any of the things I do without his support. He's my rock."