He's a dentist. He plays hockey. He is VERY careful about his teeth.
Tyler Ames, DMD, has seen the worst of what a hockey puck or stick can do to the mouth. He loves hitting the ice anyway with his team the Gravediggers.
February 11, 2020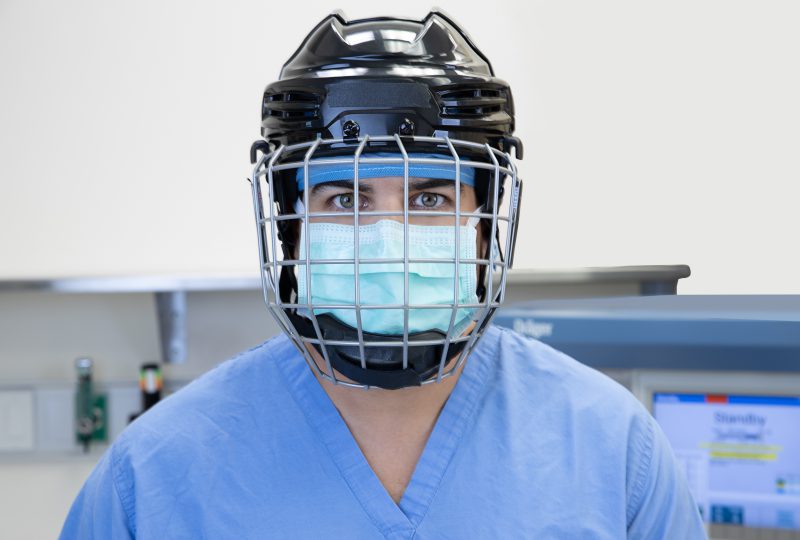 When at work Tyler Ames wears a surgical mask. When he's on the ice he wears a hockey mask. For this picture, he wore both. Photo by Judith Hill
Tyler Ames, DMD, has seen the worst of what a hockey puck or stick can do to the mouth. In addition to a full caseload at Vanderbilt University Medical Center, where he is hospital dentist, Ames, 35, is also part of VUMC's oral health team who cares for the Nashville Predators hockey team.
"If you get hit with a hockey puck, it's like a frozen missile. It can break your jaw."
"Whenever there's trauma to the mouth on the ice, I do whatever I can to keep the player comfortable and take care of their emergent needs," he said. "If there are teeth flapping in the wind and need to come out or be put back in, I give them a local anesthetic to numb them and do what I need to do. Those guys are tough as nails, but when it goes bad out there, it goes really bad — teeth flying out, etc. If you get hit with a hockey puck, it's like a frozen missile. It can break your jaw."
Despite seeing the worst, he's not afraid to step onto the ice himself. For the past two years he has played on the "Gravediggers," a Lower C team in Nashville's city hockey league. "Lower C is the team with the least skill; it's for entry players, beginners," Ames laughs. "Our team started 20 years ago and was sponsored by a coffin company," he adds, explaining the name.
The Gravediggers play once a week and all games are at Centennial Sportsplex, near VUMC's campus.  "The first game I was really wobbly — I had only ice skated 10-20 times at most in my life and hadn't played roller hockey in about 20 years. I had to remember how to put all the pads on."
To protect his face and teeth Ames wears a full "cage," face shield as well as a mouth guard, and sometimes he must spring into action with his medical skills when a teammate is injured on the ice.
Team members range in age from 30 to 63. "We're just a random group of guys — from all walks of life," he said. "The main thing we have in common is we love hockey. It's competitive and the games can get pretty heated. It's a positive way to channel your competitive energy and a great way to stay in shape. You're sprinting for a couple of minutes at a time for several minutes during a game. It's tiring."
Ames, assistant professor of Clinical Oral and Maxillofacial Surgery, is one of about 1,500 hospital dentists in the country. Hospital dentists treat patients with medical conditions and disabilities alongside physician colleagues, often in operating rooms, hospital beds and emergency departments.
His caseload at VUMC includes patients with special needs and cancer, trauma victims and Medical Center employees and community members.
As one of VUMC's team dentists for the Predators he attends about half the games — about 20 home games — plus playoff games. In addition to taking care of the players' injured mouths on the ice, there's a workspace where he can do temporary fillings, and he is responsible for overseeing making mouth guards for the players before the season begins. In addition, if players' teeth are injured during practice, they come to Ames' office at the Village at Vanderbilt for treatment.
Ames also plays with some of the Predators trainers and front office staff in a summer league. It's an Upper C league, a step up. "It's hard to keep up with those guys. Obviously, I'm not one of the top players on that team," he laughs. "They're all really good."