Honor walk video from Vanderbilt Wilson County Hospital honors two organ donors and their families
The two organ procurements were the first at VWCH in almost five years
May 26, 2022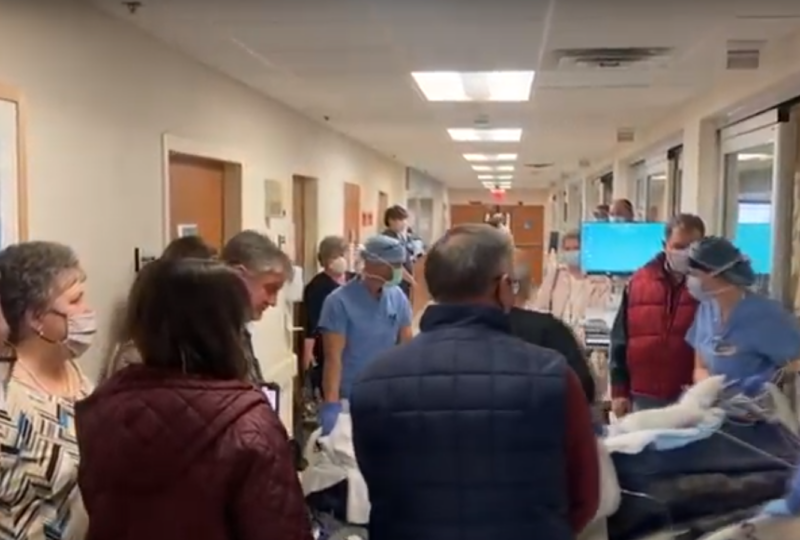 Employees at Vanderbilt Wilson County Hospital gather for an honor walk for one of the two recent donors at that hospital.
Vanderbilt Wilson County Hospital (VWCH) recently participated in two organ procurements — the first in almost five years, according to Tennessee Donor Services (TDS). The donated organs saved four lives.
In the span of only 24 hours on Feb. 9, VWCH received two patients in the intensive care unit (ICU) who became candidates for organ donation. With the help of TDS staff, the VWCH ICU team, led by house supervisor Marga Bryant, RN, worked tirelessly with the patients' families to help them through their devastating losses while also rapidly preparing behind the scenes for the organ donations.
The preparations also involved Lori Martin, VWCH director of Surgical Services, and Betsy Swoner, VWCH assistant director of Surgical Services, preparing operating room crew while house supervisor Marie McManaway brought together representatives from almost every department to join an impromptu honor walk for one organ donor on the evening of Feb. 11 and again for the second organ donor on the evening of Feb. 12.
Fredia Fisher, RN, clinical director at VWCH, mother of paramedic Kyle Fisher, who donated his heart, liver, kidneys, lungs and tissues at VUMC in 2019, was there to witness the powerful honor walks and comfort the families of the donors as they began the long journey of grief and eventual healing from their sudden losses.
"We are honored to be able to provide another valuable service to the Wilson County community," said Jeanne Yeatman, BSN, MBA, RN, MOM, CMTE, EMT, chief nursing officer of VWCH.
"It has been five years since this hospital participated in an organ procurement. These events are often time sensitive, so being able to do this locally will help save the lives of so many individuals. Organ donation provides a life-giving, life-enhancing opportunity for people who often wait years for hope.
"The honor walks are an important part of the process for family members and staff, to not only recognize the contribution but to help appreciate the life-giving gesture."
Donate Life month is now concluded, but it's still possible to register as an organ and tissue donor; to do so, go here: donatelifetn.org.