Kelley Colvin is passionate about finding employment opportunities for adults with disabilities. Under his leadership, VUMC has become a model for success.  
"His dedication and time have resulted in, and will continue to result in, employment opportunities for adults with disabilities at Vanderbilt University Medical Center."
August 24, 2022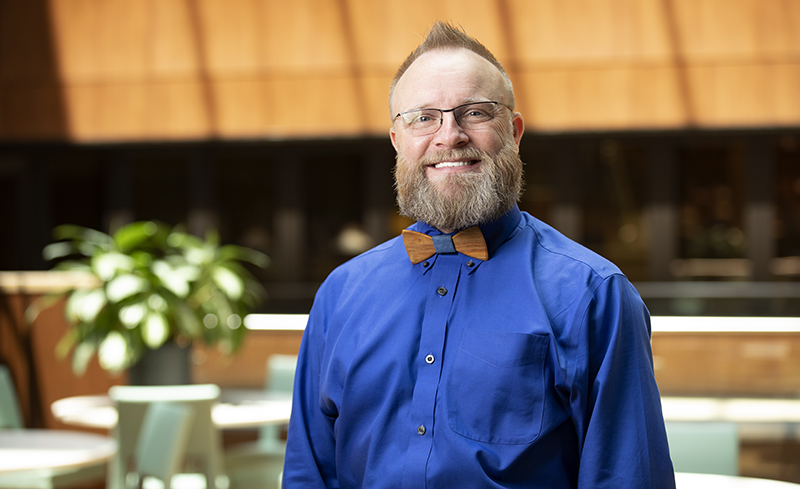 Kelly Colvin. Photo by Erin O. Smith.
Kelley Colvin understands the value of a good job — it can give individuals purpose and a sense of pride, as well as economic stability. Working as a senior talent consultant for Vanderbilt Wilson County Hospital, Colvin's job is to help connect applicants with the right positions. And he takes a special interest in helping hire adults with disabilities.
According to the Bureau of Labor Statistics, in 2021, only 19.1% of disabled individuals in the United States were employed. But with Colvin's help and leadership, Vanderbilt University Medical Center has become a model for success on how to train and staff adults with disabilities.
It's this commitment that earned Colvin a Credo award during the August 2022 virtual Leadership Assembly.
"It is impossible to state how much we appreciate Kelley. His dedication and time have resulted in, and will continue to result in, employment opportunities for adults with disabilities at Vanderbilt University Medical Center," Brandon Pflug, instructor for Project SEARCH, wrote in Colvin's Credo award nomination.
Colvin worked in the health care industry for over a decade before coming to VUMC. During this time, he hired medical and mental health staff to work within the prison system in the U.S. In 2019, he brought his unique hiring skills to VUMC and has been there since.
"Kelley Colvin has been a ROCK STAR in the Talent Team from day one," added Roselyn Norris, manager, Talent Acquisition. "Kelley's first day with the Talent Team was at a Nursing Career Event. He stepped right in and began assisting everyone as if he has been working with us for years. From his first day on the job and every day since then, Kelley has put others first with a positive attitude and caring spirit. Kelley is truly a stellar employee."
One of Colvin's roles is as a member of the Business Advisory Council, where he serves as a liaison between Project SEARCH and the Medical Center managers and recruiters.
"Project SEARCH and their staff train adults with disabilities within the hospital, and this training allows these individuals to be qualified to apply and work at VUMC. Project SEARCH at VUMC is one of the most successful programs in the U.S. with the highest education-to-hire rate," Colvin said.
He has helped many adults with disabilities gain employment at VUMC over the years, but it is one of the first hires he made that has stuck with him.
"I continue to be impressed and admire the many students and employees that have been through the program, but Jeffrey was one of the first I met when I started. Jeffrey was assigned to work in the cafeteria cleaning tables. He was able to clean and straighten the tables without assistance, and he was remarkable to watch because Jeffrey is blind," Colvin shared. "Jeffrey continues to impress everyone, and he is now working at our Vanderbilt Wilson County campus and is responsible for filling over 100 hand sanitizer and sneeze stations over two floors, totally unassisted."
Colvin's dedication and passion is inspiring to his team. "His knowledge of the Medical Center and current job trends is exceptional, and his dedication to the program and commitment to his colleagues at Project SEARCH is extraordinary," one of his Credo nominators wrote.
After living in Nashville for more than 20 years, Colvin and his family recently moved to the mountains in East Tennessee where he enjoys hiking, volunteering and spending time with family and friends. He works remotely for Vanderbilt.
"Being nominated, and receiving this award, has been a very humbling experience. I am so happy to be a part of a great organization," Colvin said.
If you are a VUMC employee, you can nominate a colleague for an Elevate Credo Award, Five Pillar Leader Award, or Team Award. Visit the Elevate website to fill out a nomination form. Employees demonstrate credo behaviors when: they make those they serve the highest priority; respect privacy and confidentiality; communicate effectively; conduct themselves professionally; have a sense of ownership; and are committed to their colleagues. Elevate award nominations are accepted year-round. If a nomination is received after the cut off for an award selection period, the nomination will be considered for the next period. VUMC Voice will post stories on each of the award winners in the weeks following their announcement.