Is there a labyrinth at VUMC – I mean besides Medical Center North?
A place to walk, think, meditate, pray and let go
November 20, 2018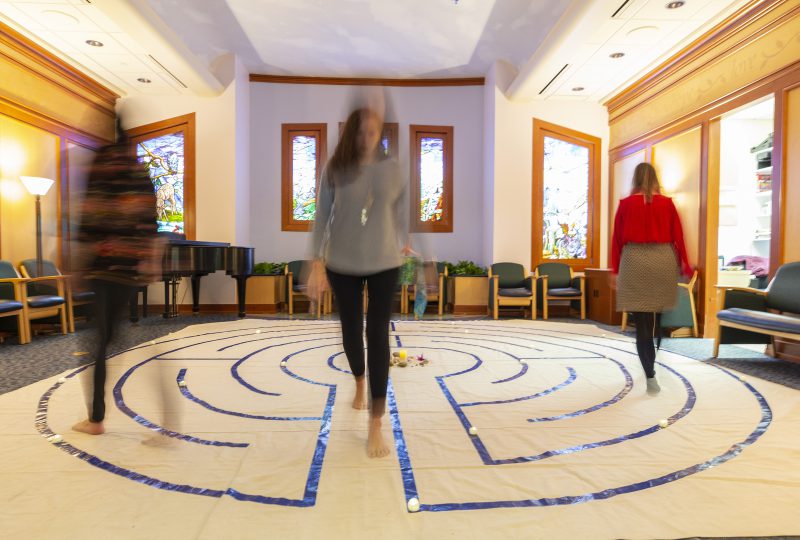 photo by Joe Howell
Yes, there's one several times a year in the chapel at Monroe Carell Jr. Children's Hospital at Vanderbilt. 
The labyrinth is an ancient form of walking while meditating and praying, and examples throughout history have been found in cathedrals, community buildings and gardens in its earliest form. One of the most familiar labyrinths in the world still exists on the floor of Chartres Cathedral, in Chartres, France, believed by many to have been created to symbolize a spiritual journey or pilgrimage. As you walk the circulating pattern of the labyrinth, you pray in ways that can help release grief, aid in healing or decision-making and give you a new sense of purpose.
The Chapel at Monroe Carell Jr. Children's Hospital at Vanderbilt offers a labyrinth several times a year, usually seasonally. It's open 24 hours a day to all staff, patients and families. The current labyrinth will be available through Friday, Nov. 30.
"The labyrinth provides space for anyone in our hospital to find their breath again, to walk in peace and reflect on their experience inside these walls. I watch so many small children run into our chapel every day, curious and wide-eyed to see what this curious and strange looking circle is all about," said Amanda Borchik, Children's Hospital chaplain. "I've heard someone describe a maze as a place where you lose yourself and a labyrinth as a place to find yourself. We see this every time a patient steps into the candle-lit path and walks, carrying a handcrafted paper crane or a smooth stone to the center to represent someone they love, their worries or their hopes.
How do you use the labyrinth at the Children's Hospital Chapel?
There's a guide sheet you can pick up upon entering. You're first asked to remove your shoes. Once inside, you start with a deep breath, focusing on where you need answers or healing. You can take one of the small objects made available to you — a small, smooth stone; a flower petal; a sea shell; or a handcrafted paper crane — and hold it in your hand as you walk and meditate or pray, carrying it to the center of the labyrinth. Then, you can either place it in the center as your willingness to leave it in the hands of the divine or carry it out with you as a reminder of a promise made or a path chosen.
"Our chaplains often walk the labyrinth with children, to help them find their way, using the labyrinth guide we provide at the entrance to prompt sharing — "What are you thankful for?" "How are you feeling today?" and "What do you need help with?" As one finds their way in the labyrinth, there is no decision-making or worrying about which path to choose. There is a path laid before you, bringing relief and calm into the stress many people carry into the space with them," Borchik said. "Many families and staff members use this guide to help them reflect, meditate and pray as they walk, finding that they breathe deeper as they leave the winding path."