Last New Year's Day, Gregory Tidwell was in a coma. At the beginning of 2020, he is doing much better
"It has made me ecstatically happy to watch him get better," his mom said.
December 23, 2019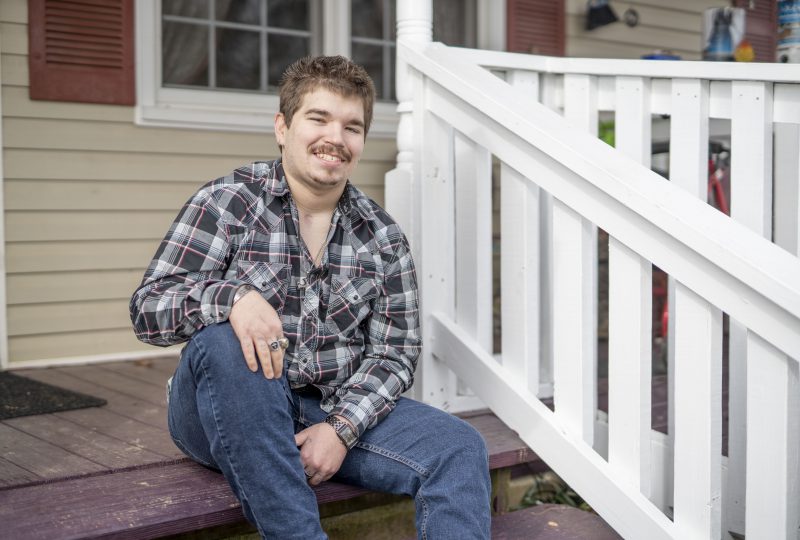 Gregory Tidwell, 22, of Lyles, Tennessee, is still recuperating from a car accident that happened a year ago causing a traumatic brain injury. Photo by John Russell
On the rainy evening of Nov. 30, 2018, Sheryl Tidwell was spending time with her granddaughter at home waiting for her 21-year-old son, Gregory Tidwell, to arrive. He'd left his daughter with his mom and said he'd be back by 8 p.m. to pick her up.
Eight o'clock came and went with no trace of Gregory. Sheryl began calling his phone, with no answer. And, then, ominously, in the distance through the bare trees of the woods outside her window, she could see faint blue lights.
Less than a mile away, her son was fighting for his life.
In desperation, she kept trying his phone, and finally, after 10 p.m., it was answered by a state trooper, who told Sheryl her son had been in a "very bad car accident" less than a mile from her home and that she needed to get to the hospital.
Details were scarce, and sometimes even conflicting.
"The state trooper later told me he didn't know what had happened in the accident," Sheryl said.
Gregory had been taken to a local hospital in Dickson, Tennessee, before being transferred to Nashville. Sheryl had no idea what the extent of his injuries were until the first time she was able to see him — around 2 a.m. the next morning.
The doctors told Sheryl her son had suffered a traumatic brain injury and was in a coma to alleviate pressure and reduce swelling. He had bleeding on his brain and required a drain tube. He had fractured his nose, left jaw, right collarbone and the area around his left eye. His right lung had collapsed.
"I was told he probably would not survive it," Sheryl said. "I told the doctor, 'You need to save my son,' and the doctor looked at me and said, 'It's between him and God.'"
Gregory was in a coma until Jan. 2, 2019 — more than a month after his accident.
"I would go in and sit beside his bed, and I could feel his hand squeeze mine. He would take his right hand and turn my bracelet," Sheryl remembered. Those small movements were the first signs that gave her hope for his recovery.
When Gregory came out of his coma, he was transferred to a long-term acute care hospital, which was progress, but Sheryl was still told her son would always need the help of a respirator to breathe.
"They wanted to put him in a nursing home, and I refused because I knew my son was coming back," she said.
That's when Gregory and Sheryl received a visit from Beverly Granstaff, director of Inpatient Rehabilitation Services at Vanderbilt Wilson County Hospital's McFarland Campus, who offered him admittance. Gregory arrived at the hospital on Jan. 26 to begin his long road to rehabilitation.
Upon his arrival, he still had a tracheostomy to help him breathe and was on feeding tubes. He had just been placed on oxygen after coming off his ventilator.
Through the tough work led by his speech and physical therapists, he started eating. Soon after, he began to regain movement in his left leg, his trach was removed, and he began pulling himself up using a bar.
"It was amazing to see Gregory progress so rapidly. Every day he was doing something new in therapy," said Morgan Kendrick, one of Gregory's physical therapists at VWCH. "He had an amazingly supportive family which was really involved in his care throughout the whole rehab process."
Every day Sheryl made the long drive from her home in Dickson to the Lebanon, Tennessee, hospital.
"His mother motivated him continuously and was more than willing to assist in any way she could," Kendrick said. "They truly have a special bond that moved and inspired all who encountered them."
Gregory was discharged March 13 to continue his long recovery at home —and at his brother's house.
"My oldest son took one of his bedrooms and set it up as a workout and rehab room for Gregory because he goes over there on Saturdays and Sundays and works out," Sheryl said.
By the time Gregory visited his former speech and physical therapists at VWCH a few months later, he was able to walk, talk, eat and groom himself on his own.
"The visit was a very touching moment. A lot of his former therapists cried. He hugged them all and told them he loved them. They took very good care of him," Sheryl remembered.
Even now, every day Sheryl pushes Gregory to lift weights, walk at least 30 minutes and stand up to accomplish everyday tasks, like getting in and out of bed and the car.
He has taken more than 20 steps on his own and he doesn't always use a wheelchair to get around.
"It has made me ecstatically happy to watch him get better," his mom said. "I've had to push him and sometimes make him mad, but it has given him the will to go on.
"Don't ever let someone you care about give up. You've got to have your family, and you've got to be there for them. That means more than anything else in this world."