Leslie Reese helps patients living with HIV navigate life. From arranging appointments and transportation to educating patients on medicines, there's 'truly no problem she can't solve.'
"No matter how difficult the task may be, Leslie finds a way to make someone's life better."
March 11, 2020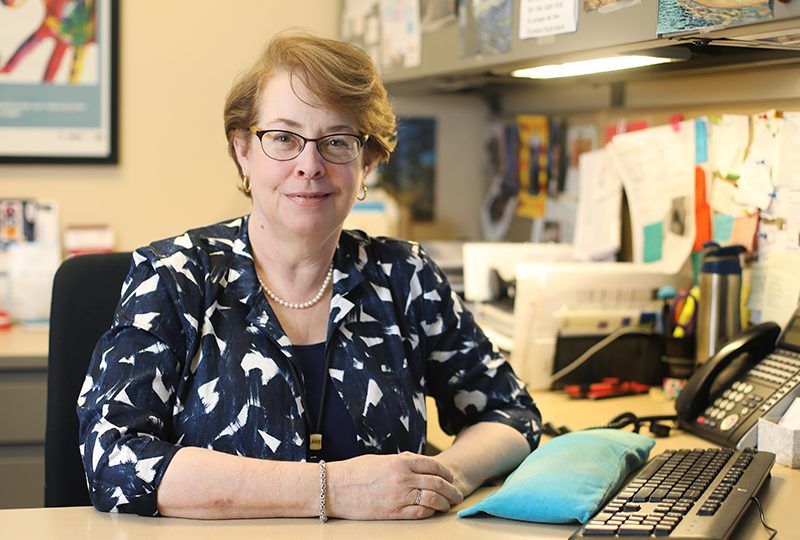 Photo by Erin O. Smith
Leslie Reese, RN, ACRN, has dedicated her career at Vanderbilt University Medical Center to the care of those living with HIV (the virus that causes AIDS). As a nurse case manager at the Vanderbilt Comprehensive Care Clinic (VCCC), which serves 3,000-4,000 patients per year, there's "truly no problem she can't solve," said a provider who nominated her for the Credo Award she received at the Feb. 19 Leadership Assembly.
"I go to her countless times a day to ask her to help solve problems that seem unsolvable, and she finds solutions," the nominator wrote. "I have never seen her flustered, or frustrated, or impatient. No matter how difficult the task may be, Leslie finds a way to make someone's life better — for her, the patient always comes first. I truly could not do my job without her, and our clinic is a brighter and better place because of the dedication she shows every day to our community and Vanderbilt."
At the VCCC, Reese helped manage the care of a refugee family from Afghanistan. She stayed after hours, fielding hours of calls on the language line, delivering medications, helping arrange for food and housing for the family when they were faced with eviction and had nowhere else to turn. She helped extensively with another family, refugees from Rwanda, arranging transportation to appointments and spending hours filling pill boxes for them because of their low health literacy and lack of English language skills.
Reese is "tireless," another nominator wrote. "She is, without question, an embodiment of the VUMC Credo," another said.
Reese said no two days are alike in her job because the patients' needs are all so different. She recalled a Rwandan refugee recently discharged from Vanderbilt University Adult Hospital (VUAH) who spent almost an entire day in their clinic. He saw providers, then met with Reese in between appointments. After locating the medication that he accidentally left at VUAH, she filled his medication box to send home; set up home health nursing through Vanderbilt Home Health; and arranged his rides to appointments in their clinic through TennCare transportation. Then she had to enlist the help of an interpreter to call the patient at home and relay his ride information. She has worked with many of the patients for years, providing consistency for both the patients and the providers who care for them. She calls them "friendly faces. It's about building a relationship of trust," she said.
A typical day may involve meeting with new patients and helping existing patients, talking about medication side effects and drug interactions and helping the patient navigate complicated insurance issues. Often, patients don't have insurance, so she helps them obtain coverage for medication and other services.
"There is a lot of care coordination," she said, "and a lot of work involving medication. These are specialty meds, and not all can be filled at a retail pharmacy," she said. "There are lot of moving parts in seeing that the right prescription gets to our patients at the right location."
Reese has been at Vanderbilt since 2006, first working as a nurse case manager with HIV inpatients, then transferring to the Comprehensive Care Clinic as a nurse case manager with the Clinical Pharmacy team in July 2013 where she works with two other nurse case managers caring for patients on an outpatient basis.
"HIV is not a death sentence as long as the patients take their medication. Patients are living much, much longer. They have a chronic disease and they are developing other diseases that patients without HIV develop as they age — heart disease, high blood pressure and diabetes. So, we are providing primary care for our patients who have not only HIV but chronic conditions as well."
Reese said there is still an unfortunate stigma surrounding patients with HIV. "Many people still don't understand that you can't get it from touching or hugging someone or drinking after them. It's very sad that after 30 years, much of the stigma associated with HIV remains unchanged. They are people, just people with a diagnosis."
The family from Afghanistan that Reese helped returned to their homeland after two years in Nashville. The patient and his wife had three small children. Reese worked with them every day, often for an hour or more, using an interpreter. "I learned a lot about cultural differences in helping them. They were struggling terribly," she remembers. "I worry about them. Will he get his medication? They're in a war-torn region. Are they still alive? We did everything we could for them while they were here — we helped them pay rent and utilities. They were about to be evicted."
Reese loves her work because case management is "like a puzzle that requires critical thinking." Her work has taught her to always be thinking. "As I'm assessing a patient, I'm thinking how to navigate a problem. I'm going through a checklist in my head." And she's learned to be more patient. "If I don't know the answer, I Google or talk to people who might be able to help me. There's got to be an answer somewhere. You just have to find it."
Reese, the mother of two and grandmother of an 11-year-old grandson, enjoys reading, knitting and yardwork in her spare time. "I'm a homebody," she said. And she's fixing up a 33-foot sailboat. "When I retire, my goal is to sail anywhere the wind and ocean might take me."
To place a nomination for an Elevate Credo Award, Five Pillar Leader Award, or Team Award, visit the Elevate website to fill out a nomination form. Employees demonstrate credo behaviors when: they make those they serve the highest priority; respect privacy and confidentiality; communicate effectively; conduct themselves professionally; have a sense of ownership; and are committed to their colleagues. Elevate award nominations are accepted year-round. If a nomination is received after the cutoff for quarterly award selection, the nomination will be considered for the next quarter. VUMC Voice will post stories on each of the award winners in the weeks following their announcement.