The world beyond work: Carolyn Lovelace
VUMC people talk about that part of life that's not work.
August 25, 2017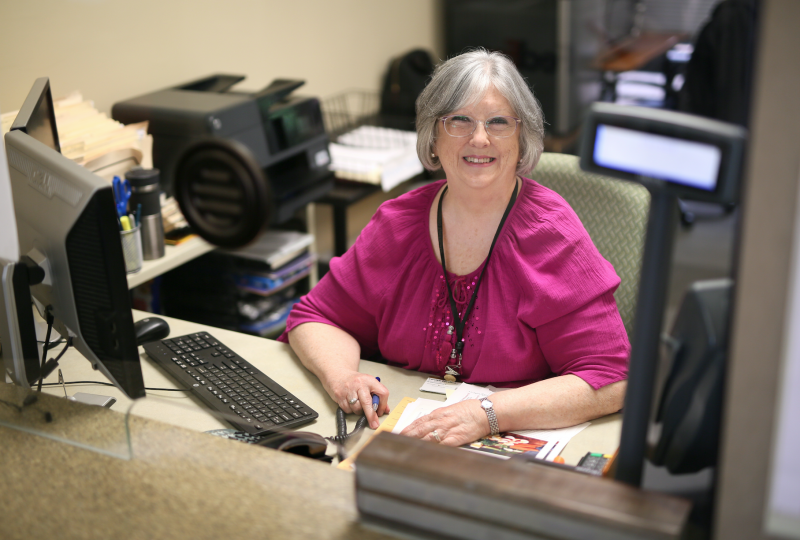 (photograph by Anne Rayner)
Carolyn Lovelace is an HR Specialist who works at the HR Express window in the lobby of Medical Center North. She has worked at VUMC for 33 years, but her connection to MCN is even deeper than that: "I was born in 1949, and was born in this building," she said. "I'm so proud to be part of this organization." Interview has been edited and condensed.
What was your home life like when you were growing up?
I grew up in a funeral home. My grandmother was the first lady mortician in the state of Tennessee. My mother was also a mortician. They graduated from the Gupton-Jones School of Mortuary Science. I still have my mother's class ring. It has a skull on one side and has her initials in it. My mother was also an ambulance driver, as well as an embalmer.
I had a wonderful, wonderful childhood. I was an only child. My mother was an only child, and we lived with her parents. The funeral home was part of our home. I never knew when I went downstairs to go to school every day—there might be five or 10 people eating breakfast with us. In the '50s and '60s people stayed [overnight in the funeral home] with their loved one who had died, and they would stay for breakfast.
So that's the life I grew up with. So many people [in the town] helped me go to basketball games, take me to church on Sunday. My sixth grade teacher would come by sometimes, if we had a body on Sunday, to take me to church. I was just blessed. I took dance lessons. I took piano lessons—I still play.
Did you think about following in their footsteps?
My grandfather died in '63 and my grandmother and mother sold the business.
I did not go down that avenue. It would certainly have been a viable profession.
Where do you live now?
I live on a farm, a working farm, 200 acres. We lease out the farm. It has soybeans, corn, winter wheat, and tobacco. I have a tobacco barn and every year when they fire tobacco—it's dark-fired—people stop and tell me my barn is on fire. I tell them "That's a good thing."
What do you like to do in your spare time?
My husband and I ride a Harley-Davidson. I had never ridden bikes until I married my husband 30 years ago. He's always had one. We used to belong to a group—we'd go to Fall Creek Falls [State Park], we'd go up into Kentucky. We'd always stop at an ice cream place and eat on the way home. It's the camaraderie, it's like having a family picnic, except it's adults. It's fun.
Do you and your husband have children?
Not together. I have two children from a previous marriage. They are 41 and 47. My daughter lives close, my son is in New Mexico. My daughter has two children, and I have two grandchildren. I just love being "Mimi." Having children is great. Having grandchildren is better.