Lisa Bond, master surgery scheduler, helps thousands of people achieve better hearing each year
Surgery scheduling is not as simple as looking at one calendar and picking a day. But Bond makes it her mission to ensure everyone is happy.
November 30, 2021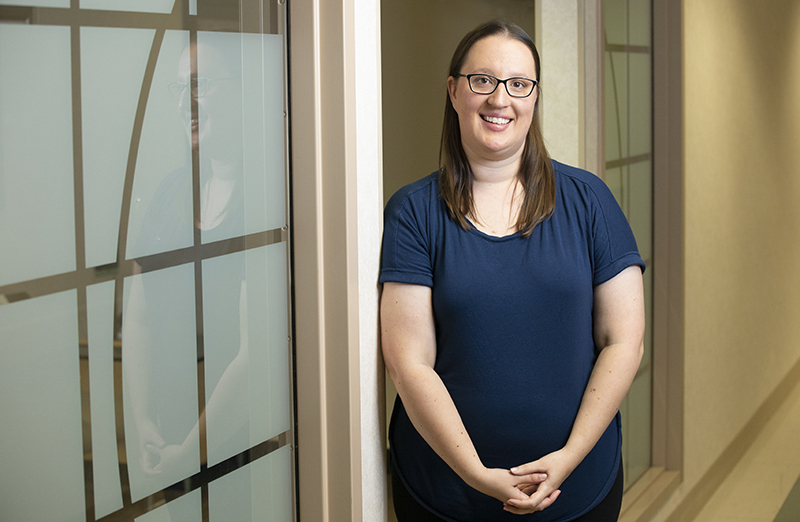 Photo by Erin O. Smith 
Lisa Bond schedules over 1,000 surgeries a year for the Department of Otolaryngology's otology/neurotology service – about one-fourth of them for cochlear implants. Each surgery requires numerous phone calls and emails among Bond, the surgeon, the operating room and the patient – with one goal: making everyone, especially the patients, happy.
It's not as simple as looking at one calendar and picking a day.
To schedule a patient's surgery, there's a lot of juggling involved. She works with the OR and surgeon's schedule to make sure both are available, and then she sends the OR all requests for equipment required for that surgery. Next, she has to determine that the patient's insurance will cover the procedure and schedule all of the patient's pre- and post-surgery appointments.
"If the patient is having surgery and something needs to be done for it, it comes through me," she said. "It translates into thousands of phone calls. You never just talk to the patient once and be done with it. You generally talk to them a couple or more times, and then if you have to reschedule, you're doing it again," Bond said.
For her tireless work, positive attitude and leadership of a group of five other schedulers, Bond was named a Credo Award winner during the November 2021 virtual Leadership Assembly.
"To me, the most important thing is to treat whoever I'm talking to, whether it be a patient, or a co-worker, or a surgeon, the way I would want me or my family treated," said Bond, who has been at Vanderbilt University Medical Center for eight years. "I do this all day, every day, all year long, but a patient may have surgery only once in their life, and they may have a lot of anxiety over it. I treat them the way I would want my grandmother to be treated. That's my ultimate goal."
Her colleagues weighed in on her nomination form:
"Lisa has a sense of ownership as she works through the many complexities of surgery scheduling," one nominator wrote. "Her patients know they can count on her as she continues to regularly update them on the process of pre-determination and the lengthy time it takes from beginning to end."
Scheduling cochlear implants takes a good portion of her time. Vanderbilt University Medical Center has one of the largest cochlear implant centers in the United States.
One patient, an elderly man awaiting a cochlear implant, had no family close enough to provide support and assistance during the numerous phone calls needed to set up his surgery, post-op visits and follow-up care. He became extremely frustrated during the process, one nominator recalls. Bond calmly and patiently walked him through the entire process.
"There were problems with his insurance, and we had to fight them on that and appeal, and it's even harder when you're doing all this and the patient doesn't hear well, and communication becomes more difficult," Bond recalls. "At the end of all of it, he was a little teary because we were able to get the surgery authorized after a lot of work. That's the kind of thing you live for. You have a lot of hard days, but all of that goes away when something like that happens."
Lisa's staff call her a "born leader. She is dedicated, honest, fair and will do anything to get the job done."
One colleague wrote about Bond's stepping in when a scheduler resigned unexpectedly. She came in early to assess and prioritize the work left to be done. "She led the organization of this work expeditiously and thoroughly."
Bond said that part of her job as lead surgery scheduler is to step in to help when needed. "I like to be the glue that holds everybody together. Nobody goes down with the ship. I'm not going to sit here in my office and let another scheduler drown. We have a special team here. In some departments, you have your job and your docs, and that's all you worry about. But our philosophy is teamwork. We're all in this together."
If you are a VUMC employee, you can nominate a colleague for an Elevate Credo Award, Five Pillar Leader Award, or Team Award. Visit the Elevate website to fill out a nomination form. Employees demonstrate credo behaviors when: they make those they serve the highest priority; respect privacy and confidentiality; communicate effectively; conduct themselves professionally; have a sense of ownership; and are committed to their colleagues. Elevate award nominations are accepted year-round. If a nomination is received after the cut off for an award selection period, the nomination will be considered for the next period. VUMC Voice will post stories on each of the award winners in the weeks following their announcement.