Lori Anne Parker-Danley used pandemic time to learn quilting and create her "pandemic quilt"
Improv quilting stitched together her hours during the pandemic
October 26, 2022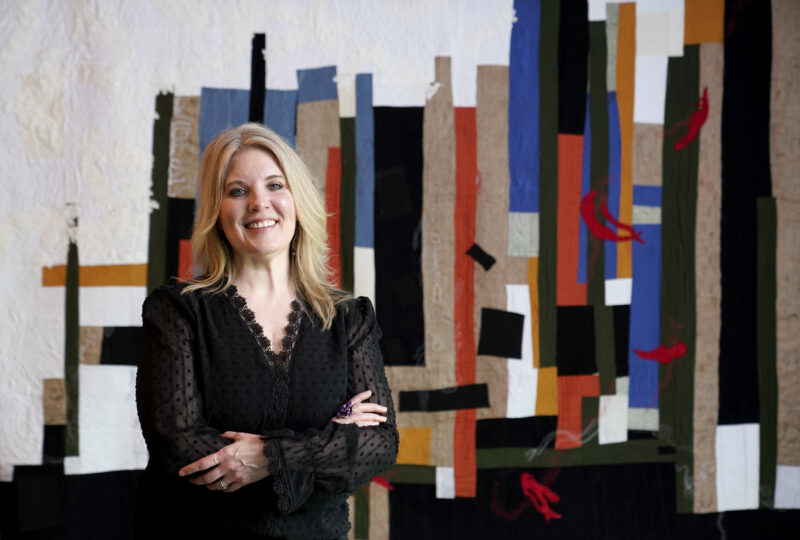 Lori Anne Parker-Danley at home with her "pandemic quilt." Photo by Donn Jones
We all have tales of how we spent endless pandemic hours, particularly when the world locked down and just about everything we thought of as normal was, at least temporarily, gone.
Lori Anne Parker-Danley, PhD, director of Patient Education at Vanderbilt University Medical Center, took up quilting.
The result was what she calls her "pandemic quilt."
Not worrying about patterns
A quilt is typically made up of different fabrics pieced together to create the top of the quilt, an insulating fabric or batting in the center, and a backing fabric. The three layers are then stitched or quilted together.
"I had some very vague ideas in my head about what I could do if I added quilting to my artistic vocabulary," she said. "I didn't know if I would like it or have the patience for it but decided to give it a few months to see. At first, I didn't like patchwork [piecing together the fabric] at all, but it was because I started out following rules and patterns. 'Take five, four-inch squares and arrange like so.' That lasted for all of a day or two."
The tedium of meticulously cutting out perfectly angled geometric shapes and following someone else's pattern to create a quilt was just not for her.
"Then, I just started improvising, not worrying about patterns," she said. "I learned as I went, learning how to sew curves and so on. Building improv quilts became this huge mystery or puzzle. How to improv but also respect my design and aesthetic sensibilities? How to follow some ideas as they come along but get the cloth to do what you want? It was and still is hard, and there are moments of struggle for sure!"
In August 2021, she began the work that she began calling her "pandemic quilt." She had posted photos of the project on social media, and VUMC Director of Strategic Market Engagement Cynthia Floyd-Manley commented that the quilt's composition reminded her of the pandemic. Parker-Danley's husband, noted guitarist John Danley, pointed out that the quilt has a staccato nature, steadily building up tension to a crescendo.
The 7 feet by 5.5 feet artwork now hangs prominently on a wall of Parker-Danley's home. Irregular fabric columns in forest green, khaki, black, blue, pumpkin and burnt orange stretch upward, while random curves of rust-colored felt and blocks of black seem to fall in the foreground. Lacy, off-white appliquéd flowers float cloudlike across the quilt's white "sky." And thread sketching – at times frantic, at times orderly, designs or patterns Parker-Danley traced across everything – unites the fabric layers.
Escaping into color after a health crisis
Parker-Danley began her art journey in 2003 while in graduate school in Binghamton, New York. She recalls experiencing an unexplainable "craving for color" that won out over an evening spent working on her doctoral dissertation. She hopped on a bus to an art supply store and bought inexpensive acrylic paint in primary colors, brushes and canvases.
"I didn't really expect anything to happen, except maybe to have some moments of expression," she said. "But I was completely bowled over by the act of painting. I went to college on a ballet scholarship, but I had stopped dancing during my freshman year. Painting immediately reminded me of dance. I thought, 'Oh, my God! I've been missing this!'"
Her creativity took off as she layered dramatic hues on large canvases in works that hovered somewhere between expressionism and surrealism. She drew inspiration from artists such as Hyman Bloom, Chaïm Soutine, Dorothea Tanning, Remedios Varo and Leonora Carrington.
"I was already invested and just had to accept that I could experiment and really screw it up, but what better time than now to try?"
But even art can be waylaid. In 2009, Parker-Danley experienced unexplained arm pain and nausea. Her heart fluttered oddly. A few days later, the experience repeated. Though she was just in her 30s and felt healthy, she wisely went to a hospital. Parker-Danley had suffered a spontaneous coronary artery dissection (SCAD), a tear that traveled the length of two coronary arteries. The SCAD – a crisis so treacherous it is most often discovered during autopsies – caused two major heart attacks. An emergency triple bypass saved her life.
During her recovery, Parker-Danley was physically limited and unable to paint as boldly as before. For a time, she redirected her energy to smaller, less-taxing watercolors and sketchbooks. And her creative repertoire continued to expand.
"A life of its own"
In 2018, she began exploring fiber art – an art form centered on the use of fiber and/or textiles, often incorporating many techniques and textures. Improvisational or improv embroidery, using needle and thread, along with ink and watercolor, to create freeform sketches on fabric, captured her interest.
Eventually, Parker-Danley bought an inexpensive sewing machine and took a class to master some machine-stitchery skills. In January 2021, she decided to delve into an artform that had intrigued her, quilt making. Her thought was to incorporate quilting into her fiber art. Or even to make an entire quilt.
"It took on a life of its own at every stage," she said. "It grew as I pieced it, and then it surprised me again when I quilted it. Initially, I was just going to quilt simply, but as I got going on the new quilting machine I'd splurged on, which gave me all kinds of room, I found myself improvising away and sketching with thread and just taking a lot of risks. I was daunted about quilting it. I was already invested and just had to accept that I could experiment and really screw it up, but what better time than now to try?"
Parker-Danley has since made many improv quilts, each growing with a life of its own, revealing surprises at every turn. Kind of like a pandemic, but of art, and in the very best possible way.