Love in the time of COVID: two VUMC research nurses' pandemic wedding
Guests got a gift bag including toilet paper and a mask. "It was different but we still had fun."
October 13, 2020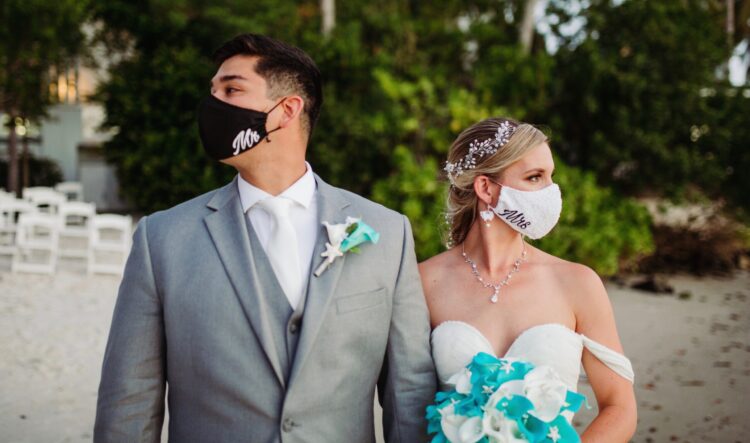 Custom masks were one of the features of Christopher Gray and Liz Weddle's wedding. The research nurses planned every detail to have a meaningful ceremony while observing pandemic protocols.
Liz Weddle, BSN, RN, CEN, experienced what so many couples getting married this year have — planning and re-planning a wedding to ensure her guests are safe amid the COVID-19 pandemic.
For Liz, though, wedding planning was similar to her day job. She is a research nurse specialist II in the Division of Allergy, Pulmonary, Critical Care Medicine and the Center for Lung Research; evidence-based decision-making –looking at evidence and deciding the best course of action is, well, kind of her forte. That's also true for her groom, Christopher Gray, BSN, RN, CEN, research nurse specialist II in the Department of Emergency Medicine.
Liz began her evidence-based nuptial preparations in March 2019, and originally scheduled the big day for May 9, 2020.
By March 2020, plans changed. She shifted the wedding to Aug. 1. She reduced the guest list, already small, from 50 to 36 people, due to guests' travel constraints.
Social distancing was the watchword on the big day. The ceremony was outdoors on a beach in Fort Myers, Florida, with chairs spaced out under the palm trees. The wedding party didn't walk down the aisle together, and bridesmaids weren't accompanied by groomsmen.
"It was different but we still had fun," Liz said.
The bride walked down the aisle by herself. The original plan to have her 88-year-old grandfather and Chris' father walk her down the aisle was scuttled. The bubble-blowing portion of the ceremony was, too.
Guests got a gift bag with toilet paper, hand sanitizer labeled with the couple's names and wedding date and a mask.
The indoor reception was also altered. In the "island room" in a hotel next to the beach, guests were required to wear masks except when eating and drinking. Tables and chairs were appropriately spaced. The dance floor was, well, different. But it was still fun.
The wedding party arrived wearing special masks — with mustaches for the guys and lips for the girls.
"They walked in holding signs of events that happened in 2020," she said. "Kind of like a recap of the year, because it's been a really long year. We had one on the Super Bowl … and there was one about the impeachment and there was one about the tornado that happened. Then there was a funny one on the Tiger King. There was one on COVID, of course, and Black Lives Matter, and we were holding that last sign and we flipped it over and it was our wedding on the poster."
Guests got a gift bag with toilet paper, hand sanitizer labeled with the couple's names and wedding date and a mask.
Liz, who's from Florida, and Chris, from Nashville, met in a Florida hospital about five years ago. By 2016, they were friends, and by 2017, they were a couple. Wedding bells weren't originally on their minds.
"Everyone enjoyed themselves and did a great job adhering to the guidelines. We all embraced the pandemic and made the best of our situation."
"He had always planned to move back to Nashville after he finished school," Liz said. "Originally when we started dating it was going to be a temporary thing. We were going to go our separate ways when he finished and moved back."
Chris did move, but the couple didn't break up. They chose a long-distance relationship which led to Liz moving to Nashville to be with Chris the following year.
"Our main goal was to get married," she said. "The second goal was to keep everyone safe. It's been a month now. Everybody is healthy. Some people had to get tested when they went back to work and they were negative. I think we did a good job."
Added Chris, "The wedding day was perfect. Everyone enjoyed themselves and did a great job adhering to the guidelines. We all embraced the pandemic and made the best of our situation. Our wedding will make a great story for our future children and grandchildren."