Lydia Gross is 100. She just piloted a plane for the first time — and she heard every sound because of her cochlear implants.
Performing an elective procedure on an older patient initially raised concerns for her doctor, David Haynes — but the results have been a resounding success
October 26, 2021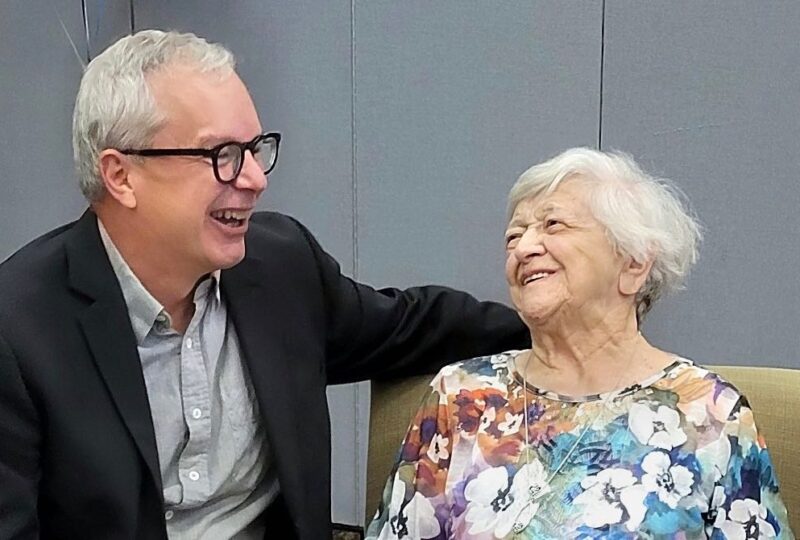 David Haynes carefully considered the risks and benefits of performing elective surgery on Lydia Gross, but her quality of life has improved so much since her cochlear implants she took to the skies as a pilot just before her 100th birthday.
This past August Lydia Gross had her 100th birthday.
She had always wanted to fly an airplane, and had never done so, so for this major milestone, she decided to give it a try. A few days before her birthday, she took to the air with an instructor from a local flight training school. For about half of the hourlong flight she was at the controls.
As the small plane traced an arc above downtown Nashville, she heard the roar of the engines, the words of encouragement from her teacher, and the wind whistling past the cockpit.
The reason she could hear those things is that four years earlier, at the age of 96, the mother of 10 and grandmother of 20 had received cochlear hearing implants at VUMC.
Performing an elective procedure on a 96-year-old patient initially raised concerns for David Haynes, MD, co-director of the Cochlear Implant Program and Skull Base Center and professor of Otolaryngology-Head and Neck Surgery, Neurosurgery, and Hearing and Speech Sciences.
"We discussed the risks at length," Haynes said. "Her quality of life was such that she was willing to take the risk. Our team completed a thorough assessment and found no reason not to proceed."
Four years later, Haynes considers Gross' cochlear implants a resounding success, which taught him that it is possible to proceed with cochlear implants no matter a patient's age.
Haynes and his surgical team were confident that Gross' implants would be successful due to rigorous preoperative testing that predicts with extreme accuracy whether patients will hear better with cochlear implants.
"Once we have determined that a patient's hearing is poor enough for an implant, we know that they will be able to enjoy a significant improvement in their quality of life after surgery," said Haynes. "We do 300 implants per year at VUMC."
The success of Gross' cochlear implants played a significant role in her ability to realize her dream of flying an airplane.
Gross first experienced hearing loss at the age of 8, when her violin teacher suggested she instead focus on piano because she seemed to be unable to hear out of her left ear. Her father took her to a specialist who found that Gross was completely deaf in her left ear and partially deaf in her right ear.
Despite this, Gross continued playing piano and organs throughout her life. She played for several churches long term and even completed a tour of organs in Europe with the Philadelphia College of the Bible music department.
After a lifetime of doctor visits, treatments, hearing aids and a recent ear infection which revealed she was only able to hear 6% of the sounds around her, Gross decided she was ready for a more permanent hearing solution: cochlear implants.
The success of Gross' cochlear implants played a significant role in her ability to realize her dream of flying an airplane.
Gross, who was born in Switzerland and raised in Philadelphia before settling in Columbia, Tennessee, had even volunteered at a local company, Jungle Aviation and Radio Services, after retirement. Despite her love for aviation, she turned down her boss's offer to teach her how to fly because it seemed impractical.
"I thought I would never have the money for an airplane, so why learn to fly?" Gross said. "I said if I ever did do it, it would only be to make my sons jealous."
But as she approached the birthday that would make her a centenarian, one of only 573,000 in the world according the United Nations, she changed her mind and took to the air.
"It was quite interesting, flying over Nashville and seeing all of the lights," she said. "I wish I had learned to fly sooner."
Next up on Gross' bucket list is revisiting her birthplace of Switzerland. While she does not have any permanent plans in place due to COVID-19, she is looking forward to returning to the place she spent the first two years of her life with her newly improved hearing abilities.