"Mama Stella" Lochmiller brings softness and support to the PICU
A combination of professional experience and personal loss makes Lochmiller a Credo Award winner during the February 2023 Leadership Assembly.
March 6, 2023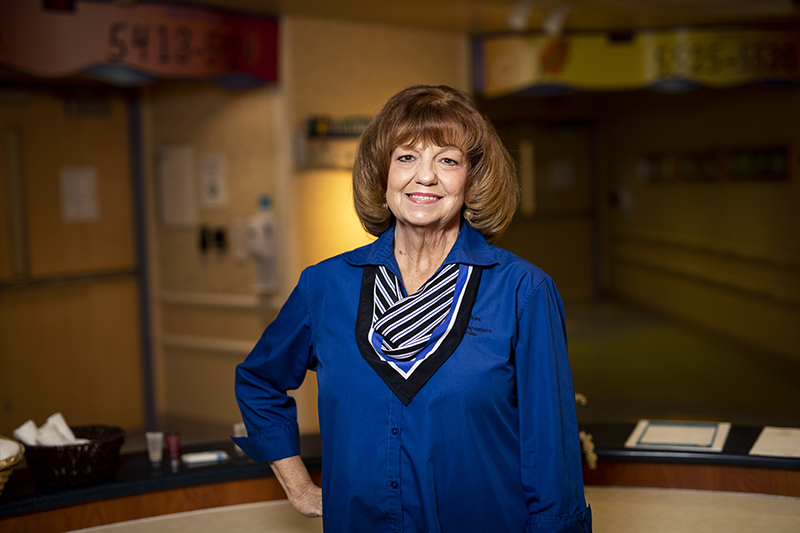 Stella Lochmiller, PICU Guest Services representative. Photo by Susan Urmy
At the end of 2020, Stella Lochmiller, a 33-year veteran of the Nashville hotel industry, took her husband aside.
"I told him, 'I think I'm ready to retire from this,' but I wasn't totally ready to retire," she said.
She chose to round out her career the same way it started: In January 2021, Lochmiller accepted a Guest Services Representative position at Monroe Carell Jr. Children's Hospital at Vanderbilt. When asked which floor she wanted to work on, she chose the Pediatric Intensive Care Unit (PICU).
"It's funny how it's come full circle," said the grandmother of five and dog mom to a rescue named Cookie. "I worked at a hospital as a college student in Arkansas. Back then they called us ward clerks."
Lochmiller, who's known around the PICU as "Mama Stella," is responsible for giving new families tours of the sleep rooms, family laundry and lounge and calling a social worker when a family needs financial support or a chaplain in end-of-life situations.
But it's what's not in her job description — what she does instinctively and with true sincerity — that earned her a Credo Award after just two years at Vanderbilt University Medical Center. Lochmiller was recognized during the VUMC February 2023 Leadership Assembly.
When a mother, overwhelmed with concern about her child's impending intubation, asked Lochmiller for a hug, she opened her arms. When a distraught family member threw a sandwich in her face, she was empathetic but clear about boundaries. When it gets busy behind the desk, Lochmiller, who averages 11,000 steps a day, gets up and lets every parent into the unit, every time.
"Parents say, 'We're so sorry to make you get up again,' but I tell them like I tell every family: 'If you were to come through here 100 times and I'm at this desk, I'm going to let you in because I don't want you having to wait to see your child,'" she said.
Lisa Hermann, the staff chaplain in the Monroe Carell Department of Spiritual Care who works with and nominated Lochmiller, describes her as "a big bag of cotton balls" because of her ability to be both soft and supportive and a staunch advocate to multiple families in crisis.
She cited a recent situation in which there were four deaths in the PICU in less than 24 hours.
"There were many grieving parents and families and physical and emotional care to be done. There were also questions about where those families and patients could be as our family rooms and other areas were occupied and space was limited," Hermann said. "Like the professional she is, Stella rolled up her sleeves and worked with me and the social workers. We all flexed, bent, shifted and stayed within paging, texting or vocal range to make it happen. We moved grieving families about with soft, gentle compassion, utilizing all spaces that day including waiting rooms, family rooms and conference rooms so they could be close to each other and to their critically ill and dying children. Stella's consistent communication, asking how she could help and what she could do, offering a high-five of support and pats on the back on a tough day reminded us all that no one works in a vacuum."
While her hospitality background professionally prepared Lochmiller for the PICU, the unexpected death of her daughter in November 2021 deepened her personal connection to the fear and grief many families experience.
"I know the feeling that no parent should have to bury their own child," she said. "When I look at families on this floor, their children are so young, and they're scared. At the end of the day, when I go home, I think, wow, I've been able to provide some comfort and peace to these families today. That's what makes what I do every single day even better. I absolutely love what I do, and I feel I was meant to be here at Vanderbilt and here on this particular floor."
If you are a VUMC employee, you can nominate a colleague for an Elevate Credo Award, Five Pillar Leader Award, or Team Award. Visit the Elevate website to fill out a nomination form. Employees demonstrate credo behaviors when: they make those they serve the highest priority; respect privacy and confidentiality; communicate effectively; conduct themselves professionally; have a sense of ownership; and are committed to their colleagues. Elevate award nominations are accepted year-round. If a nomination is received after the cut off for an award selection period, the nomination will be considered for the next period. VUMC Voice will post stories on each of the award winners in the weeks following their announcement.