Marching in the Tournament of Roses Parade after knee surgery? Check. Carrying a 30-lb. drum set? That, too.
It was a long journey for Jill Griffin to that iconic New Year's Day parade, and her surgeon Rick Wright made it possible
January 12, 2022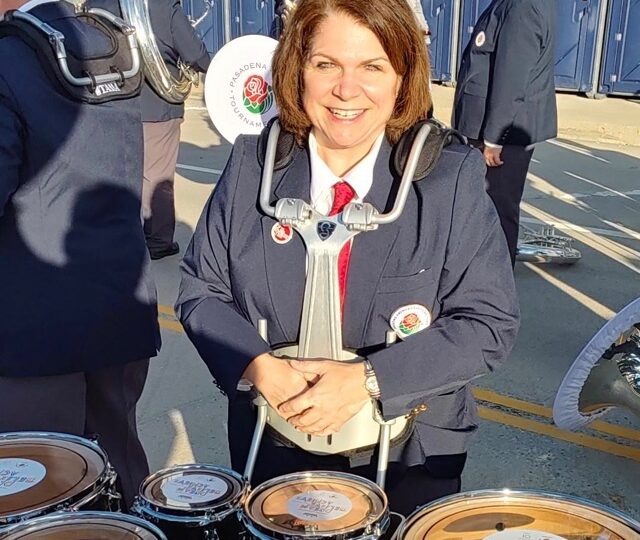 Jill Griffin with her drum set at the Tournament of Roses Parade on New Year's Day.
By the time Jill Griffin was 13 years old, she had grade 3 arthritis in both knees. Her joint cartilage was damaged, diseased and worn away.
She is now 50, but on New Year's Day, thanks to surgery from VUMC's Rick Wright, MD, she marched 5.5 miles in the Tournament of Roses Parade in Pasadena, California.
And she didn't just march in the parade — she was carrying and playing her instrument, the multi-tenor drums, a set of six drums the player wears around her torso. The set weighs about 30 pounds.
So, to recap, she walked 5 1/2 miles carrying 30 pounds around her waist, while constantly drumming. On national television.
It was a long journey to that iconic New Year's Day parade.
Griffin was born with a condition which caused trouble with movement in her kneecaps. The constant rubbing of her kneecaps against bone eventually caused so much arthritis that after consulting with Wright, who is the Dan Spengler Professor and chair of the Department of Orthopaedic Surgery, she decided it was time for her to undergo knee replacements.
"When I met Dr. Wright while he was working in St. Louis, I was in my 20s, so it was way too early to consider a knee replacement," Griffin said. "But four years ago, I got to the point of having no meniscus or cartilage left. I had a fracture in one of my knees and the bone marrow was seeping into the crack of the broken bone. It was horribly painful, and at that point I knew it was time for a replacement."
 After Griffin's knee replacements, Wright moved from St. Louis to VUMC. When Griffin began experiencing pain in one of her recently replaced knees, she consulted other surgeons in the St. Louis area who recommended knee revisions and therapeutic massages and even suggested that the problem may be originating from her hip. Ultimately, Griffin knew that Wright was the surgeon she should consult — the one who understood her knee complications best.
"I felt like everyone I consulted was throwing their hands up in the air, unsure of what to do," Griffin said. "I decided to call Dr. Wright and make an appointment. He said he would be happy to look at my knee, and that was the glimmer of hope I needed."
Wright saw Griffin in February 2021 and decided to scope her left knee to see what the problem was. After the scope, Wright explained that he was able to clear out an excess of scar tissue and was confident that this would help her pain. Wright was correct — on the same evening of her surgery, Griffin was able to put weight on her knee without the extreme pain she had been experiencing before the surgery.
Now, Griffin says her knees are the best they have ever felt. Fourteen surgeries and one postponed parade later, Griffin was finally be able to play the tenor drums as part of a 30-person drumline in the Tournament of Roses parade.
Griffin, who worked as an engineer for 15 years before pursuing band and choir directing as a full-time job, never imagined she would be part of the parade that is watched by hundreds of thousands of people on New Year's Day each year.
"I never thought music would become my main focus," Griffin said. "I just did it because I loved it. When I was accepted to march in the Tournament of Roses parade, I wasn't even sure if I could physically do it."
But she could.
"It just doesn't get better than the Tournament of Roses," she said.
Photos courtesy Jill Griffin