Martin Luther King Jr. Day begins with spirituals, calls for unity, Churchwell solo on "Abraham, Martin and John"
Featured speaker Jeffrey Upperman, MD, recalls lessons of his parents and urges "pick big problems to attack."
January 20, 2020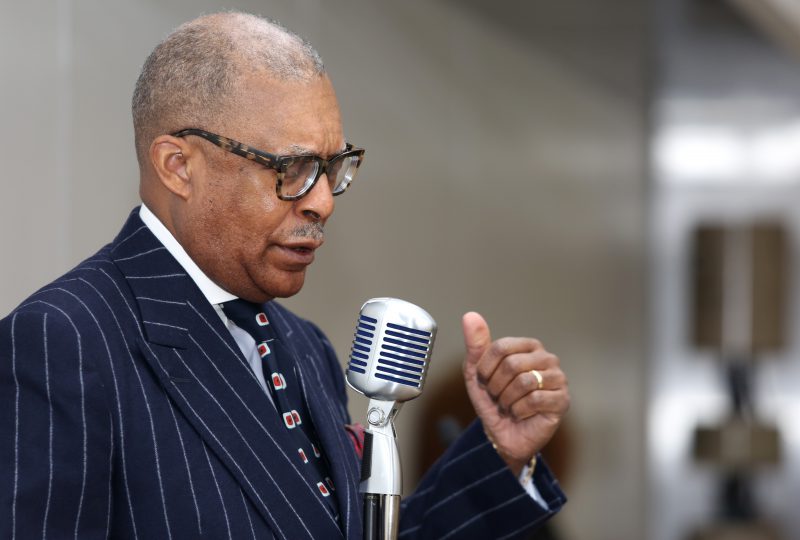 André Churchwell, MD, sings "Abraham, Martin and John" at the Martin Luther King Jr. Day Morning Tribute. Photo by Erin O. Smith
The United Voices of Vanderbilt choir lifted their voices in song and speakers recalled the message of Martin Luther King Jr. during the third annual Morning Tribute on Monday, Jan. 20.
The event, held in the north lobby of Light Hall, was the beginning of the Medical Center's celebration of Martin Luther King Jr. Day, and also featured remarks by André Churchwell, MD, Chief Diversity Officer for VUMC, senior associate dean for Diversity Affairs in Vanderbilt University School of Medicine and interim vice chancellor for equity, diversity and inclusion and chief diversity officer for Vanderbilt University; and Jeffrey Upperman, MD, Surgeon-in-Chief of Monroe Carell Jr. Children's Hospital at Vanderbilt and chair of the Department of Pediatric Surgery.
The United Voices of Vanderbilt choir, directed by Ronnie Yates and accompanied by pianist Julius Fisher, opened the morning's program with a medley of "The Battle Hymn of the Republic" and the spirituals "Ride on King Jesus" and "Total Praise."
Churchwell, quoting the preamble to the U.S. Constitution, noted King's commitment to fairness and equality for all, and spoke of the continuing struggle to achieve King's dream.
"We're trying to build that more perfect union," he said.
Churchwell introduced Upperman, who, spoke of the inspiration of his mother, a nurse, and his father, a house painter and contractor.
"My mom said, 'You're going to be a doctor,'" he remembered, adding, "I was 5 at the time."
He recalled that his father would give work opportunities to men who had troubled pasts, as a way of providing a hand up.
Upperman called on the leaders and mentors in the audience to provide guidance and light the fire of justice in those they oversee.
And he called on the mentees to be intentional about their paths in life.
"You need to be intentional," he said. "Follow the script. It's been written."
And to the whole audience, he exhorted: "Let me challenge you to pick big problems to attack."
In his closing remarks, Churchwell similarly called for action on behalf of justice.
"You don't have to have superpowers, but you do have to have super commitment," he said.
He then, as he did last year, closed the event with a solo performance of "Abraham, Martin and John," a song written in 1968 and which references the assassinations of President Abraham Lincoln in 1865, President John Kennedy in 1963, King in April of 1968, and of Robert Kennedy in June of 1968. The moving rendition concluded with the final image of the four slain leaders who, in the song's words, "freed a lot of people" walking together.
To view a video of André Churchwell singing "Abraham, Martin and John," click here.