Medical Center sweethearts share "99 Words of Love," part 2
How can you tell the story of a lifetime in 99 words (or fewer)? Here's how some Vanderbilt University Medical Center lovers did it.
February 11, 2019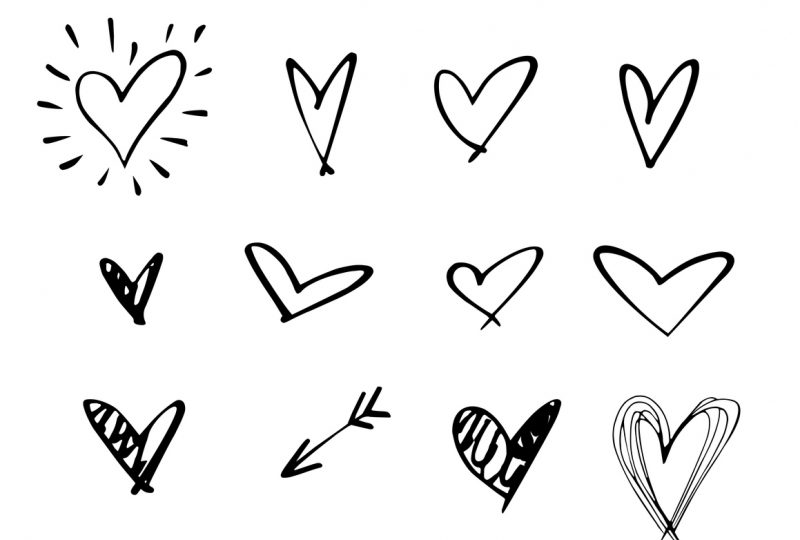 This is the second and final collection of "99 Words of Love" from employees of Vanderbilt University Medical Center.
For Valentine's Day, VUMC Voice asked readers to send us their love stories. Stories about their sweetheart, how they met, how they fell in love, what their lives together are like. And we asked everybody who sent in a story to also send a picture.
But there was a catch. The stories were limited to 99 words. So telling the tale requires a little compression. Sometimes as words are trimmed, the sentences get a kind of jazz swing or staccato poetry. Love is beautiful, and so are these expressions of love.
How can you tell the story of a lifetime in 99 words (or fewer)? Here's how some Vanderbilt University Medical Center lovers did it: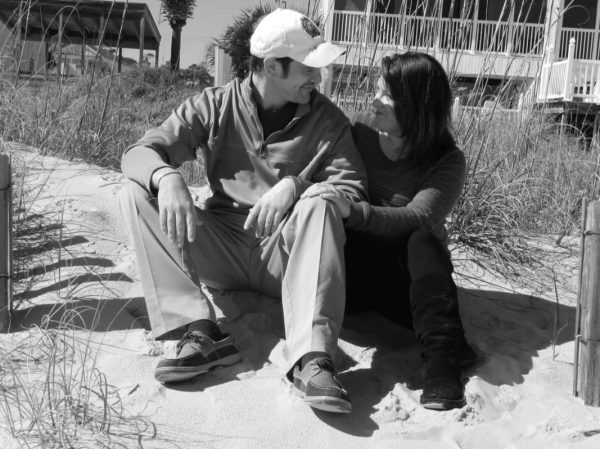 Stacy Snider, Orthopaedics, with sweetheart Stephen: "We met in 1997 when we were 15 and 16. In the spring of 2000 we were high school seniors and on April 24, we got married two months before we got our high school diplomas. We had our first child at Christmastime that year, and 19 years later we are still together and have added two more kids!"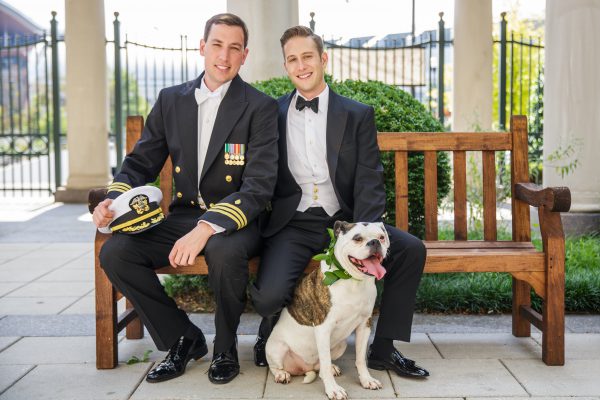 Jesse Ehrenfeld, Anesthesiology, left, with sweetheart Judd Taback (and Madison): "We met unexpectedly in 2011 at a July 4th party in NY. Jesse, who worked at Vanderbilt, was visiting a friend. Judd was in law school in NY. There were instant fireworks! A long distance romance commenced, with weekend trips between Nashville & NY until Judd packed up his faithful pooch, Madison, and moved to Nashville two years later. Together at last, we would soon again be separated. In 2014, Jesse deployed with the Navy to Afghanistan for seven months. Reunited in 2015 and married in 2016, through all the time and distance, love conquered all."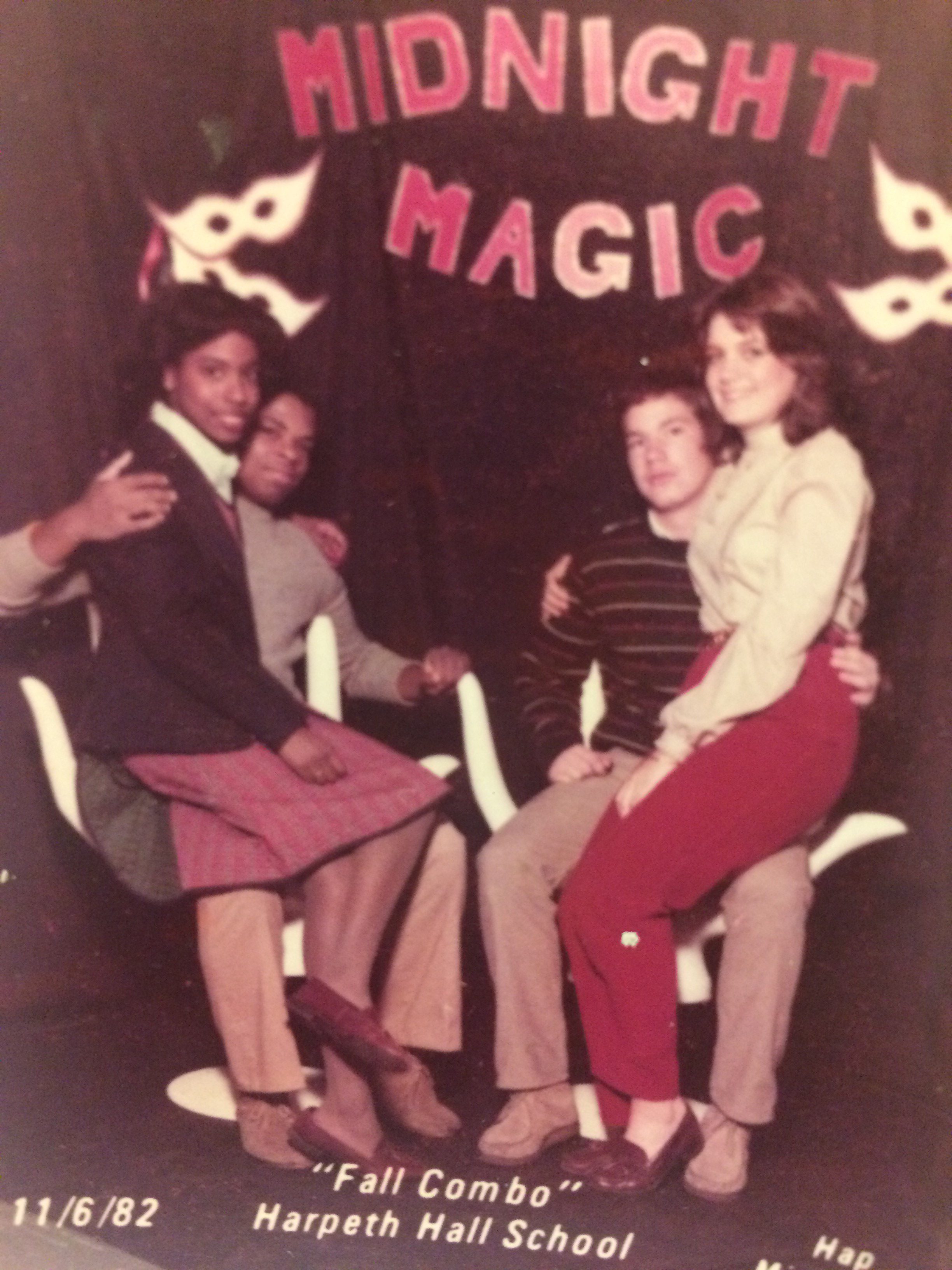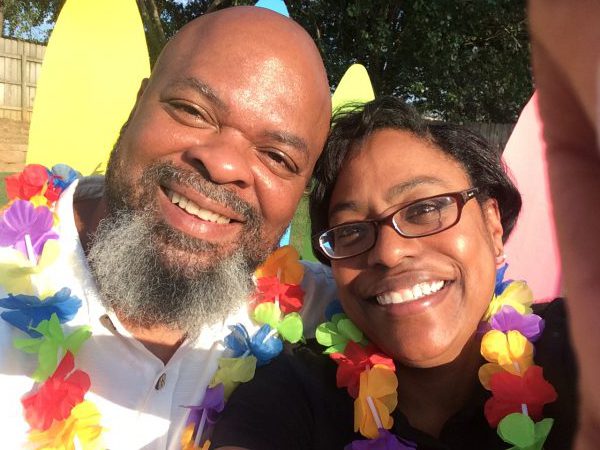 Jessica Pasley, News and Communications, with sweetheart Irvin Pasley (top photo, on first date in 1982; lower photo, somewhat more recently): "I asked him. He said yes. I was 15 years old when I asked a boy to the fall dance at my school. Little did I know that the stars were aligned for something far beyond the basics of a high school dance. He asked me. I said yes to becoming lifetime partners in 1990. Throughout our journey we have experienced many firsts as a couple – jobs, homeownership, parenthood, and other life experiences that unfortunately include losses. But we did it together. We've been told that high school sweethearts are rare. Thankfully we are still dancing 37 years later."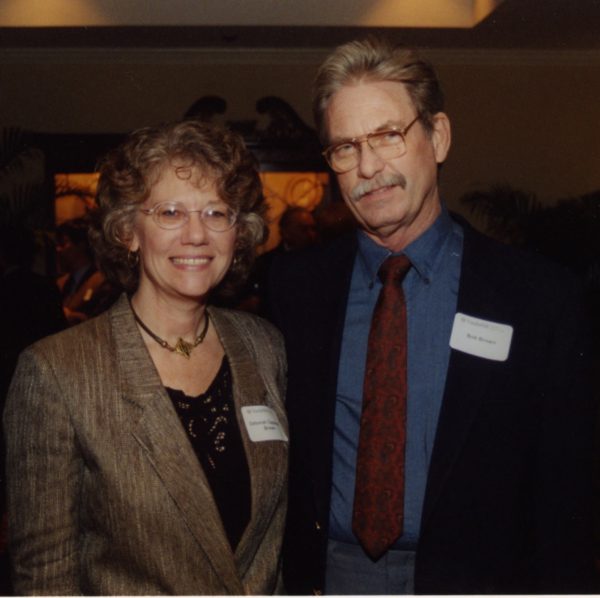 Deborah Caplenor Brown, Diabetes Center, and her sweetheart Robert F. Brown: "We had a very colorful relationship. BLUE was the lightning he said flashed between us when we first saw each other across the room. TURQUOISE were the waters where we sailed, paddled, snorkeled, wind-surfed and relaxed. PINK replaced his GRAY-colored skin when he received my spare kidney a few years after we married. PINK AND BLUE represented the grandchildren we shared. GOLDEN are the memories that I have after his passing, kidney still in fine working order. There is a part of me mixed with his ashes and he is always in my mind."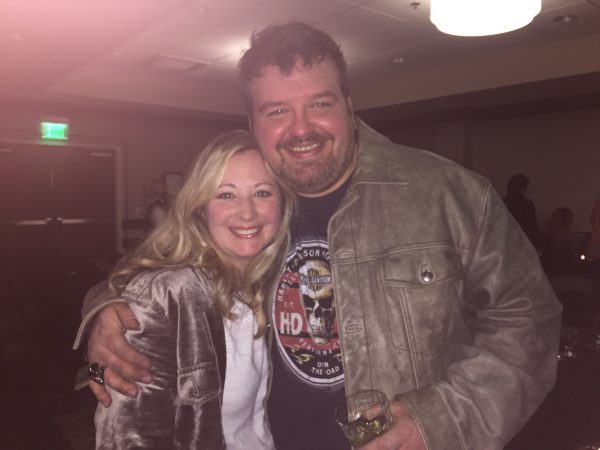 Melissa Cox, Neurological Surgery, and sweetheart Ben: "Married to the love of my life for nearly 20 years. In love for 22. Fell in love on a Wednesday night at church listening to his testimony of childhood struggles he overcame. What fairytales are made of is what we are told. 'Love you with all my heart' is our phrase, both in words and actions. In 20 years, we've both overcome cancer, been through eight funerals, two miscarriages, infertility, barrenness, he stepped up and we raised my younger orphaned brother, now building our dream home. Built on a rock, we will not fail."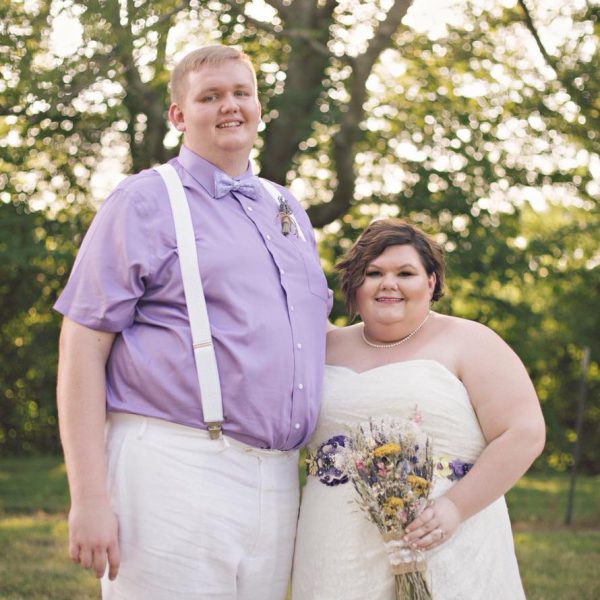 Jessie Kay Rand, Medical Specialties, and sweetheart Trevor Rand, of Urology: "Our love story started on October 28, 2016. I knew from the moment I met him he was going to be my husband. We got engaged at the eclipse.We got married on June 2,2018. I knew the day we met I found my soulmate. There is no one in this world that completes me. Our first six month of marriage has been full of death, pain, and happiness, but at the end of the day, I am with my best friend and nothing in the world is better."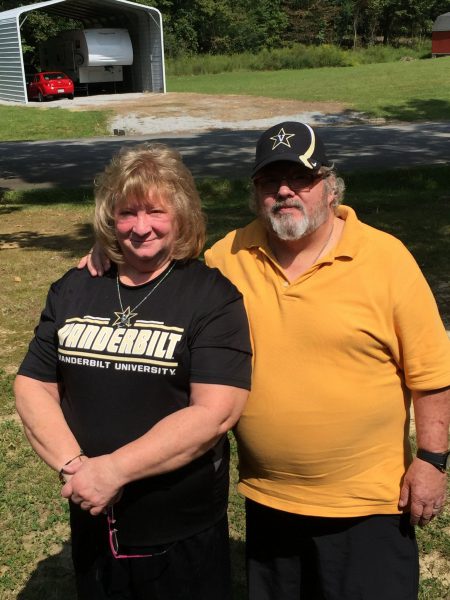 Carole A. Hathaway, Finance and Administration, with sweetheart Russell: "After chatting online for weeks, our first in-person chat lasted six hours at a local coffee shop. My gut instinct was do this before I left for vacation or we would never have another chance. My son was fine with the relationship; his daughters were furious. He was a widower and I a divorcee. We have risen to overcome our past marriages and his daughter's objections. We had a church wedding with my son as his best man. At long last, we have found our other half.  Life is incredible at any age."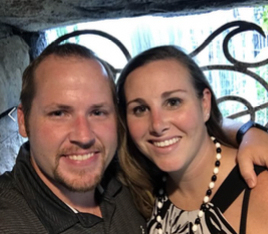 Adam Lewis, Vanderbilt Institute for Clinical and Translational Research, and sweetheart Krista: "It was 2008 Krista and I were in the same master's program. She was a softball coach and I was an athletic trainer. I knew I had to talk to her, but I was shy and, to be honest, a little intimidated. On St. Patrick's day her roommates and mine decided to meet up at Applebee's for dinner and drinks. After a couple 'Irish car bombs' the courage was flowing. The first thing out of my mouth was 'Can you touch your elbows behind your back?' Needless to say, she couldn't, and since then we have been inseparable."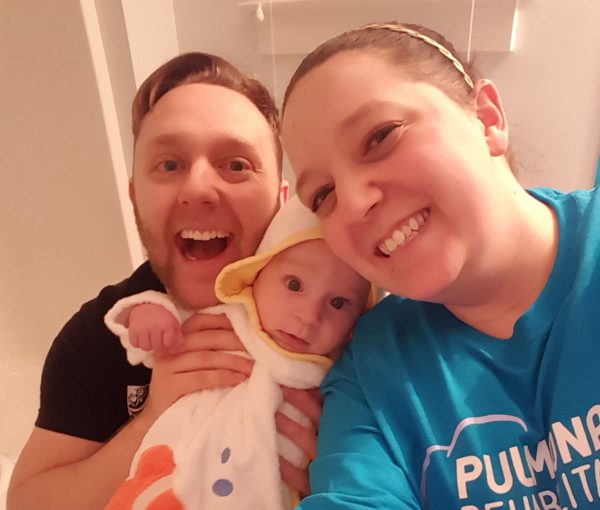 Ashley Trambley, System Support Services, and sweetheart Alex Trambley of Referral Management, (with Aston): "We met at age 18 working at Sonic. We didn't do well with first impressions and actually didn't really fancy each other when we met. We ended up having a college class together which sparked a connection that led to a few dates and then 'going steady' as my grandmother would say. Two years later came a Christmas proposal. Two years after that came a May wedding at a gorgeous winery. We spent 7 years enjoying new adventures and travels. In September 2017, our love brought us our greatest adventure yet when we welcomed our sweet baby boy, Aston!"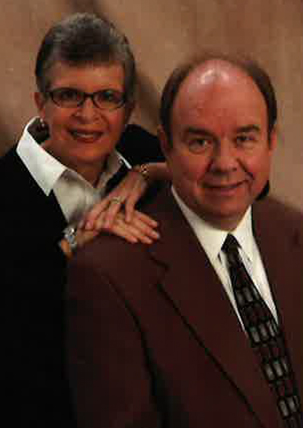 Holly Larson, Office of Legal Affairs, with sweetheart Lee Larson, from Vanderbilt GI Clinic-Hepatology: "In 1986 we met in the library of the University of Colorado.  Lee was getting his Master's degree. I worked at a Denver law firm. At the new library, Lee asked me 'What are you studying?' I wasn't a student and I gave him the name of the law firm. He was very nice but he hadn't gotten my phone number; I thought I'd never see him again. The next day he called! He found me by tracking down the law firm. We went to a nice Chinese restaurant, and I took him home to walk my cocker spaniel."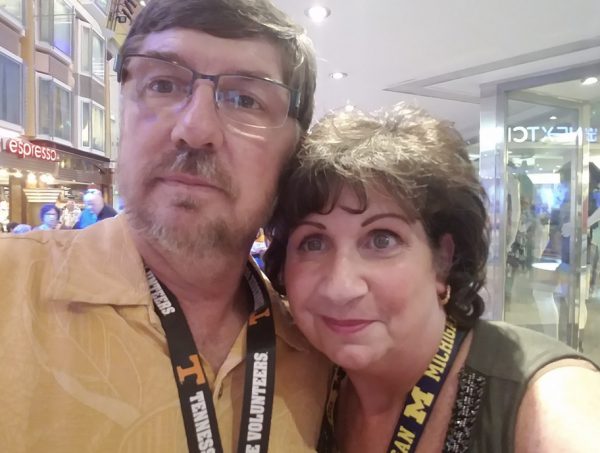 Nora Mary Gilgallon-Keele , Infectious Diseases, and sweetheart Robbie: "I saw this cute guy on Match.com, sent a message and surprisingly received a response. We emailed back and forth for three months before meeting; never even spoke on the phone. Met at Starbuck's on a Saturday afternoon; coffee turned into dinner and a movie and I cooked dinner for him the next day. Dated for two years; picked out a ring and in his own romantic way, leaned over and just said, 'Do you want your ring?" That's my man, my love, my person! Married 12 years, 4 months, 1 day!"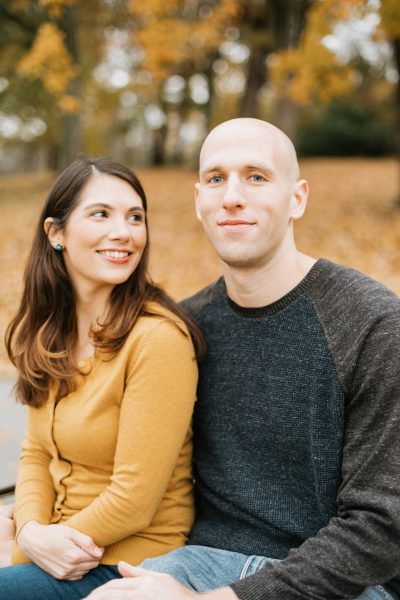 Lyndsay Nelson, Medicine, and sweetheart Mark Carson: "Mark and I met as many couples do: a Saturday on Broadway. Mark approached and asked me to dance; although reluctant at first, I eventually agreed and our chemistry was sparked. However, there was a catch. Mark lived in Charlotte and despite an incredible connection, I was certain our story concluded that night. Against all odds, we continued talking, braved a 2-year long-distance relationship, Mark relocated to Nashville, and we're getting married in April — four years from first meeting. He is, without a doubt, my partner in life and I'm forever grateful for saying yes to that dance."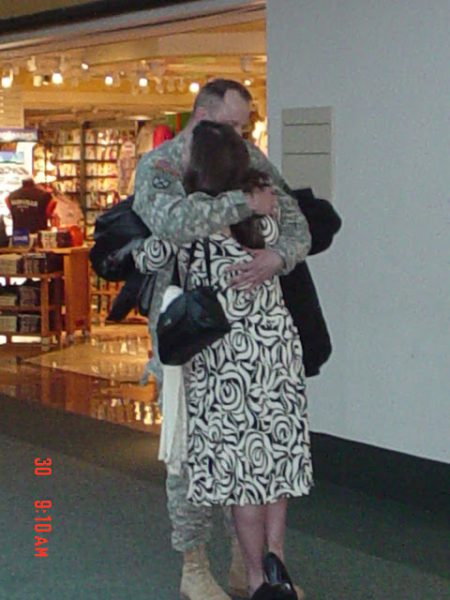 Sarah Loftis, Pediatrics, and her sweetheart Robert: "We met in high school band, playing tuba and clarinet. We had a tumultuous teenage love, and then senior prom. He graduated and joined the Army, going to Germany. Long distance calls and letters, on and off again. Once high school was over, he came home, we dated on again off again. I was too young to marry when he asked the first time, but we always stayed in touch. After 9/11, he re-enlisted and didn't answer the annual birthday all – because he was in Afghanistan. We reconnected online and have now been married 12 years."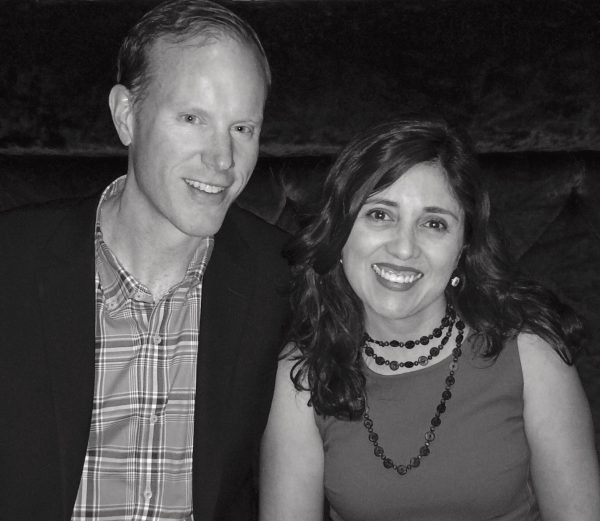 Darien Mejia Chandler, Interpreter Services, and her sweetheart Miller Chandler (Photo taken by server at Sinema restaurant on their first "real" date): "I am a photographer married to a former client, greatest fan, best friend, soulmate and love of my life!  Days after taking portraits for his business website, Miller and I met at a photography-gallery-opening. After saying good bye, he texted me: 'Tonight was like out of a movie, I may as well go home and watch some Woody Allen.' Surprised that we shared taste for movies, I replied: 'Do you want to watch it with me?' I had no idea we will marry five months later and have a small bilingual wedding celebration soon after — the rest is history."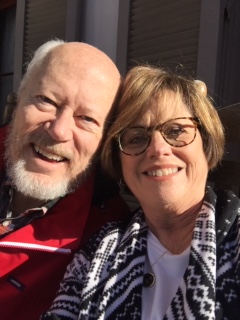 Cathy Peek, Guest Services, and her sweetheart Charley Starnes: "I met Charley when we were in first grade. We attended first through 12th grade together, dating our junior year and him taking me to see a Chicago concert. After graduation our lives went in different directions—college, marriage, children, grandchildren and sadly the passing of my husband of 38 years, from cancer. A class reunion changed everything! Numbers were exchanged and memories shared and the rest is our love story.  Chicago came to Ascend Theater last July and I surprised Charley with tickets.  We relived our first date as teenagers as we held hands to 'You're the Inspiration.'"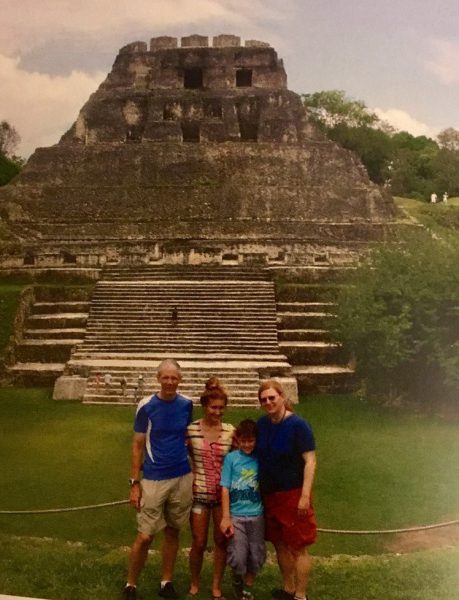 Annette Oeser, Clinical Pharmacology, and her sweetheart Ken Oeser of Molecular Physiology and Biophysics: "Since I seemed to be 'outdoorsy' (whatever that means), I was set up on a blind date with Ken. We talked on the phone for the first time in April. For an hour. Normal, 'sit down and eat' dates followed, along with adventures — hiking, caving, and traveling. On one of those adventures in July to Glacier National Park, he insisted I step onto an iceberg with him — where he proposed. We married in September, 4.5 months after first talking. Two kids, many adventures, and 26 years later, we are still going.  Guess I was outdoorsy after all."