Melvin Fitzgerald, longtime Biochemistry employee, dies at 84
Mr. Fitzgerald, who retired in 2013 after more than 55 years, was a Commodore Award and Martin Luther King Jr. Award winner.
April 23, 2021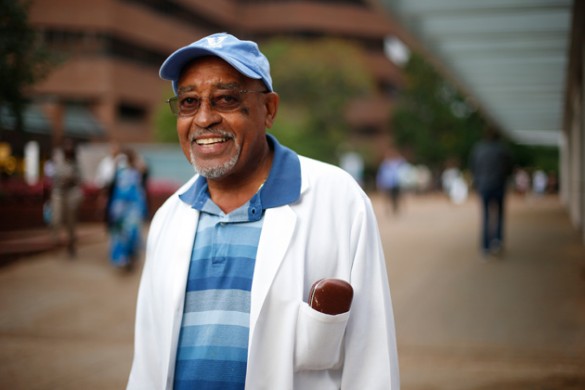 Melvin Fitzgerald shortly before his retirement in 2013. Photo by John Russell
Melvin Fitzgerald, one of the longest-serving employees in Vanderbilt's history, died April 14. He was 84.
Mr. Fitzgerald, who worked for most of his time in the Department of Biochemistry, retired from Vanderbilt in 2013, after a career of more than 55 years.
He was born in Franklin, Tennessee, on Feb. 4, 1937, and was the youngest of eight children. His education came in the African-American schools operated by the Williamson County School System, and he graduated from the Franklin Training School in 1955. Several months later he was drafted into the U.S. Army.
After leaving active duty in the Army, Mr. Fitzgerald began his career at Vanderbilt in 1958, although he continued to  serve in the U.S. Army Reserves until 1971, when he retired with the rank of sergeant first class.
Mr. Fitzgerald was a familiar presence, often seen in the halls or on the plaza in a white lab coat, and he seemed to know hundreds of employees by name.
During his time at Vanderbilt, he was recognized numerous times for his length of service, and also won the Commodore Award in 1996 and the Dr. Martin Luther King Jr. Award in 2011. His picture is displayed on the Diversity and Inclusion timeline in the North Lobby of Light Hall.
Mr. Fitzgerald enjoyed an incredibly active life outside VUMC; he was also an avid golfer, part-time barber and had a career in real estate — purchasing, renovating and managing rental houses.
Mr. Fitzgerald was married to Trinita Fitzgerald, who also worked in Biochemistry, for more than 25 years. She preceded him in death, in 2005, as have six siblings. He is survived by his brother Alvin, in addition to nieces, nephews, sisters-in-law, a brother-in-law, and his mother-in-law, Gloria E. Nicholson of Glen Burnie, Maryland.
His memorial service, with military honors, was held on April 20.
Melvin Fitzgerald's online obituary is here.
A story written in 2013 about Mr. Fitzgerald's retirement is here.