Micropipette's "accuracy is beautiful" for medical researcher Jun Qian
Being able to manipulate things too small to be seen is still a source of amazement
April 18, 2018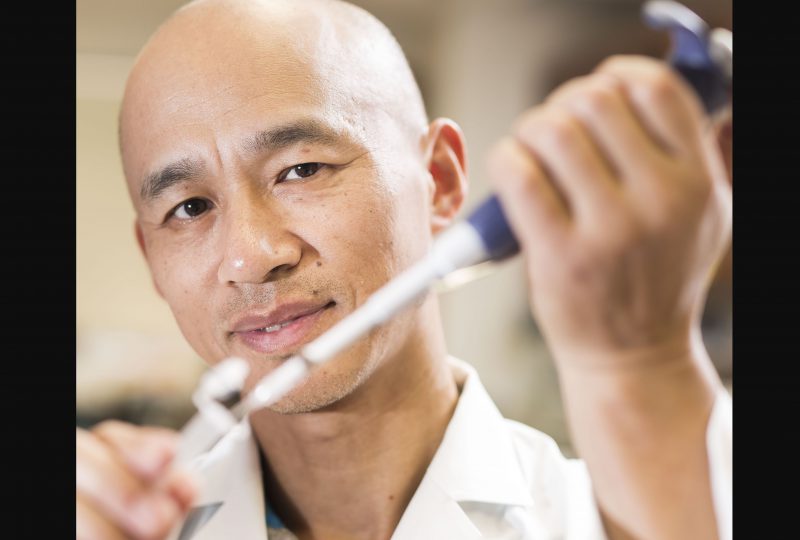 Jun Qian, PhD, research assistant professor of Medicine, with a tool of his trade, a micropipette. Photo by Susan Urmy
Second in a series. Every line of work has tools that make the work possible. For this continuing series of stories in "VUMC Voice," we ask some Medical Center employees about what their favorite tool is, and why. 
"Accuracy is the most beautiful thing about this tool," says Jun Qian, PhD, research assistant professor of Medicine. Used in molecular biology labs to measure and transport liquids, pipettes like this one are descendants of the glass "eye dropper" pipettes used in the 19th century by Pasteur and his contemporaries. Qian's favorite has a capacity from .01 to 2 microliters (a microliter is a cubic millimeter, or one-millionth of a liter).
As recently as the 1960s researchers were known to use their mouths to suck, straw-like, into pipettes whatever solutions they were working with. Today's micropipettes have thumb-operated plungers.
"You use this almost every day, every minute even, once you are doing any molecular bench work," Qian says. "If you want to get an exact amount of solution, this is the tool.
"I'm 10 years into my career, and I still feel a kind of amazement and thrill at being able to manipulate in the lab things you could never see unaided."
According to Qian, micropipettes have to be sent off for recalibration about twice a year.
Have a tool of your trade that you'd like us to consider for a future story? Email "VUMC Voice" editor Wayne Wood at wayne.wood@vumc.org.