"Miss Pam" recognized for her care and commitment to all her "babies" in the Pediatric Hematology/Oncology clinic
Pam Spencer honored with inaugural Patient and Family Choice Award
May 9, 2022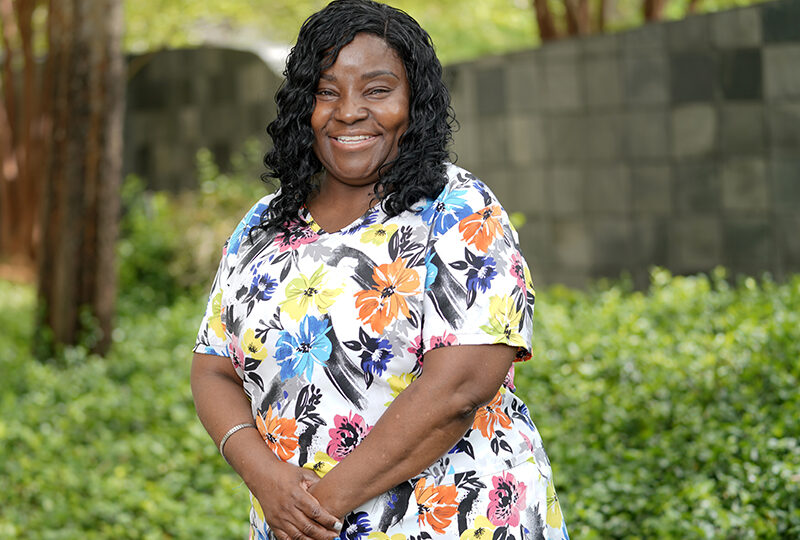 Pam Spencer. Photo by Donn Jones
As Pam Spencer rounded the corner to her office — one of the rooms where patients have vital signs taken — she nearly ran into the folks standing outside her door bearing balloons and a gift basket.
After a visit with a patient and family she had just escorted to an exam room in the Pediatric Hematology/Oncology Clinic, she was already prepping for her next "baby."
"No matter what age the patients are, I call them all my babies," beamed Spencer, a patient care tech. "I love visiting with them and their families. I look forward to helping each and every one of them in any way I can while they are here. It's just what I do and who I am."
Known as "Miss Pam" to hundreds at Monroe Carell Jr. Children's Hospital at Vanderbilt, Spencer was shocked to learn that the balloons and gift basket were for her. She was one of four employees chosen for the inaugural Patient and Family Choice Awards, sponsored and selected by each of the three patient and family advisory councils. Nominations were submitted by patients and families.
The 2022 Patient and Family Choice Award honors employees from across Vanderbilt University Medical Center who act with compassion and excellence to provide exceptional experience for patients and their families. Each year, the patient and family advisory councils will bestow awards to four individuals from Vanderbilt University Hospital, Monroe Carell Jr. Children's Hospital at Vanderbilt, Vanderbilt Psychiatric Hospital and Vanderbilt Adult Ambulatory Clinics.
Janet Cross, MEd, CCLS, CPXP, administrative director of Patient- and Family-Centered Care at Children's Hospital shares a bit of history about the award.  "The Patient and Family Choice award was created by the patient and family advisory councils to recognize employees whose behaviors are exemplars of the Patient and Family Promise. It is quite an honor to be nominated and selected by patients and families. Pam is very deserving of this inaugural award."
Spencer's nomination form extols her ability to make people comfortable, feel included, important and cared about.
"How does someone explain Miss Pam?" reads a nomination form. "In the most simplified terms, she is the staff who takes vitals and escorts you to a room, but Miss Pam is SO MUCH MORE than that!
"She comes out to retrieve you from the waiting room with the greatest eagerness…She creates such a personalized interaction…and recalls past conversations. Miss Pam is that consistent, uplifting experience in a setting that is otherwise daunting. Miss Pam is family."
There were more than 1,600 nominations submitted during the first year of the award from across the VUMC enterprise.
"It was such a shock to me," exclaimed Spencer. "It is unbelievable that I was chosen from that many people. I just treat people the way I would want to be treated. I put my heart into what I am doing. For me, it's not going the extra mile. It's just normal for me."
Spencer came to Children's Hospital 29 years ago as a care partner, assisting floor nurses with documenting vital signs, performing blood draws and changing linens among other duties. In 2014, once the freestanding hospital was built, she joined the clinic staff as a patient care tech.
"I always wanted to work with children," she said. "I remember the day I came for my interview. It all felt right. I knew it was the place for me."
Candy Stefansic, RN, MSN, CPON, director of Pediatric Hematology/Oncology and Outpatient Infusion Services at Children's Hospital, agrees.
"Pam always makes patients and families feel welcome in our clinic," she said.  "She greets everyone with a huge smile and does her best to distract the patients with toys and games."
As the Children's Hospital award recipient, Spencer will be highlighted on the media wall on the second floor during June. A piece of art by Nashville-based artist Herb Williams ("the king of Crayola") of a lotus, will be installed on the second floor of Children's Hospital. The lotus was chosen as the symbol for the award because of the symbolic meaning of the flower, which emerges from murky waters perfectly clean and beautiful and is a symbol of purity. The meaning of the lotus flower holds power because it can offer hope and strength to people struggling in their daily lives.