Multiple sclerosis, lung cancer, and 50 marathons: Aaron Hawkins about to reach amazing milestone
"He has been a blessing and role model for so many," his doctor Jonathan Nesbitt says.
April 25, 2022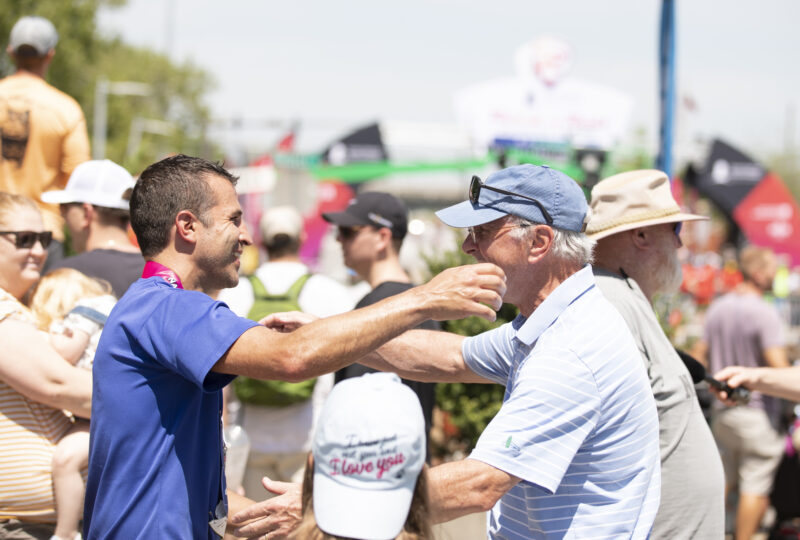 When Aaron Hawkins completed Nashville's 2022 marathon, Jonathan Nesbitt, MD, professor and former chair of the Department of Thoracic Surgery at Vanderbilt University Medical Center, was there to meet him with open arms. Hawkins credits Nesbitt for saving his life after he was diagnosed with lung cancer. Photo by Erin O. Smith
Hendersonville resident Aaron Hawkins crossed the finish line at April 23's marathon in Nashville, and after hugging his family, the next person he looked for was Jonathan Nesbitt, MD, professor and former chair of the Department of Thoracic Surgery at Vanderbilt University Medical Center.
Hawkins credits Nesbitt for saving his life and giving him the chance to complete his 49th 26.2 mile-race at the age of 49. But he's not unlacing his racing flats just yet.
Hawkins' 50th birthday is May 15, and he plans to celebrate by completing his 50th marathon on May 22 in his hometown of Cleveland, Ohio. He will be crossing the finish line with supporters and fellow members of his Northeast Ohio running team.
Hawkins has always considered himself incredibly lucky. He's been married to his wife, Melissa, for 20 years, has two wonderful daughters, a successful career in banking, and he stays active as an avid runner. He's proud of the fact that he's logged enough miles to encircle the globe nearly twice. But his luck has been tried a bit through the years.
In February 2019, Melissa realized her husband had not had an annual exam in quite some time so she made him slow down long enough for an appointment. His lab work showed elevated cholesterol, and a CT scan was ordered to check for calcium buildup. His arteries were clear, but an 18-millimeter spot in his upper left lung was noted. Eight months later, a PET scan revealed the nodule had grown 4 millimeters. Hawkins' general practitioner insisted on a biopsy.
On Oct. 31, 2019, Hawkins learned he had an adenocarcinoma, a cancer originating in mucus-producing glandular cells such as are found in the lungs, breasts, colon and pancreas.
"I told my doctor, 'Well, that's interesting. I've run a lot of marathons, I've never smoked, and you're telling me I have lung cancer?'"
It wasn't his first experience with tough medical news. In early 2003, Hawkins felt increasingly fatigued and foggy headed. An MRI led to a diagnosis of relapsing-remitting multiple sclerosis (RRMS), a disease of the central nervous system. RRMS is characterized by periods of new or increasing neurologic symptoms followed by intervals of remission. Hawkins is grateful his symptoms have remained mild – including eye tracking, fatigue and some cognition and anxiety issues.
Hawkins' physician told him he should immediately stop running because elevating his core body temperature might trigger an MS episode. Hawkins isn't a fan of the word "stop."
He fibbed and told his doctor he had to keep running because he was training for a marathon. That night he registered for the Cleveland Marathon – his first full marathon.
By the time he received his 2019 lung cancer diagnosis, Hawkins had completed 45 marathons. For years, he's also put his running ability to great use as an enthusiastic fundraiser for the National Multiple Sclerosis Society. Immediately after his lung cancer diagnosis he called the American Lung Association to ask "where he could direct his energy for the greater good."
He learned their biggest fundraiser, the Fight for Air Climb, was two days away. He joined hundreds to race up and down the stairs of one of Nashville's tallest buildings, the 505 Building (45 floors, 862 steps).
"I thought 'That's no worse than running up a steep hill; I can finish that in 20 minutes,'" he laughed. "Well, three hours and 24 minutes later, I finished that trek. I thought, 'That was miserable!' But at the end of the day, I ended up as their No. 2 or No. 3 fundraiser for the event."
Just two days before his surgery on Nov. 11, 2019, Hawkins ran the Indianapolis Marathon. Then, Nesbitt performed a lobectomy, removing 50% of Hawkins' left lung to eliminate his cancer.
"Aaron had a localized lung cancer for which the best treatment is removal of the anatomic section of lung that contains the malignant process," Nesbitt said. "He was in excellent health and an optimal candidate for surgical management. He had a minimally invasive procedure using robot technology. His hospitalization was very short, and he recovered amazingly quickly.
"The circumstance that he has maintained such a healthy and active lifestyle only perpetuates the fact that he will do very well in the many years ahead. Aaron is an exceptional young man, driven by a passion to live well for his family. He has been a blessing and role model for so many, and it has been a true privilege for me to be involved in his care. I expect him to achieve only great things in the future."
Ironically, Hawkins feels his two decades' experience with MS eased the lung cancer diagnosis.
"I'd already been through one difficult diagnosis," he said. "I've always had the attitude of, 'Hey, let's tackle this. Let's deal with it, and then let's get past it.'"
 After his lobectomy, Nesbitt told Hawkins he couldn't run until he gave him the green light. So, Hawkins and his wife walked 5 kilometers (3.1 miles) daily for a month. On good days, they went 4 miles. The day before his post-operative appointment with Nesbitt, just one month after half of one lung was removed, Hawkins walked 10 miles with his Hendersonville Running Club crew.
Nesbitt set him free to run again, telling him that it was even possible over the next few years to rebuild his lung capacity to normal.
"Rather than using one lung as a reason to slow down his life, he has made it a reason to improve his life. That says a lot about who Aaron is as a person."
Determined to meet his goal of 50 marathons by age 50, Hawkins hired running coach Scott Wietecha, a Beech High School teacher, track and cross-country coach, who won his seventh straight Nashville marathon in 2019. Wietecha didn't know Hawkins had decreased lung capacity when he agreed work with him in advance of the 2022 marathon in Nashville.
"Running is hard enough with two lungs, so I was a little concerned about how he would be able to handle running with just one lung," Wietecha said. "Rather than using one lung as a reason to slow down his life, he has made it a reason to improve his life. That says a lot about who Aaron is as a person."
COVID-19 cancelled marathons in 2020, but Hawkins is still on track to meet his goal. He credits a strong network of family and friends for their unwavering support.
"Not everybody is that lucky, and I understand that," he said. "But what you have to do when you get tough news is you've got to keep moving. There's a tendency to curl up into a little ball and just think, 'Woe is me.' You just simply cannot do that. Because that's not good for anybody."
Hawkins also said he "struck gold" when he found Nesbitt to be his surgeon.
"Dr. Nesbitt did make one gigantic error," Hawkins said. "My wife likes to go with me to doctors' appointments because she wants to make sure I'm not sugarcoating anything. During one of our first consultations, Dr. Nesbitt said, 'Because you're a marathon runner, and I'm doing the surgery, you're my thoroughbred.' The worst thing he could have done was to call me a thoroughbred in front of my wife, because not a week goes by that I don't use 'thoroughbred' in a sentence with her. She rolls her eyes every time."