I was nervous about using telehealth. It turned out to be one of the best health care appointments I've ever had.
Telehealth gets an A+ for keeping me connected
March 30, 2020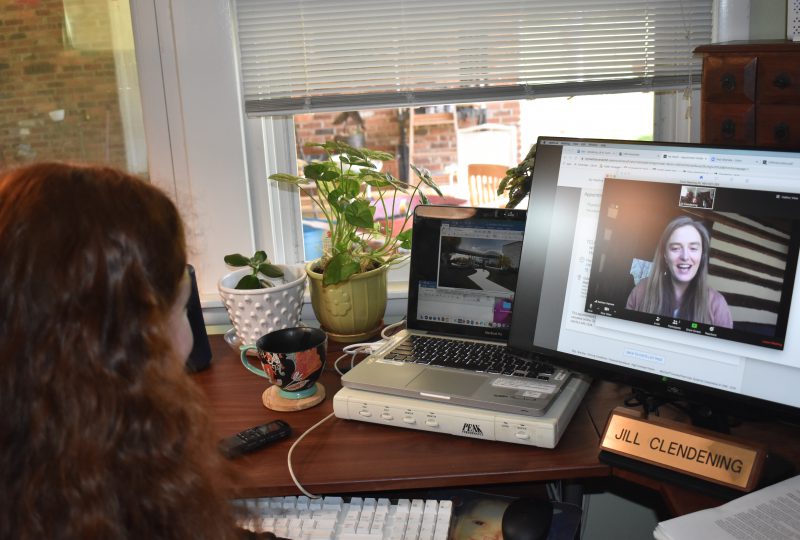 Jill Clendening at home during her telemedicine appointment with her health care provider, Katy Hansen, a nurse practitioner at the Vanderbilt Osher Center. Photo by Sydney Clendening
This week, I had my first ever telehealth visit with a medical provider.
The remote visit was necessary due to current social distancing precautions in place at Vanderbilt Health due to COVID-19. My visit was not to address an acute medical issue, and I understood the importance of doing a live videoconference rather than leaving my home. But I was still pretty nervous about it.
I am not a technology whiz, and setting up a home office this week so I could work remotely had already frazzled just about all of my nerves. I didn't think my dog Olive would be up to serving as my backup IT crew. Would I be able to actually connect to my provider at the right time? Would my technology work properly? Would we be able to hear and see each other? Would my Internet service be adequate or would it turn into a glitchy, frozen-face nightmare? Would it even be worth it?
Now, on the other side of my appointment, I am incredibly satisfied and pleased with the experience, and to be honest, it was one of the best interactions I've ever had with a medical provider.
I was expecting to see Kathryn (Katy) Hansen, ANP-BC, a nurse practitioner at the Vanderbilt Osher Center for Integrative Medicine, in person so I could update her on how I'm dealing with a long-term, chronic medical condition. She's been one of my primary health care providers for a few years, and our relationship has been built on direct contact and regular check-ins. A lot of give and take. I didn't honestly feel that a videoconference would be an ideal alternative.
I had already downloaded the Zoom app to my home laptop computer, and I have an existing My Health at Vanderbilt account that I access regularly to set up appointments, message my medical providers and request medication refills. Ahead of my appointment, I logged into my My Health at Vanderbilt account, and reviewed the "Prepare for your Telehealth Appointment" section on the home page. I followed the directions and did a quick test of my camera and computer microphone. All seemed ready.
Then, 10 minutes before my appointment, I logged into My Health at Vanderbilt again and clicked on my appointment. It was already labeled TELEHEALTH VISIT and had a large, easy-to-see green button "START TELEHEALTH VISIT." There were also adjacent links to click to test my device to ensure it was still working properly.
I clicked the link to start my visit and immediately saw a pop-up screen that let me know I was "waiting for the host to start this meeting." I had entered the secure, virtual waiting room. Then, at the appointed time, a video screen appeared, and I saw the smiling face of Katy Hansen and heard her voice.
It was that simple!
Katy and I had already arranged for our daughters, Stella and Sydney, to be photographers to document this momentous event, and as soon as they got a few photos, my official medical appointment started.
My computer showed Katy just as if I was sitting in her consultation room, and I could hear her quite clearly.
I updated Katy on the past six months, how I felt my current medication was working, what other modalities I was using to better maintain my health, and what medical issues I'm currently having.
We were able to focus directly and solely on each other, as we had to look at our screens to interact. There were no disruptions, no distractions and no technological glitches. My computer showed Katy just as if I was sitting in her consultation room, and I could hear her quite clearly.
In just a few short minutes, we had traded a lot of valuable information, I had several new recommendations from Katy to try, and I felt very positive about the entire event.
Seeing patients while they are home and safe
Then, ever the news reporter, I took the opportunity to interview Katy about her experience with telehealth visits in her practice. Ironically, Katy had already been working with telehealth for the past few years. She felt it was vital in order to better serve the many Vanderbilt Health patients that live far from Nashville or who don't have access to reliable transportation. Now, the providers at Vanderbilt Osher Center for Integrative Health have been able to quickly transition even their group activities and classes, such as Tai Chi and yoga, to telehealth, in order to better meet patients' needs without interruption during this period of social distancing.
"What I have noticed first of all is that patients are pretty grateful that they can still get care while staying home and being safe," she said. "There have been some technical glitches, but typically if we can't get a visit to work easily through Epic/My Health at Vanderbilt, we have a couple of other secure telemedicine licenses, and we can send people a direct link so we can try those. So, for every visit we've been able to figure something out that works."
A few unexpected things have come up. Visits have overall tended to be shorter – perhaps because patients and providers are getting right to the business at hand, she speculated. And patients are sometimes realizing after their call has already started that they really need to be in a more private space in their home to share their personal information. This has been challenging for some patients because often entire families are at home now sharing space.
And it will be interesting to see how this changes health care provision moving forward, she said.
"I'm actually developing a telehealth survey right now with one of our postdocs that'll be for patients, clinicians and administrators so we can get a sense of what their experience has been. One of the things that is going to be interesting to see is how many people want to continue doing it. I'm also in a PhD program for health services research, and coincidentally, at the beginning of the semester, we had to pick a policy issue. I picked telehealth. Then this situation with COVID-19 happened. There is a lot of legislative movement related to telehealth that has now just happened because of this disaster response. Moving forward, it will be interesting to see: Are we improving access to care for people in rural areas? Are people going to be more or less engaged in therapeutic groups or in medical visits when it's available via telehealth? Those are some of the questions we're hoping to get some insight on."
To find out more about scheduled and new appointments at Vanderbilt Health, click here.